Note from August 1, 2020: After many years of relying on PageSpinner, RSRF has yielded at last to the march of Macintosh operating systems. From now on, all pages and all revisions to pages will be done with Abode DreamWeaver. Eventually..., this will allow us to make them look better...
Since 1997, the Red Saunders Research Foundation has been dedicated to increasing our knowledge of the musicians who filled the clubs and recording studios of Chicago with great music during the two decades after World War II.
Here is how Jack Tracy—who wrote for Down Beat, then became the editor, then produced jazz LPs for Argo and Mercury—described the scene (Steven Cerra, "Jack Tracy, 1927-2010 — Remembering an Old Friend," http://jazzprofiles.blogspot.com/2013/07/jack-tracy-1927-2010-remembering-old.html ):
Live music? Any night of any week you wanted to hear jazz there were at least two dozen places you could go to hear swing, bebop, Dixieland, mainstream jazz, excellent singers—take your pick. There'd be big names and big bands at the Chicago Theater, the Regal and the Oriental, and seemingly everywhere local talent waiting to break out nationally. You'd hear them at any of the many local bars and restaurants that would sporadically give music a try. A number of smaller local clubs made jazz their steady policy. [...]
The South Side, Chicago's vast black community, was like a city unto itself. Places with live music abounded, and on the bandstands would be performers as varied as Gene Ammons, Muddy Waters, Lurlean Hunter, Frank Strozier, Willie Dixon, Von Freeman, Sun Ra, Jody Christian, Joe Williams, Tom Archia and John Young, plus the likes of stars such as Charlie Parker, Dinah Washington, Sonny Stitt, Cannonball Adderley and Miles Davis at clubs like the Bee Hive and the Sutherland Lounge.
So many names, such marvelous music and so many venues, all gone now but with echoes that can still be faintly heard if you close your eyes and listen very closely.
You should have been there.
Some musicians from Chicago were appreciated by the fans early on, like Gene Ammons and Johnny Griffin—yet their full worth only gradually become apparent to the writers over the years. Others were not widely recognized until much later in their careers, like John Gilmore, Clifford Jordan, Norman Simmons, or Muhal Richard Abrams. Far too many others have been forgotten.
There are two reasons for this neglect of Chicago musicians from the postwar period:
One is that most jazz writing has focused on New York or on the West Coast. Some attention has been paid to Chicago in the 1920s, but much less to the 1930s and virtually none to the period after World War II. Such a bias is still apparent in the work of older American jazz critics.
The other is that in Chicago, the boundaries between jazz and other forms of Great Black Music were highly permeable; the same individuals moved from jobs in jazz combos, to society band gigs, to dates with bar-walking R&B players. Andrew Hill could play adventurous jazz one night, back a doo-wop group the next, work a cocktail lounge the next. Tenor player Harold Ousley could rehearse with Sun Ra's experimental band, then turn in a set of R&B with King Kolax at the Crown Propeller Lounge. Sax Mallard, who once sat next to Johnny Hodges in Duke Ellington's reed section, might end up honking behind the Coronets, Mitzi Mars, or Roosevelt Sykes.
Until 1955 or so, R&B was not sharply distinguished from jazz, and R&B recordings were reviewed in jazz publications. But the rise of rock and roll led to a preoccupation with demarcating jazz from other, more "popular" forms of music, so it would get the respect owed to "serious music." Performers on the borderline between jazz and R&B, jazz and blues, jazz and rock and roll, were automatically suspect. It is only since around 1990 that the sharp boundaries have again come into question.
We dedicate this Web page to the memory of Vernel Fournier (1928-2000), Richie Dell Archia-Thomas (1922-2001), and Marv Taman (1948-2011).
The members of the Red Saunders Research Foundation are
Len Bukowski, Florida Bureau

(email: lenniBukowski aTaol DoT com)

Armin Büttner, Zürich Bureau

(email: abuettner At woz dOt ch)

Robert L. Campbell, Clemson Bureau

(email: campber aT clemson Dot edu)

Bill Daniels, New Hampshire Bureau

(email: billdani At comcast DoT net)

Stephen Dikovics, New York City Bureau

(email: flapsafterhours aT aol DoT com)

Daniel Gugolz, Vienna Bureau

(email: danielmgugolz aT gmx dOt at)

John Holley, Mudford Bureau
Tom Kelly, St. Louis Bureau

(email: tomkellyarchives At aol Dot com)

Dan Kochakian, Saugus, MA Bureau

(email: danrandb At gmail Dot com)

Big Joe Louis, London Bureau

(email: louis Dot music aT virgin doT net)

Mark Mumea, San Pedro, CA Bureau

(email: mark aT devilstalemusic doT com)

Konrad Nowakowski, Vienna Bureau

(email: k doT nowakowski At tirol Dot com)

Jim O'Neal, Kansas City Bureau

(email: bluesoterica At aoL DoT com)

Victor Pearlin, Worcester, MA Bureau

(email: VPearlin At aol Dot com)

Robert Pruter, Chicago Bureau

(email: pruter aT comcast Dot net)

Bill Sabis, Gainesville, Florida Bureau

(email: bilsab At bellsouth Dot net)

Yves François Smierciak, Chicago Bureau

(email: rocambujazz At yahoo Dot com)

Dr. Robert Stallworth, Nevada Bureau

(email: robertstallworth aT aol dOt com)

Helge Thygesen, Svendborg Bureau

(email: patton aT mail doT dk)

Chris Trent, Burrough on the Hill, UK Bureau

(email: cdt AT calundronius DOT co DoT uk)

Billy Vera, Los Angeles Bureau

(email: billyvera At ca Dot rr dOt com)

George R. White, York Bureau

(email: music dOt mentor aT lineone doT net)

Art Zimmerman, Jericho, New York Bureau

(email: zimrecords At msn Dot com)
One of our founding members, Otto Flückiger, died on March 7, 2006. He was 76 years old. It was partly at Otto's urging that we started RSRF in 1997. One of our first two pages, on Tom Archia, we undertook because of Otto's unflagging commitment to an artist he believed had been unfairly neglected. Without Otto's years of efforts to document the music and his generous assistance with press clippings, label scans, and dubs of 78s from his collection, our pages would be much the poorer.
On November 15, 2014, we lost the great postwar blues record collector, George Paulus, who was 66. Also active in recording blues artists (and in preserving and reissuing historic recordings), George did a lot to improve many parts of this site over the years. Without his encouragement we would never have taken up the incredibly obscure and confusing Mayo Williams labels, and without George we would neither have a page on OraNelle—nor be able to hear most of the sides that were made in Bernard Abrams' store.
We lost another long-time member, Ferdie Gonzalez, the great vocal group discographer, on October 24, 2020.
We have received invaluable assistance from Robin Archia, Tom Ball, Anthony Barnett, Bob Buchholz, Nadine Cohodas, John Corbett, Chris DeVito, Ken Ellzey, Robert Ferlingere, Dan Ferone, the late Vernel Fournier, Peter Gibbon, Marv Goldberg, Brian Neal Green, Ronnie Haig, Alvin Hubert, Robert Javors, Shirley Klett, Bob Koester, the late Eric LeBlanc, John McCarthy, Sarah McLawler, Dave Penny, Bob Porter, Howard Rye, Dave Sax, the late Seymour Schwartz, Frank Scott, Joseph Nathan Scott, the late Marv Taman, the late Richie Dell Thomas, the late Charles Walton, Johnnie Mae Walton, Lucius Washington, and Stefan Wirz.
Our special thanks to Richard Schwegal, music librarian of the Chicago Public Library, who has provided us access to the Chicago Federation of Musicians Member Death Files 1940-1979.
---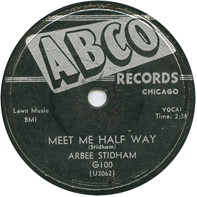 Abco was a small label, in operation just from February through August 1956. It was jointly owned by Joe Brown of JOB Records and Eli Toscano (born 1924) of A. B.'s One Stop; the company was housed in Toscano's premises at 2854 Roosevelt Road, while Joe Brown's Lawn Music handled the publishing. All Abcos were recorded at Universal, with high-quality sonic results. The company's first session, in February, was split between a well-known blues performer, Arbee Stidham, and an extremely obscure one who went as Herby Joe. The next, in March, was a jazz outing by an all-star group led by drummer Allan Williams, who recorded it under his calypso handle, Zono Sago. The band included Lucius Washington on tenor saxophone. Freddie Hall then laid down two two hard-rocking sides with Louis and Dave Myers' band, the Aces, and the Aces followed up with their own session, featuring Louis Myers on harmonica. In May Abco recorded the doowop group the Rip Chords (formerly the Knights of Rhythm) and bluesman Morris Pejoe with a studio band that featured Wayne Bennett (most likely) on lead guitar. The final session, in June, was Arbee Stidham's again; on this occasion he was accompanied by Wayne Bennett on lead guitar and, on one memorable side, Walter Horton playing double-tracked harmonica. Joe Brown also tried to sneak in a reissue of a JOB single from 1953, by Floyd Jones, but it appears that this was quickly withdrawn and replaced with the Freddie Hall. On July 11, Abco recorded four different artists, including bluesman Otis Rush, but by August, Abco had broken up. Toscano and a new business partner, Howard Bedno, launched Cobra Records and put the July 11 material out in September, while Joe Brown returned to JOB. Abco ended up responsible for just 9 releases, but these are nearly all top-quality music of the period. [Revised 2/26/2020]
---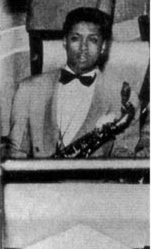 One of our first projects was a discography of the forgotten Texas tenor, Tom Archia, who was born in Groveton, Texas in 1919, and raised in the Houston area. Although he grew up with Illinois Jacquet and Arnett Cobb, Archia modeled his style after Lester Young rather than Coleman Hawkins. Archia was a major contributor in Chicago from 1942, when he arrived in town with Milt Larkin's band, until he left the city in 1967, but his recording career was unfortunately a good deal shorter. All of his known appearances on record took place between 1943 and 1960, and the bulk of his work was compressed into just two years: 1947-1948. As the headliner at Leonard Chess's club, the Macomba Lounge, he was featured on the Aristocrat label before its financial future was assured by the rise of Muddy Waters. The appearance in 2001 of Tom Archia 1947-1948 (Classics 5006) made many of his Aristocrat recordings as a leader available for the first time in over 50 years; the 2002 release of Andrew Tibbs 1947-1951 (Classics 5028) puts two more sessions back in the light of day; now just his session with Jump Jackson awaits proper reissue. While a few items with Wynonie Harris have been renowned for years, some of his work with Hot Lips Page for King Records waited until 1999 to be issued, and some high-quality unreleased items with Wynonie Harris all the way to 2015. In 1952 Archia made an unannounced appearance on a session by Dinah Washington and another one on a session by blues singer Gates White; he probably also worked with Dinah Washington on a session from early 1953. He made another unheralded appearance behind the doowop group The Larks for Chess in 1959. His final recording session was a special Blues Party organized by Jump Jackson for William Claxton and Joachim Ernst Berendt in the summer of 1960; the artists included Sunnyland Slim, Roosevelt Sykes, Shakey Jake, Lee Jackson, and Eddie Clearwater, and at least 25 sides were made, 10 of which included Archia's tenor sax. Two sides from the party were included with Berendt and Claxton's book Jazz Life, which was published in Germany in 1961, but none of the material has ever been commercially released. Gigs became scarcer in the 1960s, and in 1967, Tom Archia returned to Houston to recuperate from a broken jaw. When he was able to play again, he rehearsed with Houston-area bands and took such gigs as were available for jazz musicians during those years. Tom Archia died of cancer in 1977; he was given a proper jazz funeral in Houston's Third Ward. With the help of his sister, the late Richie Dell Thomas, his daughter, Robin Archia, and his cousin, Johnnie Mae Walton, we have been able to provide the first biography of Tom Archia.[Last updated 5/12/2020]


---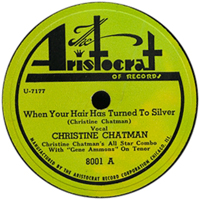 The Aristocrat label was the predecessor of Chess Records. Aristocrat has often been assimilated to Chess, even though it had different owners and a different approach to recording and selling music. The company was founded by Charles and Evelyn Aron in April 1947. From June through December 1947, talent scout Sammy Goldberg helped to orient the new company toward rhythm and blues; he brought Jump Jackson, Tom Archia, Clarence Samuels, Andrew Tibbs, and Sunnyland Slim to the label. Leonard Chess, whose business at the time was running the Macomba Lounge, did not become involved with the new company until September 1947; his initial role was strictly as a salesman. During the company's first year of operation, Sunnyland Slim and a guitarist Slim brought to his first session, Muddy Waters, were the label's only down-home blue artists. The most-recorded musician during 1947 was Lee Monti, who led a polka band with two accordions; the second and third-most recorded artists were jazz tenor saxophonist Tom Archia and uptown blues singer Andrew Tibbs. In the early going, the company also recorded the piano trios of Prince Cooper, Duke Groner, and Jimmie Bell, ballad singer Danny Knight and crooner Jerry Abbott, a gospel group called the Seven Melody Men; it even tried out Country and Western guitarist Dick Hiorns. When Muddy Waters scored a hit with "I Can't Be Satisfied" in June 1948, the label's orientation began to shift, but Andrew Tibbs was the company's top seller well into 1949. The dual emphasis on jazz (Gene Ammons) and down-home blues (Muddy Waters, Robert Nighthawk, The Blues Rockers) wasn't fully established until the first half of 1950, after the Chess brothers had bought out Evelyn Aron's remaining share of the company.
"The Aristocrat of Records" was in operation from April 1947 until June 3, 1950, when Leonard and Phil Chess, who now owned 100% of it, officially changed the name of the label. (The kept the name for the distribution side of their operation.) Aristocrat recorded something like 271 tracks, purchased 28 more, and put out at least 94 releases (187 sides, since one was used twice). But press runs were short, sales on most were poor, and company documentation was scanty. What's more, the enterprise wasn't above a certain amount of subterfuge, issuing 6 live broadcast items from the first half of 1948 with bogus matrix numbers, crediting two of them to a phony bandleader. We have compiled a detailed history and a complete discography of the label. This is the most complete and accurate treatment of Aristocrat available anywhere. It includes label scans from many rare Aristocrat issues. We are eager to hear from collectors who might have additions and corrections. [Last updated 11/6/2022]


---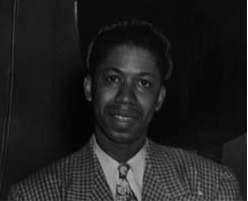 Buster "Leap Frog" Bennett (1914-1980) was born James Joseph Bennett in Pensacola, Florida. He became a professional musician at a young age, and was already performing on the road in Texas around 1930. He arrived in Chicago in the summer of 1938, first appearing on record in September of that year. He quickly became a top sideman for the Melrose combine in Chicago, working in the studio with Big Bill Broonzy, Jimmie Gordon, Merline Johnson (The Yas Yas Girl), Ramona Hicks, Jimmy McLain, Minnie Mathes, and Monkey Joe. His most fruitful association, however, was with Washboard Sam; he played on Sam's big hit "Diggin' My Potatoes" and many other sides. He began leading a trio in the Chicago clubs in 1941; despite recurring health problems, an incorrigible habit of tapping club owners for advances on his salary, and a fiery temper (he once got into a fistfight with a Union Board member during a meeting), he was sought out by club owners who valued his ability to bring in customers every night. For the next decade Buster sang and played alto, soprano, and tenor saxes as the leader of his own band. (He snuck in some piano and string bass as well.) His tight, very musical combos had the good fortune to cut 24 sides for Columbia over a three-year period. In addition, he made clandestine appearances on Rhumboogie (on a session nominally led by his trumpet player, Charles Gray), with the Red Saunders combo on Sultan, with Tom Archia's combo on Aristocrat, and with a quartet nominally led by his bassist, Israel Crosby, on a session that was picked up by Apollo. Though on the road for long periods from 1948 through 1950, he continued to work Chicago clubs until 1954, after which he dropped completely off the scene. He had had bouts with tuberculosis in 1941 and again in 1942-1943; it appears that he moved to Texas after developing further health problems that interfered with his playing. While record companies saw commercial potential in Buster's blues vocalizing, nightclub patrons also wanted him to sing standards (the "Buster Bennett Medley" is the only recorded evidence of his ballad side). The personnel of his different recording bands is still imperfectly known, but at different times he used Willie Jones (1920-1977) and Wild Bill Davis (1918-1995) on piano, Duke Groner (1908-1992) and Israel Crosby (1919-1962) on bass, Charles Gray (1918-1995), Harry "Pee Wee" Jackson (c. 1916-1954), and Fip Ricard (1923-1996) on trumpet, and Andrew "Goon" Gardner (1916-1975) on alto sax. Buster Bennett died in total obscurity in Houston, Texas; he had probably been away from music for a quarter century. In 2002, the first (and so far only) comprehensive reissue package of Buster's work as a leader appeared on Classics 5037. [Last updated 5/26/2021]
---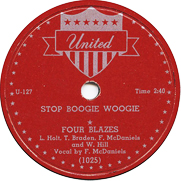 The Four Blazes began life as a vocal/string ensemble in 1940; the next year, they acquired their lead guitarist Floyd McDaniel (1915-1995). In 1945 they bulked up to Five Blazes by adding Ernie Harper's piano; this ensemble cut four sides for Aristocrat in April 1947, including the estimable "Chicago Boogie" and "All My Geets Are Gone." They downsized to Four Blazes in 1948, after Harper decided to go solo; he worked regularly in the Chicago clubs through the mid-1950s. After Prentice Butler died, the Four Blazes hired a bassist from Chattanooga, Tennessee, named Tommy Braden. Braden, who joined them in 1951, brought a distinctive lead vocal style to the group. The Blazes recorded a series of singles for United from 1952 to 1955. Their first release, "Mary Jo," hit #1 on the R&B charts, and three others reached the top 10. Braden became restless and went solo for a while in 1954, and the group broke up for good in 1955. Floyd McDaniel, drummer Paul Lindsley "Jelly" Holt (who remained with the Blazes from beginning to end) and bassist and lead vocalist Braden (who died in 1957) were all significant contributors to the R&B scene in Chicago. The group's United sides also benefited from excellent tenor saxophone work by guest artists Eddie Chamblee (1920 - 1999) and Red Holloway (1927 - 2012). Our page adds an up-to-date appendix on a Hollywood-based group that also called itself the Four Blazes, and even performed a "Chicago Boogie" and a "Chicago Blues." The Hollywood group, which recorded from 1944 through 1948, has sometimes been confused with the Chicago group on reissues. The Chicago group has been fairly well served in that regard; Delmark has put all of the Blazes' United tracks on CD. The Hollywood group could still use some attention. [Last updated 7/9/2013]
---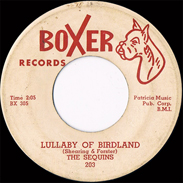 Boxer was a boutique label that operated in 1959 and 1960, toward the end of the RSRF time frame. It was started by Johnny Moore, a former janitor at Englewood High School who had discovered the vocal group The El Dorados singing in the hallway, became their manager, and in 1954 got them signed to Vee-Jay. The first act he recorded for Boxer, Jesse and the Sequins, was also a vocal group, but the other artists on his short roster were blues, soul, jazz, and novelty performers. The first Boxer session, in April 1959, featured Jesse Blackful (a drummer and vocalist) and the Sequins (a girl group), all of whom were from Battle Creek, Michigan. First-class accompaniment was provided by a Lefty Bates combo. Boxer 201 featured the entire lineup, while 203 was reserved to Bates and the Sequins. Moore next signed bluesman Bobo Jenkins (1916-1984), who was based in Detroit and had previously recorded for J V B, Chess, and Fortune. Jenkins recorded four sides with backing from guitarists Willie Johnson and Eddie Taylor and drummer Earl Phillips; two saw release on Boxer 202. Six months later, Boxer 204 was the work of rising soul singer McKinley Mitchell (1934-1986), making his recording debut with a rocking blues band (Willie Johnson again on lead guitar). Mitchell's next record, done for One-derful in 1962, would be a national hit. In September 1960, Moore cut a session featuring Harold Harris (1934- ), a jazz pianist he had discovered who recorded with a trio. There was a briefly available Harris single on Boxer 110. Boxer 111, by the eccentric singer Russell Taplin aka Saxie Russell, brought the label's run to an end. After 18 months, Moore's recording activity had exhausted his funds; however, he was able to sell the Jesse and the Sequins single to Mel London, who reissued it on his Profile label. And when Harold Harris signed with Vee-Jay, recording more than an album's worth of material in February 1961, Vee-Jay also bought his Boxer sides, though just one reissue (on the Japanese P-Vine 1998) has made further use of them. The Boxer legacy thus consists of six obscure singles and a few unissued tracks, all deserving of a coordinated reissue.[Revised 7/13/2020]
---
---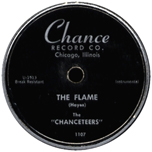 The Chance label was in business from August 1950 through December 1954. It was opened by Art Sheridan, who knew the record business from operating a pressing plant and a distributorship. Chance was unable to make new recordings for several months (August 1951 through early 1952) because of major trouble with the Musicians Union, but it bounced back and picked up Ewart Abner, Jr., who handled its accounting, in 1952. Despite wide-ranging activity in 1953, the label wound down in 1954, doing most of its final year's recording in January and February. It closed up shop at the end of the year when Abner moved over to Vee-Jay, where Sheridan became a silent partner. Chance recorded blues, doo-wop, R&B, gospel, pop, a little bit of country and western, and a fair amount of jazz (some of which has never been listed in any jazz discographies). In all, Chance recorded 360 sides and leased or purchased another 44 during its lifetime; there are 93 known issues on the Chance label, 1 on its ephemeral, nearly unknown Meteor subsidiary, and 9 on a more durable spinoff called Sabre. The blues, jazz, and R&B appeared on the main Chance 1100 series, to which a 5000 series for gospel and a 3000 series for pop were added later. Originally a 78-only label, Chance did not embrace the 45-rpm format till the fall of 1952, and never did get around to it for its gospel series. Major acts for Chance included The Moonglows, The Flamingos, Homesick James Williamson, J. B. Hutto, Bobby Prince, John Sellers, and John "Schoolboy" Porter; Chance's collaboration with JOB resulted in classic blues recordings by Johnny Shines, J. B. Lenoir, Big Boy Spires, and Little Hudson. Initially Schoolboy Porter and Wally Hayes ran the house bands; after it recovered from its union trouble and Schoolboy Porter joined the Air Force, the company relied heavily on Al Smith, with King Kolax and Red Holloway occasionally taking over the studio chores. The gospel series included classic sides by The Golden Tones and Sister Rosa Shaw. The pop series draws less interest today, though Jack Teter was a unique artist, Eddie Bracken had a long career on stage, Lucy Reed and Ann Gilbert were jazz singers of note (though they did not get the opportunity to record jazz for Chance), the Meadowlarks were an extremely capable vocal group, Eddie and Chuck were early rockabilly artists, and Remo Biondi made his unique creative contributions to two of the pop-series releases. [Latest update 7/26/2022]
---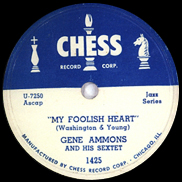 We held off covering Chess Part I in the past, because the Chess and Checker labels had been better documented than most of the companies covered here. Part I sketches the company's activities over its first two and a half years in business, from June 3, 1950, when Leonard and Phil Chess changed its name from Aristocrat, to the end of 1952. This was a period of considerable expansion (which led, in April 1952, to the opening of a new subsidiary called Checker). Even in 1952, money was tight: the combined Chess and Checker operation was still not recording as many sides per year in Chicago as its ancestor had in 1947, though it was aggressively buying material from other producers. In its first three years, Chess solidified its position in the down-home blues field with many releases by Muddy Waters and Howlin' Wolf; in 1952, Little Walter became a successful headliner as well, leaving Muddy Waters' band as soon as his first release became a hit. In February 1951, Chess got Al Hibbler sides from the defunct Sunrise operation, which brought in considerable revenue that year. At the end of 1951, Chess bought up most of the remains of Premium, including unsold pressings that were rebranded with Chess labels. In the fall of 1951 the company also dipped its toe into the emerging market for 7-inch 45s, slowly increasing the frequency of 45 rpm releases in 1952.
During 1951 and 1952, the Chess brothers were also heavily dependent on Sam Phillips' emerging recording operation in Memphis, which supplied them with blues, R&B, gospel, even a tiny bit of hillbilly. There was limited vocal-group activity during this period (just one session by The Dozier Boys, a session by the Bayou Boys, two sessions by the Coronets, and purchased sessions by the Clefs and the Encores). In the jazz department, Gene Ammons recorded extensively in 1950 and 1951; Claude McLin had a hit in 1950 but the label dropped him when he left Chicago at the beginning of 1952; Eddie Johnson got the sales push in 1951 and 1952, but dropped off the roster when he became ill in 1953. We have been able to shine additional light on the early Chess years, but additions and corrections are still needed and will be appreciated. [Revised 5/3/2023]
---
Our history of Chess Part II covers the years 1953 to 1955. During this period the Chess and Checker labels enjoyed a series of best sellers by Muddy Waters and Little Walter in the downhome blues field, and 1955 was the label's breakthrough year in rock and roll: both Chuck Berry and Bo Diddley made their debuts. Increased cash flow enabled the Chess brothers to invest more heavily in studio sessions, which were still being done primarily at Universal Recording in Chicago, and to purchase material from a variety of outside sources. The arrangement with Sam Phillips in Memphis came to an end in early 1953. The last Memphis-based Chess artist, Howlin' Wolf, had to be recorded in Lester Bihari's makeshift studio until the Chess brothers could prevail upon him to move to Chicago in early 1954. However, associations with Paul Gayten in New Orleans and some other suppliers proved fruitful, as did the collapse of Swing Time Records, which left Lowell Fulson available for signing. By 1955, the company was 100% invested in 45s; Chess 1603 was the last 78-only release. At the very end of this period, the company was gearing up to launch a third label, Marterry (the name was changed to Argo after just two releases on singles and one on LP). The Chess brothers were also succumbing to the inevitable onset of the 12-inch LP. In other genres, Chess and Checker recorded many other blues artists, released a few jazz items. and remained fairly active in gospel. While most of the Chess and Checker doowop acts remained obscure, the company had the good fortune to buy out the Moonglows' contract with Chance in late 1954, then picked the Flamingos up in 1955 as Parrot began to falter. There was even a 9 month venture into Country music, with a soupçon of rockabilly: the Chess 4858 series of 1954-1955, produced by Stan Lewis in Shreveport, Louisiana. [Revised 11/13/2022]
---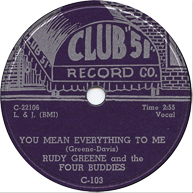 The Club 51 label was a side business for local roller skating impresario and record store owner Jimmie Davis. Davis operated the label from March 1955 to some point in 1957. In all there were just 7 releases on Club 51 (three other records that we know of were given limited circulation on test pressings but not actually released). The label's artist roster consisted of two doo-wop groups (the "Four" Buddies, of whom there were really five, and the Kings Men), guitarist and singer Rudy Greene, singers Bobbie James and Honey Brown, jazz pianist and singer Robert "Prince" Cooper, and veteran piano bluesman Sunnyland Slim. Quality accompaniment was initially provided by Eddie Chamblee's groups. After Chamblee left town for a while, his place was taken by guitarist Lefty Bates, whose studio band featured strong tenor sax work by Red Holloway and Lucius Washington. The doo-wop material was reissued years ago on LP, and the Sunnyland Slim sides were picked up a few years ago by Classics, but strong performances by Honey Brown, Rudy Greene, and Prince Cooper have been overlooked by reissue programs. Davis also showed some interest in gospel groups, but the closest he came to releasing anything was passing a few acetates of the Highway Travelers out to DJs; he also gave limited circulation to an acetate by the "Spitual" Voices, and recorded one other gospel group that we know of. Direct-to-78 demos survive that Davis cut in the back of his store for aspiring vocal groups, as well as acetates by various singers and jazz combos; an acetate by a blues singer has been issued on LP.[Revised 2/28/2020]
---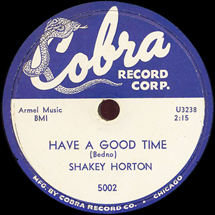 Cobra, the immediate successor to Abco, has gained tremendous posthumous fame on account of its blues recordings. On July 11, 1956, what was then still Abco recorded bluesmen Otis Rush and Walter Horton and two doowop groups, The Clouds and The Calvaes, in one long session at Boulevard Studio. Within a month, however, Joe Brown had dropped out. Eli Toscano found a new business partner in Howard Bedno (1919-2006), replaced Joe Brown's Lawn Music with his own Armel Music, and opened Cobra, which began its releases at the beginning of September. Cobra 5000, "I Can't Quit You Baby," a national R&B hit for Otis Rush, enabled the company to build its roster. Cobra continued recording through the end of 1958, even spinning off a small subsidiary called Artistic. There were 34 releases on Cobra and 6 on Artistic. Artists included the West Side blues triumvirate of Otis Rush, Magic Sam, and Buddy Guy, all of whom did their first commercial recordings for the company; singers Harold Burrage, Betty Everett, and Gloria Irving; the R and B combos of Duke Jenkins and Ike Turner; and additional blues contributions by Sunnyland Slim, Lee Jackson, Little Willie Foster, Clarence Jolly, Guitar Shorty, and Shakey Jake. The recession hit Cobra hard in 1958; Toscano had ambitions to record gospel and rock and roll, but all that came of them were one release each by the Reverend Robert Ballinger and by the Rock-A-Beats. Willie Dixon was in charge of the company's sessions, with some assistance from Ike Turner during the second half of 1958; starting in March 1957, most recording was done by Eli Toscano in his homemade studio at 3346 West Roosevelt Road. Howard Bedno left at the end of 1958 and ended up working for Chess. The last Cobra release appeared in August 1959, and the company was defunct before the year was out. For a couple of years Richard Stamz, proprietor of such labels as Paso and Fox, took over the former Cobra complex. Before his death in a boating accident in 1967, Toscano sold Armel Music to Jimmy Bracken of Vee-Jay. Some time between 1969 and 1975, the remains of Abco, Cobra, and Artistic ended up in the hands of Stan Lewis. Some Cobras were reissued on singles during Toscano's lifetime. LP reissues began with Blue Horizon in 1969 and picked up again around 1980 with Stan Lewis's licensees, Flyright in Britain and P-Vine Special in Japan, then on Lewis's own label, Paula. Because of the ongoing interest in the Otis Rush and Magic Sam material, most of the Cobras and Artistics have been well served by reissue programs.[Revised 10/7/2020]
---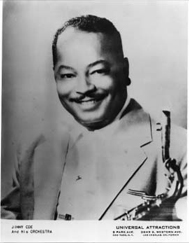 For many years, Jimmy Coe (1921-2004) was the top saxophonist in Indianapolis. We have included him because Naptown was not a recording center, and his important work for States was cut in Chicago, as well as his session activity for Note. Coe first hit the big time in 1942 as the baritone saxophonist in the Jay McShann band with Charlie Parker (he also played alto during a couple of spells when Bird was out of the band). He served in the military from 1943 to 1945, then returned to Indianapolis. After touring with Tiny Bradshaw's band in 1947, Coe studied music at Butler University. From 1950 through 1952 he led the house band at the Cotton Club in Cincinnati, which led to a session of his own for King (featuring his alto sax) and a guest appearance on a Tiny Bradshaw session (both were done in 1952). When King showed no interest in his composition "After Hours Joint," Coe moved over to Leonard Allen's States label, where he cut two sessions in 1953 featuring his tenor sax. United and States had many fine saxophonists in their employ—Tab Smith, Paul Bascomb, Eddie Chamblee, Chris Woods, Jimmy Forrest, Gene Ammons, Cozy Eggleston—but Coe's may be the very best of their small combo recordings. In 1958 and 1959, Coe did session work (some of it on baritone sax) for Indianapolis-based Note Records, backing two doowop groups (the Five Stars and The Students) and rock and rollers Ronnie Haig and Jerry Siefert; he managed to slip in two instrumental sides. These Note sides were recorded at Chess Studios in Chicago. In 1966 Coe operated a short-lived label of his own called Intro, which was responsible for three known releases on 45s. He made another small-label 45 in 1976. In the mid-1980s Coe intensified his musical activity after retiring from his day job. Because of the slow pace of recording in Naptown, he did not record as much we might expect from his continuing activity as a musician; however, he was able to issue a CD featuring his big band in 1994. He made a second CD in 2000 with guitarist Paul Weeden, and appeared that same year on a jazz repertory CD put together by Naptown drummer Jack Gilfoy. In 2002 Jimmy Coe was recorded in Switzerland (it was his very first European tour!) with Red Holloway, Carrie Smith, and others. His arrangements also appeared on at least one CD around the turn of the century. After battling colon cancer and diabetes (he was still playing in public as late as November 2003), Jimmy Coe died in Indianapolis on February 26, 2004.[Latest update 1/14/2020]
---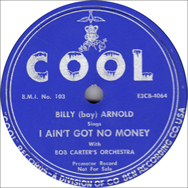 Cool, one of the tiniest of Chicago indepedents, opened in March 1953 and closed in October. Cool was a division of Co-Ben recording, a partnership between Collenane Cosey (1909-2010) and her brother-in-law, Charlie Bennett. Some sources credit Gwendolyn Bennett, Colleane's sister and Charlie's wife, as a third partner. Collenane Cosey was a songwriter, the widow of alto saxophonist Antonio Cosey (1906-1951), and the mother of guitarist Pete Cosey (1943-2012). Co-Ben/Cool's address was 1231 South Holman Avenue, and the company used RCA Victor for mastering and pressing, maybe also for recording. Co-Ben made one known session, in March 1953, leading to two releases on Cool in July 1953. Cool 101/102 featured blues shouter Herbert Beard, about whom we otherwise know nothing. One of the Beard sides, a Collenane Cosey composition, was covered by Louis Jordan, whose January 1954 recording, issued later that year by Aladdin, must have brought Co-Ben more money in composer royalties than the company made off its own recordings. Cool 103 was the debut release by harmonica-playing bluesman Billy Boy Arnold, who was yet to turn 18 when it was made. Both performers were backed by a studio band led by Bob Carter, who was probably the Robert James Carter who played bass and recorded for Specialty, Sunbeam, and Universal in 1946 and 1947, and led a studio ork on a 1949 session for Rim. Recently, Dan Kochakian found the second and last trade paper advertisement for Cool (in Cash Box, September 19, 1953), which promised another Herbert Beard single and a single by co-owner Charlie Bennett. Though these had been promised in the early announcement for the company, the never materialized. Cool 78s and 45s (we would still like to see a 45 by Herbert Beard) are preposterously rare today. As of 2018, all 4 released sides have finally appeared on some kind of reissue, just 65 years since the company folded. [Revised 12/8/2022]
---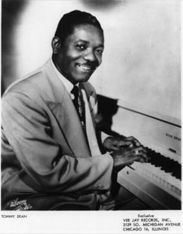 Tommy Dean was born in Franklin, Louisiana on September 6, 1909. While he was a child, his family moved to Beaumont, Texas, though in the late 1920s Tommy Dean spent some time in Lake Charles, Louisiana. The 1930 census listed his occupation as "musician"; during that period, he was working regularly with Texas-based carnivals and circuses. Probably in 1937, he moved to St. Louis after being hired away from a traveling show by bandleader Eddie Randle. Soon he was running his own combo, which toured regularly from his new base in St. Louis. The pianist and bandleader began occasonal appearances in Chicago in 1945, and would rely on Chicago-based labels for all but one of his recordings. He led a tight, swinging R&B combo with considerable jazz content, making records for Town and Country, Miracle, States, Chance, and Vee-Jay between 1947 and 1958. (His last two sessions for Vee-Jay were left unreleased.) During the 1950s, he successfully added organ, sometimes playing piano with one hand and organ with the other. Among the members of Tommy Dean's bands were outstanding alto saxophonist Chris Woods (1925-1985), alto saxophonist and arranger Oliver Nelson (1932-1975), baritonist Gene Easton (1927-1998), guitarist Grant Green (1935-1979; Green's recording debut was a 1956 session that remains entirely unissued), drummer Pee Wee Jernigan, and singers Jewel Belle and Joe Buckner (born 1924). Dean also recorded with singers Melvin "Pee Wee" Matthews and Freddie "Barrel House" Blott. Continuing to tour after his Vee-Jay contract expired, he led a combo through 1960. From 1962 through 1964, he worked as a single, playing the organ in Saint Louis restaurants. Tommy Dean died suddenly in January 1965, probably of a heart attack.[Latest update 8/1/19]
---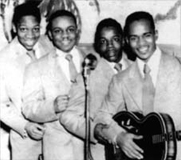 The Dozier Boys were a vocal/instrumental group that remained active for 24 years. The core members were Eugene Teague (1928-1958), who played guitar, Cornell Wiley (1929- ), who played string bass and handled the arrangements, and Benny Cotton (c. 1929- ), who started out strictly as a singer and eventually became the drummer as well. Other members at different times included Bill Minor, Frank Bell, Joe Boyce, Bobby Blevins, Pee Wee Branford, Truxton Kingslow, Wes Montgomery, Clifford Scott, and Jerry Hubbard. When they needed a session pianist, the Doziers used Sonny Blount (aka Sun Ra) for a 1948 session and King Fleming in 1950. The Doziers came out of a Swing-era tradition of vocal harmonizing that can be heard on most of their sides. In the late 50s, they made an effort to adapt to rock and roll, and they continued to tour and perform until 1970. Their recordings for Aristocrat, Chess, United (featuring sterling accompaniment by guest saxophonist Tab Smith), and other labels deserve more attention from jazz and doowop aficionados than they have gotten so far. [Latest update 11/15/16]
---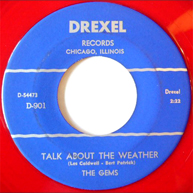 Drexel Records was an extremely modest independent label that operated from 1954 to 1958. Les Caldwell, who had been a salesman for King Records, and Paul King were partners in the label, along with a third individual who has never been publicly identified. The company never had its own business office; it was run out of Paul King's home at 7319 South Vernon. Drexel was responsible for 18 releases, all singles. The company's focus was R&B vocalists and vocal groups. The most recorded artists were The Gems, a vocal quintet whose lead singer Ray Pettis also made solo recordings for the label. The other featured artists were a vocal group called the Gay Notes, and singers Dorothy Logan, Dave Turner, Hattie Randolph, Bobby Elvin, and Roy Wright. Drexel did not promote its records effectively; they got some radio play locally, but the only distributor we can find for the label was United in Chicago and very few were ever sold anywhere else. Coverage in the trade papers, though more than one might expect for such a small operation, was fitful. The Gems broke up because they had realized virtually no income from their Drexel releases. Of the label's other artists, only Hattie Randolph is known today, on account of her slightly later recordings for Sun Ra and Alton Abraham's own small label, Saturn. Dave Turner earned local notoriety as a comic and an MC, hitting his peak of visibility when he toured with Dinah Washington, but nothing has been heard of him since 1963. All the same, the company's releases offered high production values, including excellent sound quality (courtesy of Universal Recording), and strong performances overall. Drexel's session musicans have still not been fully researched, but in 1956 pianist and combo leader Denni Tillman was identified as the label's music director, and veteran saxophonists Bert Patrick, Johnny Houser, and Red Holloway were involved at one time or another. Trombonist Johnny Avant also appeared on one session for the label. Reissue interest in Drexel has focused on the Gems, whose singles have been "reproed" by doowop aficionados. One Drexel reissue on CD (extensive, but not complete, at 29 out of the 36 released sides) is a bootleg. Another CD from 2018 includes four sides by Drexel's male vocalists.[Revised 2/25/2020]
---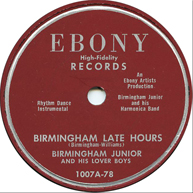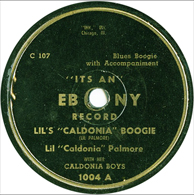 Ebony, Chicago, Southern and Harlem were independent labels operated by music business veteran J. Mayo Williams (1893 or 1894-1980), Williams had already enjoyed success as a professional football player and as an Artists and Repertoire man for Paramount and Decca when he went out on his own in January 1945. There were three phases to his independent label operations. From 1945 to 1949, he operated the Chicago (later Southern), and Harlem labels, dividing his time between New York City and Chicago (he was also involved with Ebony Distributors, out of New York). He started a red Ebony label in 1945, but seems to have shelved it after a year. But in 1947, he picked up with a new, very small Ebony operation in Chicago, with a new label design (on black or on red), an "Ink," Inc. logo, and no formal ties to Harlem-Chicago-Southern. To achieve wider distribution, he often struck deals in his early period with other companies, notably Syd Nathan's King Records, Ivan Ballen's 20th Cenury and Apex labels, and his former employer, Decca. The need become more urgent after he closed his New York office and its distribution wing (probably around the beginning of 1948). After a brief hiatus in 1950 and1951, he reopened an Ebony label based in Chicago; between 1952 and 1959, it was responsible for 31 known releases. For a little while, Williams licensed some of these Ebony masters to Art Sheridan's Chance label and Joe Brown's JOB. After being sidelined by illness in 1959, Williams regrouped and started a final incarnation of Ebony, which was responsible for at least 24 releases through 1971; some of these were licensed to Decca's Trend subsidiary. Williams always had a nose for talent, but eccentric concepts of marketing and no flair for popular music production. Consequently, releases on his labels have drawn little attention over the years. During the Chicago-Southern-Harlem era, Wiliams featured such artists as Bob Camp, Lee Brown, Dossie Terry, J. T. Brown, Johnny Temple, Brother John Sellers, the Famous Blue Jay Singers, the Dixieaires, and Tab Smith. He also gave bluesmen Jimmy Rogers, Muddy Waters, and Leroy Foster their first opportunities to record commercially—though not to get a whole lot of publicity. The first Chicago-based Ebony label recorded Lil "Caldonia" Palmore. During the Ebony II period, Williams recorded blues artists Birmingham Junior, Freddie Hall, Little Brother Montgomery, Earl Dranes, and Alfred "Blues King" Harris, gospel performers such as Brother George Curry, a doowop group (the Eagle-Aires), and R and B acts including Joe "Cool Breeze" Bell and more of Lil Palmore (who was now going as Cal Palmer). He also indulged in some trickery, overdubbing a 1945 Tab Smith instrumental with heavy drumming by Jack Cooley and marketing the resulting hybrid as "Tab's Rocker" and "Cooley's Cowboy Rock." The Ebony III period was less successful artistically (Williams intensified the overdubbing, applying it now to Decca recordings from the 1930s, and his new sessions gave undue attention to organ combos and lounge singers) but it provided opportunies to veterans such as Lil Hardin Armstrong and newcomers such as Bonnie "Bombshell" Lee. By 1973, Williams had a bunch of leftover Ebony 45s that he wanted to unload in quantity. Williams' manner of numbering his releases was wayward (there's no telling how many different Ebony 1000s he put out), his Ebony II and III operations had a makeshift distribution network confined to Chicago, and most of his records are very rare today; we are sure some remain to be discovered.

[Revised 10/28/2022]
---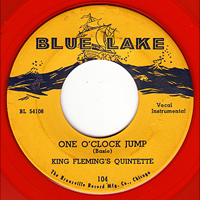 Pianist, singer, and arranger King Fleming (1922-2014) worked steadily as a jazz musician for 65 years. In 1939, he was leading an 8-piece band that played for high school dancers in Chicago. From September 1942 through July 1943, his Swing band (initially, 11 pieces) was a big local draw. After military service, he worked on the West Coast in 1945 and 1946; he was a member of the Johnny Alston and King Perry bands, recording behind Wynonie Harris on one occasion. He returned to Chicago late in 1946 and appeared regularly in the clubs with a trio or quartet. From 1953 through 1959, this was a highly distinctive vocal/instrumental ensemble, with a female lead vocalist (Ethel Duncan, Lorez Alexandria, or Lurlean Harris), Fleming singing and playing piano, plus a singing bassist (Russell Williams) and a singing drummer (Aubrie Jones). Fleming's first recording as a leader, done in 1954 with an augmented quartet, featured singer Lorez Alexandria (1925-2001) and legendary Chicago tenorist John Neely (1930-1994). From 1955 through 1957, he appeared on three sessions for Chess, leading vocal-instrumental groups, but just one 45 rpm single under his own name resulted; fortunately a demo disk has surfaced of the two tunes his group recorded at its first Chess session. In 1957, he backed Lorez Alexandria on her first two albums for the King label, the first done with an expanded King Fleming trio, the second with an all-star jazz group. During this period he also collaborated with Muhal Richard Abrams, who wrote arrangements for a big band that King Fleming led. His last vocal-instrumental group, featuring Lurlean Harris as the female vocal lead, broke up in 1959. From 1960 through 1965, Fleming returned to the Chess brothers, recording three outstanding piano trio albums for their jazz labels Argo and Cadet; these are all available, in 2014, on a 2-CD Fresh Sounds reissue. Otherwise his recording opprortunities up through 1970 were limited to three boutique-label singles, on which he backed George "Stardust" Green, and arranger chores that he shared with Will Jackson for an Argo LP by Johnny Nash and another by the Ramsey Lewis Trio with strings. After 25 years of regular work in the Chicago area went by without any more opportunities to record his own music, while he turned down some offers he got to record pop tunes, King Fleming approached Bradley Parker-Sparrow and Joanie Pallatto's Southport label in 1995 about doing a CD of his compositions. King! came out in 1996. In 2000, Fleming suggested a collaboration with singer Joanie Pallatto, for which she wrote lyrics to five of his instrumental pieces; The King and I was released that same year. The King Fleming Trio continued to work in the Chicago area through 2003; King Fleming retired from performing in 2005. King Fleming died at the Illinois Home for Veterans in Manteno, Illinois, on April 1, 2014, at the age of 91. [Revised 3/9/2020]




---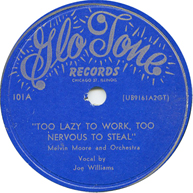 Glo Tone may be the most obscure and fleeting of all the Chicago independents. We learned who owned it (trumpeter Melvin Moore) because long after the label went inactive, Billboard listed it with his parents' address ("Chicago 37, Illinois," is what the labels say). Moore was born in Chicago in 1923, led the cornet and trumpet section of the Du Sable High School marching band, and had already recorded with Marl Young on 5 sessions. We don't know whether Glo Tone did its one recording session in the second half of 1948 or the first month of 1949 (United Broadcasting deliberately kept a mixed up matrix number series during that period). What we do know is that Glo Tone released two singles by Moore's fairly big bop band. One side featured a vocal group called the Original Calypso Boys and the other three gave the spotlight to a still-scuffling nightclub singer named Joe Williams. And the arrangements as well as the presence of a Marl Young composition already recorded for Sunbeam ("Too Lazy to Work, Too Nervous to Steal") hint at some piece of business left unfinished by the closedown of that label—in November 1947, when Young moved to Los Angeles. Glo Tone vanished after less than a year in operation. Joe Williams went on to record for Columbia, OKeh, and Blue Lake and finally caught his break in 1954. Melvin Moore made a brief stop at Chance and a slightly longer one at Vee-Jay before making his own move to Southern California, where he would eventually work with Charles Mingus and Johnny Otis, and play in the band for "Here's Lucy" under the direction of Marl Young. Melvin Moore died in Los Angeles in 1989.[Revised 9/3/2018]
---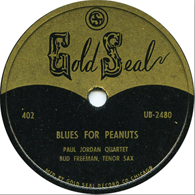 Gold Seal opened for business the first week of September 1946. The label was owned and managed by Leonard Klein, previously an employee of United Broadcasting Studios. It sought niches in jazz, Country and Western, and popular vocals and keyboard music. Gold Seal was the only company to make commercial recordings of the highly eclectic, classically trained pianist Robert Crum (1915-1981); it issued a 3-pocket album of his duets with uncharacteristically reticent drumming by Barrett Deems (1914-1998). Gold Seal also quickly absorbed Jack Green's abortive effort (October 1946) to promote jazz concerts in Chicago and record the artists. Three Gold Seal releases materialized, by a Max Miller piano trio, a quartet led by pianist Paul Jordan (1916-1989) featuring Bud Freeman on tenor saxophone, and a bold late-Swing experiment in arranging for an octet, also led by Jordan; the fate of the many other sides recorded for Green remains unknown. In the Country arena, Gold Seal availed itself of the services of musicians and DJs who worked for Chicago-area radio stations: an October 1946 session and one each from October and November 1947 were credited to the Ranch House Boys. The company announced the signing of operatically trained singer Arthur Lee Simpkins (1907-1972), who, because opera productions and aria and lieder recitals were effectively closed to black performers, worked in hotel lounges and fancy nightclubs; Billboard said that Gold Seal released a single on him, but confirmation would be nice. Gold Seal's most prolific artist was Kenny Jagger (1918-2010), who played piano with one hand and organ with the other and was a big draw on the "cocktail single" circuit. Jagger, who recorded in September and November 1946, was responsible for at least 10 releases; toward the end of the company's run, four of his singles were bundled into an album. Along with standards, light classics, and polkas, he cut a solid rendition of Pinetop's "Boogie Woogie." Inactive in the recording studio during the first 9 months of 1947, Gold Seal tried to regroup by purchasing masters from Bel-Tone, a Los Angeles-based company that had been in operation from July 1945 through November 1946. Gold Seal wanted and got more Country, releasing two singles by Merle Travis, two by Eddie Dean, and one each by Dale Evans, Monte Hale, and Herman the Hermit; four of these were packaged into an album, Cowboy Songs with Cliffie Stone and his orchestra, and there may be more Bel-Tone reissues that we have not located. Gold Seal also reissued three Country records by Red Murrell, which originally appeared on a Southern California label called Acme. It snagged the first two sides by singer Frankie Laine (a hot commodity after Mercury signed him in 1946) and two by the great singer and trumpet player Valaida Snow (1904-1956). Gold Seal's own recordings, made at Bachman Studio and (of course) United Broadcasting, had very good sound quality, but pressings were grainy, the company never had much distribution, and it was so strapped that it was operated so cheaply that it never bought a single advertisement in Billboard or Cash Box. It was still (feebly) in existence in October 1948, closing before the end of the year without owing enough money to get another writeup in the trade press. We presently know of 32 Gold Seals. But Gold Seal singles are so obscure, and the company's numbering system so idiosyncratic, that additional undocumented releases probably exist. Nothing has ever been reissued from Gold Seal, except the Max Miller single, which was picked up by his new record company, Life, and the Paul Jordan/Bud Freeman, which made it onto a Classics CD 51 years after it was recorded. [Revised 1/20/2022]
---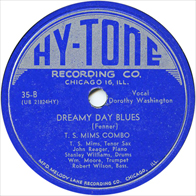 Hy-Tone was operated by former banjoist, guitarist, and bandleader Freddie Williams (1898-1955) in a partnership with Nathan Rothner (1910-2003), whose primary business was jukebox distribution. In business from 1946 through 1948, Hy-Tone was one of the first postwar independents in Chicago. (Only Session, S D, and Rhumboogie seem to have entered the scene earlier.) At first the company was run out of Williams' Melody Lane Record Shop, which released three singles on its own imprint; once Williams and Rothner formed a partnership, the Melody Lanes were reissued as Hy-Tones and the company's office was located in various buildings that Rothner owned. Though Hy-Tone never scored any commercial successes, Memphis Slim made a number of recordings for Freddie Williams (which were commercially interesting enough to be picked up by King later on), and Rothner noticed Delta blues pianist Sunnyland Slim about the same time that Sammy Goldberg and Aristocrat got around to him. Hy-Tone also recorded the loudly tailcoated uptown blues singer Jo Jo Adams, blues shouter "Crown Prince" Waterford, jump band trumpeter and vocalist Bill Martin, pioneering electric guitarist Floyd Smith, a local crooner known as "Bing" Williams with an exuberant Swing combo led by Freddie Williams, the legendary Chicago tenor saxophonist T. S. Mims, and ubiquitous South Side blues singer Jack Cooley. Hy-Tone put out a 500 gospel series that we may not have fully documented: we know of 6 releases by R. L. Knowles, but another one or two could be gathering dust somewhere. In all, Hy-Tone was responsible for 29 releases. Williams drifted out of the company in 1947, and the company quit recording at the end of that year, with releases continuing during the early months of 1948. By the end of 1948, Rothner had leased the 8 Memphis Slim sides to King Records for $2000, paid off his debts, and shut down Hy-Tone, though his record distribution business kept going till 1952. After the company folded, Freddie Williams spent his remaining years in radio, first as Jack L. Cooper's assistant and then with his own show on jazz-oriented station WAAF. Rothner continued in jukebox distribution and related businesses until he retired. Hy-Tone should not be confused with the ancient Hytone label that was active in 1921; with the Hi-Tone subsidiary of Signature that originated in the New York area in 1949; or with two further Hy-Tone labels in other parts of the country, one active in the late 1950s and the other in the 1960s.[Revised 4/24/2022]
---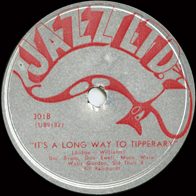 Jazz Ltd. was a boutique label that grew out of the club of the same name at 11 East Grand Street. Clarinetist Bill Reinhardt (1908-2001) and his wife Ruth (1904-1992) opened the club, which specialized in Dixieland, on June 11, 1947. The club featured visiting headliners and a house ensemble (trombone, clarinet, piano, and drums—but no bass) that always included Bill Reinhardt. The first headliner to work Jazz Ltd. was cornetist Paul "Doc" Evans (1907-1977), who opened the club with a 3-month engagement and returned in the fall of 1948 (as well as on several subsequent occasions). From September 1947 through early June 1948, the club scored a major coup by bringing jazz pioneer Sidney Bechet (1897-1959) back to Chicago, where he had last played a club engagement in 1919. Bechet would headline four times at Jazz Ltd. before moving to France at the end of 1949. After Bechet's first engagement, Down Beat columnist George Hoefer pointed out unsatisfied demand among Jazz Ltd. fans for "Egyptian Fantasy," which was out of print in its original version from 1941. The Reinhardts decided that records would help to promote the club, and later that year (probably in late August or early September) they recorded three sides with Bechet and an augmented house ensemble, plus a trio feature for pianist Don Ewell. In February 1949, they recorded Doc Evans and their current headliner Muggsy Spanier (1906 - 1967) on two sides each with the augmented house ensemble. In March Jazz Ltd. released all 4 78s as an album, in a limited edition of 1000. The album quickly sold out locally, and in May the Reinhardts signed a deal with Old Swing-Master to press and market the Bechet and Spanier 78s individually. When Old Swing-Master closed in June 1950, the Reinhardts signed a one-year deal with Regal, which put out all of the 1948-1949 recordings on a 10-inch LP. In 1951 the Reinhardts recorded a new 10-inch LP of extended performances by their current house ensemble featuring Doc Evans and veteran trombonist Miff Mole. This was released on the Jazz Ltd. label in 1952, but was available only out of the club. In search of wider distribution, the Reinhardts leased all of their existing material in 1952 to Atlantic, which put out two 10-inch LPs, followed (in 1957) by a single combined 12-inch release. In 1955 and 1958, the Reinhardts recorded two long sessions by different house ensembles, putting tracks from them on two limited-edition LPs, one in the 10-inch format and one in the 12-inch; in February 1960 they leased this material in turn to Atlantic, which combined selected items into one 12-inch LP. The club continued to prosper, moving to a larger venue at 162 East Grand in 1960, and Jazz Ltd. put out its last limited-edition LP in 1964. Because these records were sold out of the club, autographed copies of the last LP are quite common. In the mid-1960s, the club's presentation began sliding into the corny, rigid patterns for which other Dixieland venues were known, and business began to slacken. The last Jazz Ltd. releases were a 1967 EP that commemorated Muggsy Spanier and Sidney Bechet by reissuing four of their 1948-1949 recordings, and a 1968 45-rpm single featuring a somewhat enlarged version of the house band. The Reinhardts closed Jazz Ltd. in 1972, and Bill Reinhardt retired from music a few years later. After Ruth Reinhardt's death in 1992, the Jazz Ltd. masters were sold to Delmark, which has reissued the 1948-1949 and 1951 material. [Revised 7/1/2022]
---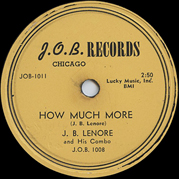 JOB was businessman Joe Brown's second and more lasting venture into the record business, after Opera. When the label opened in August 1949 his partner was James Burke Oden (St. Louis Jimmy), but as the bluesman recorded just one session, the very first for the label, we suspect that his share was quickly bought out by Brown or by someone else. (It is possible that blues piano stalwart Sunnyland Slim acquired a piece of the company.) Most of JOB's first session, an epic affair featuring St. Louis Jimmy, Sunnyland Slim, Willie Mabon, and Jimmy Rogers, ended up being sold to Apollo. JOB regrouped after its first foray into the business (and rewound to issue number 100) in 1950. In early 1951, JOB dealt some sides to Chess but relations between Joe Brown and Leonard Chess soon deteriorated; by the end of 1951 Chess was recutting two Floyd Jones numbers that JOB had already issued. During 1952 JOB operated on its own, scoring a number one R&B chart hit in "Five Long Years" by Eddie Boyd. However, Boyd soon decamped to Chess, returning to JOB only after his contract lapsed in 1957. In January 1953 Brown established a strategic alliance with Chance that produced a string of first-rate blues sessions, but by the end of the year JOB was back on its own again. In 1954 Brown was partnered for a time with a much lower-profile operation, the second incarnation of J. Mayo Williams' Ebony label. In 1955 Brown tried to start a subsidiary called Fury. There were further waves of activity: in late 1956 (after Brown sold his interest in the Abco label and it was replaced by Cobra); in 1958-1959, when Brown took over the Oriole label (previously a pop label active in 1950 and 1951) for a while in partnership with song publisher Bud Brandom (born 1920), and partnered with bluesman Willie Cobbs to start the Ruler label. During 1958-1959 Brown even tried to bring Leonard Allen of United into his business, with little to show for it except an ultra-rare JOB LP (!!!) by Nelda Dupuy. There was still another wave in 1960. Thereafter activity on JOB was sporadic, and the company no longer rated a mention in the trade papers. Mini-waves took place in 1963, 1966-1967, and 1971-1972. In 1964, Brown sold half of his publishing company to Bud Brandom, who was involved in producing most of the recording sessions from then on. The last release was a King Kolax single on JOB 7005; the music on it was over 20 years old when it hit the market. Joe Brown sold most of his masters to Stan Lewis of Jewel Records in 1972 and closed down the remainder of his operation in 1974. In all, JOB was responsible for 60 known singles and 1 12-inch LP on the parent label (plus 10 assorted single releases on its subsidiaries Fury, Oriole, and Ruler). JOB was primarily a deep blues label, though it also released gospel, soul, pop, calypso, jazz, and doowop material. Its top artists were Floyd Jones, Sunnyland Slim, Snooky Pryor, J. B. Lenoir, Eddie Boyd, Johnny Shines, Little Hudson, Willie Cobbs, and King Kolax. In the early days of the label, recording was done professionally in the best studios in Chicago; latter-day JOBs were recorded as cheaply as possible at various locations, including a studio in Joe Brown's basement, and some of them sound pretty rough. Some JOBs (non-blues issues, for the most part, so apparently not included in the 1972 deal with Stan Lewis) are incredibly obscure and to this day not been properly documented.[Revised 9/26/2019]
---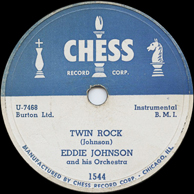 A big-toned tenor saxophonist out of the Coleman Hawkins and Ben Webster schools, Eddie Johnson (1920-2010) worked with Coleman Hawkins and Milt Larkin, and was a member of the both the short-lived "dream band" and the more stable Marl Young-led ensemble at the Rhumboogie Café in 1943-1944. Eddie Johnson began recording in 1944 when he appeared on two 12-inch 78s for the tiny Session label. He joined the Cootie Williams Orchestra in the spring of 1946 and appeared on two of Cootie's sessions for Capitol plus his first one for Majestic. As a regular member of Louis Jordan's Tympany Five, he recorded on five Decca sessions during 1947; he also substituted for Ben Webster in the Duke Ellington Orchestra on at least one occasion. Returning to Chicago, he was a member of the All Star Orchestra that Al Benson assembled in 1948, and he recorded again for Benson (behind violinist Eddie South) in 1951, then on a session with Leo Parker, which led to his own recording contract with the Chess brothers. Though he made way too few records under his own name, Johnson's bit of small-group Ellingtonia "Walk Softly" and his rocking instrumentals "Tip Toe" and "Twin Rock" (recorded for Chess in 1951 and 1952), give a lasting indication of his artistry. From the mid-1950s to 1980, Eddie Johnson was only a part-time musician, and his recording opportunities were sparse. However, in 1965 he appeared as an unannounced substitute for Paul Gonsalves on a Duke Ellington LP session. Johnson began a second career after retiring from his day job; he can be heard to advantage on his 1981 LP for Nessa, as well as in featured appearances on two Pinnacle LPs from the same year. In the 1990s, Johnson worked sessions with The Jazz Members Big Band of Chicago, Kurt Elling, Philippe Lejeune, and Jodie Christian, and in 1999 he made his own CD for the Delmark label. He wound down his public performances after 2000, retiring in 2004 because of advancing emphysema. Eddie Johnson died on April 7, 2010, at the age of 89. [Revised 5/16/2020]


---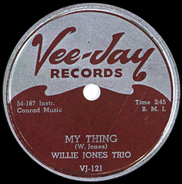 Willie Jones (1920-1977) was born in Mississippi, but spent his entire professional career in Chicago. He was the farthest-out pianist on the Chicago scene before Sun Ra followed his lead. Willie Jones played in the locked-hands style, lightning fast, with frequent dissonances. His mature style was about halfway between Milt Buckner and Cecil Taylor; the physicality of his playing made him popular with audiences who might not otherwise have cared for his harmonic audacities. He made just one record as a leader ("My Thing" b/w "My Other Thing," which must have nonplussed the record-buying public when it appeared as a Vee-Jay single in January 1955) but can also be heard to advantage on a Paul Gonsalves session from 1957. In 1947 and 1948 Jones recorded as a sideman with Tom Archia, Buster Bennett, and King Kolax. In 1954 and 1955 he participated in several studio bands, led by Al Smith, that backed vocal groups for Parrot and Blue Lake. (Who would have expected a Willie Jones accompaniment to "Shake a Link" by the Five Chances, or a Willie Jones piano solo in the middle of "Met a Girl on the Corner" by The Orchids?) His working combos in the 1950s included such musicians as Eddie Williams, Melvin Scott, and Harold Ousley (tenor sax), Joe Daley (alto sax), Betty Dupree (bass), and Earl Phillips and Phil Thomas (drums). He made three latter-day sessions (the first possibly in 1963, the second and third probably in the early 1970s) accompanying the bar-walking tenor saxophonist Tommy "Madman" Jones (not a relative) for the M&M label. Willie Jones was reportedly an effective singer, though none of his vocals were preserved on record. His last years were troubled by periods of ill health, and he was catching up on his Union dues in installments when he died of heart disease on December 31, 1977. [Last updated 2/29/2020]
---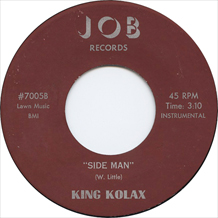 William Little (1912-1991), better known as King Kolax, played trumpet and led countless bands, most of them unrecorded. At various times his big bands (which were active from 1936 to 1947) provided seasoning for then-unsung musicians named Gene Ammons, Charlie Parker, and John Coltrane. Unusually for a musician born before Kenny Clarke, he took up bebop and finally got a couple of opportunities to record with Billy Eckstine's Orchestra in 1946. His first records under his own name were a pair of extremely elusive releases for Ace, a subsidiary of the Miltone label, made in Los Angeles in February 1947; these featured a 17-piece band with blues or pop vocals. After the collapse of the last Kolax big band later that year, he recorded occasionally with his own R&B combos, singing blues and standards, and cut sessions behind blues singers and doowop groups. Over the years, King Kolax's small groups included such musicians as Johnny Thompson, Dick Davis, and Harold Ousley (tenor sax), Bennie Green (trombone), Billy Wallace and Prentice McCarey (piano), Mentho "Cowboy" Martin and Malachi Favors (bass), and Vernel Fournier and Leon Hooper (drums). He made his debut as a blues singer on a session for Opera (1948). A long session for JOB in 1951 (much of it still unreleased) included first-rate work by his band with Davis and McCarey and a genuine (indeed, rather spectacular) solo feature for his trumpet on "Side Man." King K's two sessions for Vee-Jay (1954 and 1955) appear to have included at least one arrangement by Sun Ra; both bandleaders worked the Grand Terrace during 1955, and both would appear at Budland in 1956. Popular tastes began to shift, inducing Vee-Jay to leave his second session in the can, and in 1957 Kolax began having trouble finding work for his group. He made an LP for an Evanston-based label called Stepheny, backing a lounge singer named Harvey Ellington, which features some well-recorded soloing, but by the end of 1958, his combo wasn't working regularly and his long-time pianist, Prentice McCarey, was taking gigs as a leader. Kolax eventually adjusted by accompanying soul artists. From 1961 to 1964, he was an A&R man for a very small Chicago label, Marvello Records; we have included the fullest known listing for Marvello as an appendix. After two obscure singles for a label called Weirton in the early 1960s, one appearance on a Brother Jack McDuff date in 1966, and a short stretch working in Gene Ammons' combo, King Kolax made his last recording session in 1970, behind Roosevelt Sykes; he then served as an official with the Chicago Federation of Musicians until his retirement. [Revised 4/28/2022]
---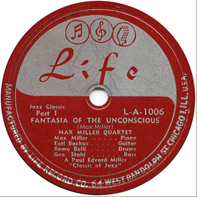 Life Records was a short-lived vehicle, first for the work of a songwriter on Randolph Street in Chicago, later for the work of maverick Swing musician Max Miller (born 1911), who wanted to record his original compositions but didn't want to sign over all or part of the rights to them. Miller, whose first instrument was the banjo, subsquenty adopting the guitar, drums, and string bass, took up the vibraphone in the mid-1930s. During World War II, while working in a factory making airplane parts, he taught himself to play the piano, and was featured on the instrument after his return to the Chicago scene in September 1945. Beginning in 1944, he periodically booked studio time to record himself jamming with other jazz artists, most notably Sidney Bechet. In 1946, he released one record as a leader, with his original composition titled "Heartbeat" on one side, on the ambitious but now forgotten Chicago independent label Gold Seal, which did not continue its jazz release program and went out of business in 1948, stranding 8 other sides that included several recordings of his originals. By 1950, Miller was ready to record more original pieces such as "Lumbar Ganglion Jump." Meanwhile, Life Records, with an address in the Garrick Theater buidling at 64 West Randolph Street in the Loop, had opened for business in August 1948. Its proprietor, W. W. Maloney, ran Chicago Music and wanted to record and release some of his own songs. The label was scarcely a fount of energy, putting out a total of four pop records in its first 18 months of existence. One of these was by a good band singe who went as Gloria Van (born 1920, real name Lucille Fanolla), who had worked with Johnny "Scat" Davis, Gene Krupa, Hal McIntyre, and Buddy DIVito, but the company saddled her with poor material. In April 1950 Life signed Max Miller, whose Gold Seal single was promptly reissued as Life 1003. Miller recorded four new sides in July or August, and by September of that year was being referred to as the label's music director. Miller took a brief hiatus when he was invited to record for Columbia in its Jazz Piano Moods series and made a 10-inch LP with his quartet; to keep the company's mitts off the royalties to his compositions, he performed standards. Life soldiered on, signing a polka band from Omaha along with Bud Pressner's territory band, but we have yet to locate anything they recorded. In 1952 Life picked up its desultory pace and began releasing 45s in a 5000 series alongside the 1000s. Two of the new Lifes were by Miller's combo (featuring singer Wellington Blakey on two of the four sides). Another two, licensed from RCA Victor, were by a marimba player, Doris Stockton (1916-2013). After announcing eight Stockton sides and putting out half of them, the company went inactive, and by the summer Max Miller was their new distributor, selling remaining pressings out of his studio at 222 West North Street. The company emitted a final gasp in March 1953, announcing that it planned to record a pop singer, but nothing of that. Miller was busy in 1953 operating his studio and writing about audio recording in Down Beat. From July 1955 through early 1957, he ran Max Miller's Scene, a club at 2126 North Clark Street. His last known recording to see commercial release was done in 1959, at his last gig in Chicago, when he backed Bobby Hackett on a couple of broadcasts from the London House. Wellington Blakey went on to record for Vee-Jay in 1953; he also made a guest appearance in 1964 on a Riverside LP by his cousin, drummer Art Blakey. Miller worked in Dallas, Tucson, and Miami before moving to Oklahoma, where he died in 1985, leaving behind an extensive catalogue of compositions and unissued recordings made in his studio. Gloria Van recorded for other labels until 1956, but by the end of the decade was a part-time performer. She died in 2002.[Revised 11/19/2020]
---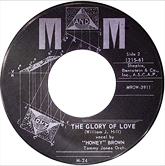 The Mad and M&M labels were personal projects of tenor saxophonist Tommy "Madman" Jones (1922 - 1993). Jones was a versatile musician, capable of everything from bebop to smooth jazz to rock and roll to jazz-funk, but his reputation in the Chicago clubs was firmly predicated on his skills as a barwalker; he was first billed as "Madman" back in 1948. Dissatisfied with his meager opportunities to appear on records, Jones began recording in 1956 and launched the Mad label in November 1957 to feature his own work. To build its roster, the label recruited old-fashioned groups such as The Four Shades of Rhythm, Tony Smith and His Aristocrats, and various outfits led by guitarist Lefty Bates. From 1959 to 1962, the Mad label and its publishing arm, Josette Music, were part of a larger combine that included the Apex and Dempsey labels and produced joint LPs by Tommy Jones for Apex and M&M and George Green's trio for Dempsey/M&M. In 1960, Jones opened a subsidiary called M&M, which he reserved for his more jazz-oriented efforts; after the collapse of the Apex-Dempsey alliance the Mad imprint aimed (unsuccessfully) at a pop audience for a few years. In the early 1970s Jones tried another spinoff label called Honey, but only two releases are known. Meanwhile M&M had turned into a label of sporadic LPs featuring Jones himself; the last of these appeared in the early 1980s while Jones was temporarily residing in Los Angeles. While Tommy Jones never got adequate promotion or distribution and press runs for Mad and M&M releases were low (it is sad to contemplate how such performances as Jones' rendition of "I Surrender, Dear" ended up on a low-distribution 45 with a likely total pressing of 1000, while one of the great jazz LPs, A Different Sound on M&M LM-27, is nearly impossible to find and has never seen reissue), his labels not only preserved his own work for posterity but afforded Oscar Brown Jr., E. Parker McDougal, and Clarence Wheeler and the Enforcers their first recording opportunities under their own names. In addition, two of Jones' M&M LPs contain the last recorded appearances by pianist Willie Jones (not related). Jones' final effort on Mad was a retrospective CD that he released in 1991, while living in the Netherlands. Because items on Mad or M&M are so scarce, they are still being rediscovered; we continue to receive additions and corrections from collectors. [Revised 7/5/2022]
---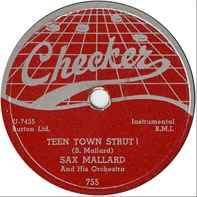 Oett "Sax" Mallard (1915-1986) gradually transformed himself from a lachrymose alto saxophonist after the manner of Johnny Hodges into a semi-tough R&B tenor. Throughout his career, he was a strong clarinetist. Born in Tamms, in Southern Illinois, he moved to Chicago at an early age and got his band instruction from the redoubtable Captain Walter Dyett. He toured with many Swing bands and combos, including Andy Kirk and Duke Ellington (he appeared on several airshots with Ellington in 1943, as a temporary replacement for Otto Hardwick). On returning in 1946 from service in the Navy, he joined the popular combo led by drummer Jump Jackson. This led to studio work as one of the designated horn players in the waning days of the Melrose combine, logging session after session with Big Bill Broonzy, Washboard Sam, Roosevelt Sykes, Eddie Boyd, Tampa Red, Arbee Stidham, Rosetta Howard, and Jump Jackson from early 1946 through the flurry of recording activity at the end of 1947. After going out on his own as a leader, he made two further Melrose sessions with Arbee Stidham and a session with Sugarman Penigar in 1949. Mallard recorded as a leader for Aristocrat (1947; his band also backed Andrew Tibbs in 1948 and 1950 and the Dozier Boys in 1948), Chess (1951 and 1952), and Mercury (1951 and 1952, where he was also reunited with Big Bill). Some of the Mercury work has been reissued on CD, but just one of his Aristocrat/Chess sides as a leader has made it, along with the Andrew Tibbs sides on which he played. Mallard worked Al Smith's first sessions for the Chance label (late 1952) and accompanied Mitzi Mars (1953), The Coronets (two sessions in 1953—one of his best tenor sax solos appears on an obscure doo-wop single), Bobby Prince (1953), Guitar Slim (1954), The Moonglows and The Fortunes (1955), Sunnyland Slim (1960), and Roosevelt Sykes (1951, 1960, 1962, 1970). He led his own combo for 30 years. His last recorded appearance was with the Blind John Davis Jump Band at the Chicago Jazz Festival in 1981, and his last appearance in public was a big band concert in 1984. [Latest update 5/24/2020]
---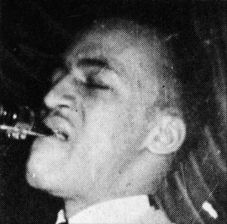 Claude McLin (1925-1995) was another talented tenorist of the Lestorian persuasion. Born in Chicago, he graduated from DuSable High School; he was appearing in Levi Sayles' "baby band" (with Johnny Griffin and Wilbur Campbell) in the spring of 1944. Returning from military service in 1946, he led tight, swinging combos (usually quartets) in Chicago through the end of 1951; sat in on Monday nights at the Macomba Lounge; and worked many a Sunday dance at the Pershing Ballroom, dueling with other tenor players under the sponsorship of McKie Fitzhugh. None of his many tenor battles with Archia, Gene Ammons, and Prez himself were recorded—though he may have snuck into "Hey Tom Archia," a live Archia-Ammons duel from the first half of 1948. Fortunately, we do have a few sides that McLin made for Aristocrat and Chess (1949 - 1951): a 1949 sesssion with singer and pianist Laura Rucker, and three sessions under his own leadership from 1950 and 1951. Despite good press in the Chicago Defender throughout his stay in Chicago, McLin went through periods of unemployment in 1949 and the first half of 1950, and was regularly in hot water with the Musicians Union for not paying "Local tax" on his engagements. He got a significant boost when his rendition of "Mona Lisa" (recorded in July 1950) hit on the charts. But an attempted follow-up with "Tennessee Waltz," though strong artistically, lost out commercially to "Schoolboy" Porter's version on Chance. In general McLin lacked the staying power with the public that Gene Ammons had. An unexpected bonus in his discography is an October 1950 set in which McLin and the house band at the Pershing Ballroom were joined by Charlie Parker. Fed up with conditions in Chicago, Claude McLin moved his family to Los Angeles in 1952. He found steady work there, with occasional excursions to San Francisco and Las Vegas, but recording opportunities were scattered. Claude McLin appeared on an Amos Milburn session for Aladdin in 1954, recorded two singles for Golden Tone in 1958 (one of them backing L. C. Cohen, who also sang in a gospel group), and laid down two blues for Dootone in 1958. He made a solid single for his own label, Mac-Jac, in 1960, to promote a restaurant called the Countdown Café that he and his wife operated. Five and a half singles done from 1960 to 1962 for a small label called Allegro, run by Dunlap J. Cawthron, sought to reach a wider public by featuring his vocals as well as his tenor sax work; two of these were also issued on Cawthron's C&C imprint. His very last session, for Dooto in 1964, found him trying to appeal to a rock and roll audience; it was preceded by a second Mac-Jac single that effectively served as a demo for the same tunes, performed in jazzier renditions by his working trio. Work opportunies declined sharply after the last recording session and Claude McLin spent the last 25 years of his life out of music. [Last updated 9/22/2018]
---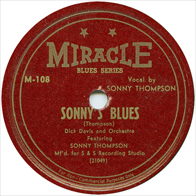 Miracle Records was a Chicago-area independent run by Lee Egalnick (1921-2000) and Lew Simpkins (1918-1953). Egalnick had been (briefly?) in the distribution business, and from 1944 to 1947, Simpkins owned S & S Bookstore at 107 East 47th, which also offered records and had a small studio for "auditions" in the back. Initially launched in June 1946 and run out of the bookstore, with two commercially unsuccessful releases by "male torch singer" Rudy Richardson coming out in August, Miracle regrouped. The company changed the color of its label from blue to red, and relaunched in December of that year. By May 1947, the company had moved out of S & S and relocated at 500 East 63rd Street. Miracle had national hits in "Fool That I Am" by Gladys Palmer, "Trees" by Al Hibbler (on the Sunrise label, which Miracle distributed from 1947 through 1949), and "Long Gone" and "Late Freight" by Sonny Thompson. The company's roster also included singer/pianist Memphis Slim (who did some of his best work for Miracle, and had a string of hits of his own), tenor saxophonist Eddie Chamblee, and gospel singer Robert Anderson. Despite the big hits, Miracle had invested heavily in recording during the last quarter of 1947, accumulating vocal sides by Gladys Palmer and crooning balladeer Browley Guy that no longer interested the record-buying public. Miracle tried investing in cooperative distributors, with mixed success. In the second half of 1949, the hits dwindled and then stopped coming; releases were delayed, and Egalnick complained to distributors about their lack of enthusiasm for his company's product. The company was subsequently afflicted by a lawsuit in Federal court over composer credit for "Long Gone"; it won, but by the time the lawyers had been paid and the plaintiff decided not to appeal the judgment, Miracle had closed. No longer able to pay for recording sessions, the company went belly-up in the spring of 1950. By June 1950, Egalnick and Simpkins had established a successor label called Premium. Our listing includes all known releases on the Sunrise, Master, and Old Swing-Master labels that came out of their association with Miracle. Miracle recorded 198 masters, and issued 49 singles during its lifetime; another 8 sides that were recorded for Miracle appeared on Master or Old Swing-Master. Sunrise was responsible for 14 known releases in its basic series and 6 more in the Sunrise/Miracle 500 series. Most of the Miracle masters were acquired after the label's demise by King/Federal. King then licensed some sides to Esquire in Britain; the Esquire releases, which are still underdocumented, ended up including some tracks never available anywhere else. A few other Miracle sides had already been turned over to Master before the King deal, or had been retained for release on Premium. The Al Hibbler Sunrise sides were acquired by Chess, where they proved a significant source of revenue in 1951 and for some years to follow. Some of the Sunrise gospel masters were acquired by Bob Shad's Sittin' in with... label. We are indebted to Tom Kelly and Art Zimmerman for checking matrix numbers and label copy for many of these releases. A March 2005 list of Miracle masters that passed into the hands of King Records (provided to us by Ace Records) has given us much further insight into unreleased Miracle sides, along with those that were issued on other labels without their original matrix numbers. Additions and corrections are welcome. [Latest update 12/9/2023]
---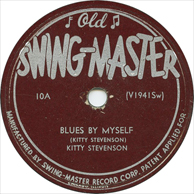 Prominent Chicago DJ Al Benson (1908-1978) made his first venture into the record business in January 1949, when he became the front man for a company called Old Swing-Master, after his favorite DJ handle. The major mover behind the company was Egmont Sonderling (1906-1997), who owned Master Records (a pressing plant) and United Broadcasting Studios. Although Benson had begun some free-lance recording in 1948 (and two of his sessions ended up on his label), he did no new productions for Old Swing-Master, whose modus operandi was to issue masters acquired from other independents that were already defunct or lacked adequate distribution. Old Swing-Master began with material left over from a failed "race" recording series on the Vitacoustic label, which went out of business in 1948 owing Sonderling money for studio time and mastering. The label's other releases were acquired from tiny Chicago operations like Planet and Marvel, or enterprises that had been extinct for longer, such as Sunbeam and Rhumboogie. A deal was also cut to distribute three 78s of Dixieland material from another local boutique label, Jazz Ltd. Toward the end of 1949, after putting out 17 known 78s, Old Swing-Master gave up its initial release program. However, Sonderling used the label a while longer for material acquired from the Miracle label to settle debts (during this final period, which saw 5 more releases, the dark red Old Swing-Master label was replaced with a blue one). Deciding to get out of the record business, Sonderling sold his pressing plant to Art Sheridan of Armour Plastics in March 1950. Old Swing-Master finally closed its doors in June, when Leonard Davis, who had been running the label's operations, jumped ship to Chess Records. By the end of the year, Sonderling had made his transition into radio by opening station WOPA; there were three more Master releases, all limited-circulation, but Sonderling was completely out of the record business in 1953. He spent the rest of his career building up and operating a chain of radio and TV stations, finally retiring in 1987. After some further freelance recording and a loose alliance with Chess, Benson would make a more sustained effort at running a record company when he started Parrot in 1952.[Revised 12/7/2022].
---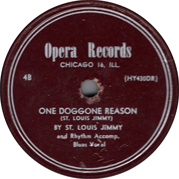 Opera Records was a tiny label that functioned for a year or so, throwing in the towel in October of 1948. Its proprietors were entrepreneur Joe Brown (1904-1976) and blues pianist and singer James Burke Oden (aka St. Louis Jimmy, 1903-1977). Born in Oklahoma, Brown had been a boxer and an investor in two gas stations before he entered the music business. Just 5 releases are known on Opera. The label's artists were nightclub pianist and singer Byllye Williams, jazz and R&B trumpeter King Kolax, and blues artists St. Louis Jimmy and Sunnyland Slim (the latter appearing under the pseudonym Delta Joe). The St. Louis Jimmy sides had been recorded for Hy-Tone, at a session we can now date to October 18, 1947, but bought back by the artist when it became evident Hy-Tone was done with new releases. Joe Brown rather quickly shut Opera down, unloading 6 Byllye Williams masters to Savoy. In August 1949 Brown and Oden would be back in the business with JOB, though Oden stayed with the new company less than a year. In 1952, Brown sold the "Delta Joe" sides to Chance, which reissued them. The fate of the masters from Opera's second Byllye Williams session remains unknown, as is also the case for the company's St. Louis Jimmy material and its King Kolax session. [Revised 4/24/2022]
---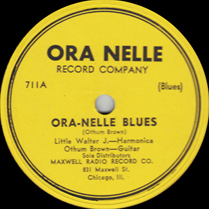 Ora Nelle was the tiniest of boutique labels, run out of a record store and responsible for just two official releases. It opened in 1947, when Bernard Abrams (1919-1997), who had been operating Maxwell Radio and Record Shop at 831 West Maxwell Street since 1945, decided on a commercial release of two blues records. These, along with quite a few other items intended as demos, had been cut on 8-inch lacquers on a portable machine set up in the front room of the store. Abrams didn't have to go far to find talent; the blues musicians and small groups he chose to record (three pieces was his effective limit) were all accustomed to performing outdoors, in the Maxwell Street Market, and to dropping by the store. Named after a relative, Ora Nelle put out its two releases, featuring guitarist Othum Brown with harmonica player Little Walter, and Johnny "Man" Young with Johnny Williams, in 1947. Other sides, once under consideration for release, kept on being recorded for another year or two: these featured Jimmy Rogers, in his debut as a guitarist, Sleepy John Estes, Johnny Temple (in a proto-rock-and-roll performance), and Willie McNeal aka Boll Weevil. Meanwhile, the two releases never got real distribution beyond the store, where they remained in stock for more than 20 years. Modest as it was, Abrams' operation was in just the right place at just the right time to catch the new down-home home blues sounds as they were emerging: the sides by Man Young, Johnny Williams, Boll Weevil, and Little Walter were all recording debuts. In 1952, the two sides featuring Little Walter were reissued on Chance. In 1969, a young blues fan named George Paulus, who had been a customer at Maxwell Record and Radio for several years, bought the remnants of the label, including all surviving unreleased items and alternate takes. The Ora Nelle legacy, running to 14 sides, has subsquently appeared on Paulus's Barrel House label (1974), on his St. George label (remastered, 1983), and on LP and CD from the indefagitable Japanese reissuer P-Vine (1993). The store continued in operation at 831 West Maxwell till 1976, then continued for a few more years down the block at 805. By the time of Bernard Abrams' death, in 1997, the once-vibrant stretch had been demolished to make way for an athletic complex at the University of Illinois Chicago.[Revised 7/29/2016]
---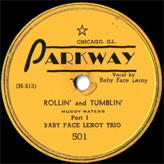 The Parkway label was officially in existence for 7 months in 1950, and was responsible for 5 known releases under its own imprint. The results of its initial recording session have nonetheless made the company legendary among fans of Chicago blues. Parkway was established in January 1950 by Monroe Passis (1914-2004), who owned Chord Distributors, and George (1917-1983) and Ernie Leaner (1921-1990), who were managers for Chord. Fred Mendelsohn (1917-2001), an East Coast record man, was probably an investor. The label's first session used Muddy Waters' working band (Little Walter, harmonica; Baby Face Leroy Foster, drums and some second guitar) but gave the lead vocals to Baby Face and Little Walter. Two singles were released under Foster's name (including the wild two-sided performance of "Rollin' and Tumblin'" on Parkway 501) and one under Walter's. Three of the original lacquers have survived, including 3 unreleased takes; two of the unreleased takes, along with an unedited "Rollin' and Tumblin'" finally appeared in 2012 on Louis Records. Probably on the same day, Parkway recorded Memphis Minnie, but the only single from that session appeared on Regal. (Passis had been working closely with Fred Mendelsohn, whose short-lived Merit label Chord distributed in June 1949; Chord then picked up Regal as soon as that record company, run by Mendelsohn and the Braun brothers, got launched.) A single side was laid down by Jimmy Rogers, but it had to wait two decades to see a release. A fourth session produced the curious, two-sided "Steelin' Boogie" by Robert Jenkins, who may or may have not been the harmonica player on side two. A significant blow was dealt, both to Chord Distributors and to the Parkway label, when the Leaner brothers left in March 1950 to launch their own United Distributors, promptly grabbing various lines awy from Chord; their departure roughly coincided with a Roosevelt Sykes session for Parkway—and the rapid release of an Aristocrat version of "Rollin' and Tumblin'." The Aristocrat was intended to kill the Parkway's sales, which it did. The Sykes sides were dealt to Mendelsohn, leading to three releases on Regal and a Regal contract for the pianist. In April, jazz trombonist Bennie Green cut four sides with a quintet of local all-stars, including Claude McLin on tenor sax and Willie Jones at the piano; apparently nothing was ever released. In July 1950, Regal, probably with Passis' involvement, recorded three tunes by Eddie Boyd. In September, Mendelsohn, who was owed money, took possession of the January 1950 session masters and put out the two remaining Little Walter sides on Regal, Chord Distributors closed, and Passis took over a new operation imaginatively called Record Distributors, Incorporated. RDI was a joint venture with four New York-area record companies: Atlantic, Jubilee, National—and Regal. In April 1951, there was a flurry of new blues recording activity in Chicago, during a period of time when Mendelsohn isn't known to have been in town, but Passis was: another Roosevelt Sykes session, an Essie Sykes, a Sunnyland Slim session (Passis always claimed Sunnyland as a Parkway artist), and a St. Louis Jimmy. Unfortunately, National went out of business in May or June 1951, and in October 1951, Regal closed, sending Mendelsohn temporarily to work for Sid Nathan at DeLuxe. When Atlantic switched its Chicago distribution to James Martin (in February 1952), Passis closed Record Distributors, probably destroying his stock of unsold Parkway 78s in the process. In later years, Passis, now known as "Ray," ran trade shows. The Leaner brothers operated United Distributors until 1974. George Leaner also ran the Oneder-ful / M-Pac / Mar-V-lus labels from 1964 to 1968, and Ernie operated Toddlin' Town from 1968 to 1971; all of these labels focused on soul music. Fred Mendelsohn started Herald Records in October 1952; he was bought out of the company in June 1953, as soon as it started making money, but by then he had issued or reissued masters by Little Walter, Eddie Boyd, and St. Louis Jimmy. In December 1953, Mendelsohn went to work for Regent/Savoy: two further Parkway reissues appeared on Savoy. After another stay at DeLuxe, and time at Arrow, United Telefilm, and Duane, Mendelsohn returned to Savoy in 1961 and spent the rest of his career there. It was Mendelsohn who preserved the masters of most of the Parkway sessions for posterity, put them out on Regal, Herald, and Savoy, licensed them to Biograph and finally sold them to Delmark.

[Revised 12/21/2022]
---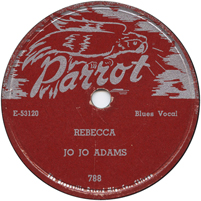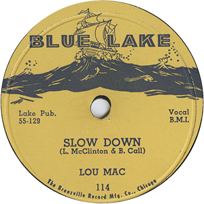 Al Benson's most sustained effort at success in the record business was Parrot Records. The first Parrot single was released in limited quantities in November 1952; the company made its official launch in June 1953 and continued under Benson's ownership through March 1956. The new owner, John "Lawyer" Burton, tried to keep the enterprise going until October 1956. In all, Parrot and its Blue Lake subsidiary recorded 285 known sides and leased another 10. 51 known singles were released on Parrot and another 19 on Blue Lake. In 1955, there was even a 12-inch Parrot LP, Ahmad Jamal Plays. Two further LPs, by Paul Bascomb and Johnny Griffin, were advertised but never saw the light of day, though the Griffin would make a belated appearance on the Chess brothers' Argo label and the Jamal was reissued twice on it. At various times, the Parrot / Blue Lake artist roster included The Flamingos, The Orchids, The Five Echoes, J. B. Lenoir, Paul Bascomb, Jody Williams, Sunnyland Slim, Dusty Brown, Joe Williams, Bessie Griffin, Coleman Hawkins, King Fleming, Herbie Fields, Conte Candoli, and Red Saunders. Unlike its release number system, the Parrot/Blue Lake matrix system was rather hard to follow and the labels have not been well-documented in jazz or blues discographies. With the help of Donn Fileti of Relic Records, we have produced the best listing of Parrot and Blue Lake recordings currently available. Courtesy of Dan Ferone at Beverly Records, we have further benefited from an in-house list of the Parrot and Blue Lake master tapes that passed into the hands of the Chess brothers around 1959. The tape list gives us the track titles for the unissued Paul Bascomb LP and reveals that Ahmad Jamal made previously unknown sessions for Parrot in November 1953 and November 1955. Unfortunately, unissued Parrot tapes that passed to Chess Records are most likely now lost. [Revised 5/3/2023]
---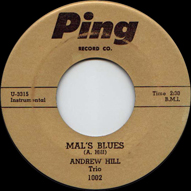 We went to some pains to document the short history of Ping Records (October 1956 - Summer 1957), a boutique operation owned by Frank Evans. Ping, run out of the back of Evans' record store at 4648 South Cottage Grove, makes other Chicago independents like Planet, Rhumboogie, and Parkway seem well documented by comparison, and only two Ping tracks have ever been reissued. Yet Ping recorded jazz pianist Andrew Hill (1931-2007) in a trio with Malachi Favors (1927-2004) and Wilbur Campbell (1926-1999), and a quintet adding Von Freeman (1923-2012) and Pat Patrick (1929-1991), the De'bonairs, and Porter Kilbert (1921-1960; his date featured arrangements by Hobart Dotson and drumming by Vernel Fournier). Its tiny catalog included gospel preaching and congregational singing (Deacon Leroy Shinault) as well as doowop (the De'bonairs) and jazz (the Porter Kilbert ensemble and the Andrew Hill trio and quintet). The company even made a foray into blues when it recorded harmonica player and singer Shakey Jake, though this last session was left unissued when the label went out of business. Ping deserves a more secure place in our memories. [Revised 2/24/2020]



---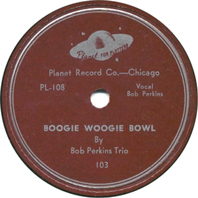 Planet and Marvel, both small boutique labels, were the work of entrepreneur Chester A. Scales (1914-1997). Scales, who had taken up residence in Chicago in 1943, ran a couple of small record stores on the Near North Side of Chicago. He was motivated to record musicians he heard playing on Sedgwick near one of his stores, or at the nearby Square Deal club. Lacking the capital to put the records out himself, he went into partnership with others who were involved in record distribution. Marvel was apparently a partnership with someone at the Chicago distribution arm of Trilon Records, a firm based in Oakland, California. Planet almost certainly involved someone at Planet Record Sales, a wholesaler located at 831 South State. Scales had a good ear for blues. He put on record pioneering sides by Snooky Pryor and Moody Jones and by "Man" Young for Planet, and by Floyd Jones for Marvel. The other Marvel 78 was a straight reissue of a Jimmy McCracklin record from the waning days of Trilon, and the final Planet was a jazz combo release by alto saxophonist Bob Perkins (maybe one of Scales' partners was in charge of recording that one; it's also possible that Harry Glenn, a songwriter from Hammond, Indiana, was involved in some way). The records sold very poorly, and the companies lasted just a few months (roughly from November 1948 to May 1949) before the Trilon distributor and Planet Record Sales both went out of business. In May 1949 the Marvels and Planets were snapped up by Al Benson; the Planets were promptly reissued on Old Swing-Master and the Marvels followed three or four months later. Despite the short series (3 releases on Planet, 2 on Marvel) from a severely undercapitalized operation, Scales' labels were responsible for 3 historically important releases in the emerging Chicago blues style, and one of two known records by one of the better jazz alto saxophonists on the Chicago scene. Snooky Pryor, Moody Jones, and Floyd Jones all went on to record for better-known blues labels in the early 1950s, and Man Young was "rediscovered" in the 1960s. Meanwhile, Chester Scales closed his last record shop and left Chicago in 1953, spending the rest of his life in small towns in southern Wisconsin.

[Revised 5/3/2023]
---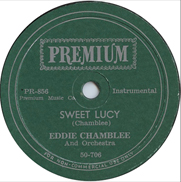 Premium Records was the immediate successor to Miracle. Owner Lee Egalnick left Miracle in May 1950; in June, he was joined by A&R man Lew Simpkins, who had wrapped up the now-bankrupt company's affairs. Premium continued to record several artists who had been significant contributors at Miracle: Memphis Slim, Eddie Chamblee, and the Reverend Robert Anderson. The new company added such performers as Terry Timmons, Sarah McLawler, Rhythm Willie, and Tab Smith. Premium cut 92 sides and put out 29 releases (there were at least two Premium-related releases on Master as well). Premium failed in the summer of 1951; Simpkins left in July and started United with Leonard Allen. In December 1951, over 50 Premium masters were bought up by the Chess brothers; Chess profitably issued ex-Premium sides by Memphis Slim, the Reverend Robert Anderson, tenor saxophonist Lynn Hope, and alto master Tab Smith. For another year and maybe a little longer, Egalnick was effectively a song plugger for his publishing company, Premium Music. Then he gave up the music business and left Chicago. By 1957 Egalnick was living in a suburb of Houston, Texas and running scrap, moulding, and casting mills. In 1968, Egalnick started a high-school-to-college summer baseball league, which became quite successful; after retiring from the metal business, he ran it full time. Lee Egalnick died in Houston in 2000. We are indebted to Tom Kelly and Art Zimmerman for checking matrix numbers and label copy for many Premium releases. Additions and corrections are welcome. [Revised 4/16/2022]
---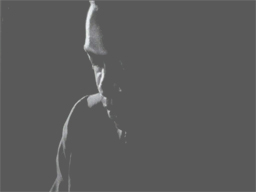 Sun Ra developed his mature style in Chicago. Born Herman Poole Blount in Birmingham, Alabama, on May 22, 1914, Sonny began playing the piano at age 10. Before he graduated from Industrial High School, he had composed "Chocolate Avenue," a piece recorded (without composer credit or payment) by Clarence Williams in 1933. From September through December 1934, he took a band on tour; it got as far as Chicago before returning south. From 1936 to 1946, the Sonny Blount Orchestra was one of the leading Swing bands in Alabama. Fed up with Jim Crow and the lack of creative musical opportunities in Birmingham, Sonny bought a one-way ticket to Chicago in January 1946. He worked with Wynonie Harris (March 1946, leading to his first appearance on record), Fletcher Henderson (1946-1947), Lil Green (1947), Stuff Smith (1948; a duet was recorded on his home tape machine), Eugene Wright and the Dukes of Swing (1948; he recorded with them for Aristocrat), and the Dozier Boys (also recording with them for Aristocrat in 1948). In 1950, he put together his first experimental band—a trio with Pat Patrick on baritone sax and Tommy Hunter or Robert Barry on drums. During the first half of the 1950s, Sonny rehearsed experimental ensembles of varying sizes while writing arrangements for other leaders. For income, he was largely dependent on perpetual trio gigs in the strip joints of Calumet City. In 1952, he changed his name to Le Sony'r Ra (Sun Ra for short). In 1953, his "far out" arrangements appeared on recordings by Joe Williams, Jo Jo Adams, and the Red Saunders band; he also played piano, staying under the radar for more than 50 years, on a Coleman Hawkins session for Parrot. In 1954, he worked extensively with vocal groups, writing such songs as "Chicago, USA," and began to get work on the South Side as a leader; in 1955, he assembled the first Arkestra, landing an engagement at the Grand Terrace Ballroom in October; in January 1956, the Arkestra got a steady gig at Cadillac Bob's club in the basement of the Pershing Hotel (first called Birdland, name soon changed to Budland). The band also began recording in the spring of 1956, on a one-time basis for Seymour Schwatz's Heartbeat label, and more durably for a new company called Saturn owned by Sun Ra, his manager Alton Abraham, and Alton's brother Artis.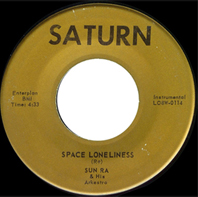 Until 1961, the band worked regularly in Chicago, albeit without garnering a lot of publicity, traveling little and and recording extensively. Except for one LP released on Tom Wilson's pioneering Transition label, the Arkestra's remaining output would appear on Saturn, whose records were as close to home-made as the outcome of tape recording and vinyl pressing could ever be. Because of the company's uncertain finances, the label initially concentrated on singles, putting out 3 in 1956, 1 in 1957, 2 in 1958, 1 in 1959, 2 in 1960, and 2 in 1961. Just two LPs were released while the Arkestra resided in Chicago, one in 1957 and the other in 1959, while several others were planned and then abandoned; the rest of Sunny's output from the period would be held back until 1965 or later. At the end of July 1961, the Arkestra took a gig in Montréal that led to a two-month stay, followed by a migration to New York City. Sunny and the Arkestra were then based in New York until the fall of 1968, when they relocated to Philadelphia. Sunny left the planet in Birmingham on May 30, 1993; the Arkestra is still headquartered in Philadelphia, continuing to perform under the direction of Marshall Allen (who is 97 years old at the time of writing). Sunny's peak creativity extended well beyond his departure from Chicago, but his voluminous later output has been covered elsewhere. Our focus here is on his recordings and club dates, particularly at Budland and the Wonder Inn, whose destinies became intertwined with his own. We have also provided a detailed analysis of the "semi-documentary," The Cry of Jazz, which presents the only live Chicago-period footage of the Arkestra, on various occasions from 1956 to 1958, though it is video only.[Revised 12/12/2021]
---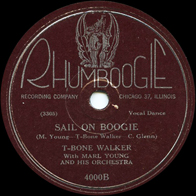 The Rhumboogie label started up in October 1944. It was an outgrowth of a major black and tan nightclub, the Rhumboogie at 343 East 55th Street. Owned by Charlie Glenn and boxing champion Joe Louis, the Rhumboogie Club opened with great fanfare in April 1942. Glenn scored his greatest coup when he lured guitarist T-Bone Walker away from Club Alabam in Los Angeles; Walker opened the Rhumboogie in August 1942, with backing by the Milt Larkin band (which included Tom Archia). T-Bone Walker continued to draw on his return engagements, and in October 1944 a recording session (which we now know ran to eight sides) was held with a aggregation led by pianist Marl Young (who was fronting the Rhumboogie house band at the time) with Red Saunders on drums. Preparations were drawn out for nearly a year, in part because of a dispute over copyrights between Young and Glenn, but the first Rhumboogie release, 4000, was a good-sized hit after its release in August 1945, and the new Mercury Records operation swiftly took over distribution. Two more T-Bone singles appeared on 4002 and 4003, and a second session (four tunes this time) took place on December 19, 1945. One last Rhumboogie single, 5001 by Charles Gray (a trumpet player fronting for Buster Bennett while Buster was under contract to Columbia) appeared around March 1946. However, the club had been put out of action by a fire on December 31, 1945. After reopening in June 1946 it never regained its old form, closing for good in May 1947. Plans were announced to record other artists, including pianist Andrew Jackson "Boogie Woogie" Allen, but nothing came of them (except Allen's sideman appearance on the Charles Gray session); the label had wound up by mid-1946. Later on Mercury was behind a reissue of 4000 (still on the brown Rhumboogie label, but renumbered as M-33 with the A and B sides exchanged). The material from the December 1945 T-Bone sesssion never came out on Rhumboogie, but eventually all four sides saw the light on Mercury, Old Swing-Master, or Constellation. [Revised 12/18/2018]
---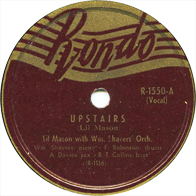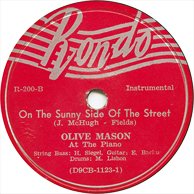 A Chicago-based company that was a peripheral player in jazz and R&B, Rondo has long resisted documentation. The company opened its doors in June 1946. One of its owners, Julius F. Bard, ran J. F. Bard Distributors in Chicago, and from July 1945 through May 1946 was half-owner of a Los Angeles-based indie label called Pan-American. From the beginning, Rondo, which Bard ran in partnership with Nick Lany, ran two main release series, the 550s for polka bands and the 100s for piano and organ music (though the 100s later became a general pop series). Through the end of 1947, Rondo got by on regional sales with a Czech polka band out of Manitowoc, Wisconsin, led by Rudy Plocar (1916-1972)—it's doubtful that records by the Accordionette Ensemble, the Swiss Family Fraunfelder, Gene Heier's Orchestra, Steve Adamczyk, Alicja Kusek with Przybylski's Orchestra, Jimmy Nejedlo, the J. Perush Tavern Band, or a Slovak gypsy orchestra achieved comparable results—and organ and piano offerings by Elmer Ihrke, Marsh McCurdy, the duo of Ruth Noller and Ada Straub, and Jimmy Blade. For a year and a half the company was too small to rate coverage in Billboard. We have only matrix numbers, advertisements from a few regional record stores, and a couple of mentions in Cash Box as evidence for recording and release dates. Then in the spring of 1948, Rondo scored a monster hit with "You Can't Be True Dear" by Hammond organist Ken Griffin (1909-1956), which was released as an instrumental on Rondo 128 and with overdubbed crooning on Rondo 228. A period of fervid expansion ensued, with ventures into Latin and Country, more polka signings, and the very early adoption, by indie-label standards, of the 45 and the 10-inch LP. The brakes had to be thrown on after Griffin's contract expired in March 1950 and Columbia lured him away. On its way down, Rondo frantically lined up three more organists, tried some sweet-band pop music, signed Country acts and pianists, and slung everything it had in the vaults onto 10-inch Ken Griffin LPs. Billboard quit listing new Rondo releases in February 1953, Cash Box quit in February 1954, and somewhere in there Bard made an unannounced departure from the company. There was no further mention in the trades until December 1954, when Nick Lany announced that Rondo had been sold to Eli Oberstein's Record Corporation of America. Oberstein, who was after the Ken Griffin catalog, maintained a Rondo imprint that persisted until 1970, a decade after his death and the sale of his operation to Pickwick; the Rondo name was used mostly for cheap 12-inch LPs of variable origin. Largely overlooked amongst the Griffin sides and the polkas from Wisconsin were two low-profile ventures into the R&B market. Rondo dipped in a toe in September 1946, when it cut a session by blues belter Lil Mason with Bill Shavers' combo; her signature number "Upstairs" came out on Rondo 1550. But the new series, which Rondo had no idea how to promote, went quiescent after two releases. It was revived at the height of the expansion phase, in February 1949. Rondo had scavenged masters from Sonora, a larger Chicago-based company whose record division went under in 1948, putting out one reissue each on Snub Mosley and the vocal group the Velvetones, and two by Coleman Hawkins. In September or October 1949, it brought boogie pianist Johnny Perry plus a group of local all-stars (including Hobart Dotson, E. Parker McDougal, and Wilbur Ware) into the studio to produce the last two singles in the 1550 series. Rondo also scrounged a few Country recordings from Sonora's back catalogue; reissued Sonora sides by The Gordon Trio (organ-guitar-accordion), which had broken up; and later recorded the Max Gordon Trio. In 1949 and 1950, Rondo did a little new jazz recording (with releases in the 100 series) featuring white musicians such as post-Fats Waller pianist Olive Mason (formerly Olive Floyd), guitarist Gene Colin with saxophonist Buddy Shaw, and a Dixieland band led by drummer Danny Alvin. Mason, who rated 3 sessions and a super-rare LP, has been completely forgotten, and few of Rondo's R&B or jazz recordings have drawn reissue interest. Most non-Griffin Rondos are rare today and a few await rediscovery; we keep finding out about more of them, and invite collectors to send us additions and corrections. [Revised 12/9/2023]
---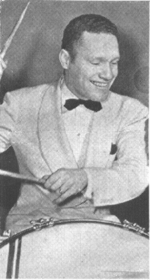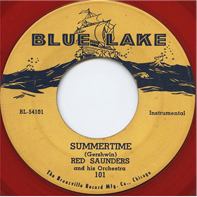 Of course we had to cover the output of Theodore Dudley "Red" Saunders (1912-1981), whose band was a mainstay of Chicago's musical life from 1937 to 1967. Red became a professional musician at 16 and was already a veteran when returned to Chicago in 1934, after several years on the road. Red's band, which gradually grew in size, was in residence at the Club DeLisa from 1937 to 1945. After a projected USO tour failed to materialize, he spent the next two years leading a six-piece combo at smaller night spots in Chicago: the Capitol Lounge, the Garrick Theater Lounge, and the Band Box (the combo also played for a time on 52nd Street in New York and at Club Zombie in Detroit). It was only during this hiatus from the DeLisa that Red began recording with his own band. He returned to the DeLisa in May 1947 with a big band and remained, with gradually shrinking personnel, until the venerable black-and-tan closed its doors in February 1958. From 1950 through early 1953, Red was under contract to OKeh, leading to his one hit record, "Hambone," in 1952. In 1953 and 1954, he continued to record for smaller labels, such as Parrot, Blue Lake, Chess, and Vee-Jay; some of these sides featured bold arrangements by Sun Ra. He also bankrolled the session for a pioneering Afro-jazz album by Guy Warren (1923-2008), which featured Red's drums and a combo assembled by Gene Esposito. The LP was recorded in September 1956 and released on Decca in May 1957, with coordinated releases in Britain, Japan, and Australia. But the advent of rock and roll eliminated any demand for Red's services in the studio, and his band would not record again as a unit. Still, Red recovered quickly from the closure of the DeLisa, on February 16, 1958; after a few months of steady work at a variety of clubs, including Roberts Show Lounge, he held down the house bandleader job at the Regal Theater from 1959 until 1967. In his last years he worked primarily as a booking agent but still led a big band when jobs were available. Over the years, Red nurtured talents as diverse as those of LaVern Baker, Joe Williams, and a guy named Sonny Blount who used to revise his arrangements. Such top-ranked Chicago brass players as Sonny Cohn (1925-2006) and Fip Ricard (1923-1996) on trumpet, along with "Booby" Floyd (1922-1987) and Johnny Avant (1927-1988) on trombone, spent years in Red's band. The reed section during his band's peak years consisted of alto saxophonist Porter Kilbert (1921-1960), tenorist Leon Diamond Washington (1909-1973), and baritonist McKinley Easton (1914-1986). When Kilbert left, he was replaced by alto saxophonist and arranger Riley Hampton (born c. 1918). Earl Washington (1921-1975; Red's brother-in-law, but not related to Leon) held down the piano bench and Jimmy Richardson (1914-1988) was the usual bassist. Red worked with everyone from Albert Ammons to the Jackson Five, and participated in over 50 recording sessions. A TV show from his late period is the only known film or video footage of Red and the band. Red was one of the greatest show drummers of the period, but just a handful of his recordings feature drum solos. [Revised 10/7/2020]
---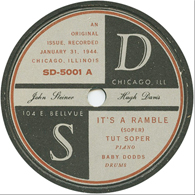 S D Records was a small specialty label, named after its founders, John Steiner (born on July 21, 1908) and Hugh Davis, and catering to their fellow traditional jazz enthusiasts. By profession Steiner was a chemist and Davis an electrical engineer. Although both were avid collectors of jazz records and they had been involved in location recording of jazz artists in Chicago since 1940, Steiner and Davis were beaten to the punch by Session, an independent label whose operation resembled theirs in several respects. They did not launch S D until February 1944, when the first two releases in the S D 100 reissue series appeared. The first newly recorded material on S D came out in May of that year. The label would have many ups and downs. No new 78s were pressed between the fall of 1944 and early 1947 because Steiner and Davis were dissatisfied with the poor quality of the pressings they could obtain during World War II. In early 1945, Davis sold Steiner his portion of the enterprise so he could concentrate on his Technical Recording Service; Hugh Davis would die young in 1948. Meanwhile, Steiner became caught up in a series of activities, including concert promotion, centered on the Uptown Playhouse Theater. After suffering major losses when the Uptown Playhouse burned to the ground in April 1946, Steiner resumed recording in September of that year and was finally able to resume new releases in March 1947. He continued with S D releases (many of which became available a long time after they were first announced) through the middle of 1950. During its lifetime, S D put out 11 reissues in its 100 series, featuring such artists as Jelly Roll Morton, King Oliver, Red Nichols, Johnny Dodds, Cassino Simpson with Laura Rucker, Roosevelt Sykes, and Skip James. Most were derived from Paramount, but the Nichols sides had been released on Edison, and the most famous of the Mortons was an Autograph/Rialto test pressing that Steiner had discovered in a junk shop. The 5000/500 series for new recordings ran to 11 releases, including work by Punch Miller, Tut Soper with Baby Dodds, Red Nichols, Red Norvo and Stuff Smith, and Bud Freeman. S D was also responsible for three limited-edition Christmas 78s: one featuring a Duke Ellington performance that Steiner recorded live in March 1945; the second was an odd coupling of Cassino Simpson from 1942 and a Red Nichols broadcast from 1947; and the third consisted of dueling performances of "Tiger Rag" from a 1947 broadcast, one by a Dixieland all star band featuring Wild Bill Davison and the other by a group of prominent modernists featuring Dizzy Gillespie. Steiner was also briefly involved (in September-October 1946) with Jack Green's effort to start a Green Records label devoted to jazz; nothing came of it but two sides that Steiner eventually put on an LP, while Gold Seal scavenged some of Green's studio recording efforts. In 1947 Steiner supervised a session by Dixieland cornetist Doc Evans that led to four 78s released in 1949 for Dublin's, a label named for a Chicago record shop but apparently controlled by Steiner; another Dublin's 78 was an experiment in recording old tunes played on Nickelodeons. In 1948, he acquired the few mortal remains of the Paramount label from the Wisconsin Chair Company, putting out 32 singles (not all actual Paramount material) on his revival of the label in 1949 and 1950. In 1949 he was also involved with a brief effort by a Milwaukee-based company called Down Beat to rescue jazz that had been recorded for the short-lived Chord imprint; the three releases were all rather "modern" for Steiner. After his last S D 78s were released in 1950, Steiner operated the resurrected Paramount label through 1955, adding 10 inch LPs to his product line. Much of the S D material was reissued on Paramount LPs, some location recordings that never got onto S D saw their first release there, and some sessions were new recorded. The S D logo was also revived for one LP in 1954. During his Paramount period, Steiner also displayed a propensity for elaborate deceptions with no apparent payoff to anyone else. He passed off as clean alternate takes of two 1928 recordings by Frank Melrose two tracks with on which John "Knocky" Parker had overdubbed new piano parts on the original masters, which were in a poor state of preservation. Steiner decided to get out of the record business after 12-inch LPs became the norm for jazz releases, and began leasing Paramount material to the Riverside label. In 1959, he provided a loan that enabled Bob Koester to acquire Seymour's Record Mart; in 1968, he helped to found the Jazz Institute of Chicago; in 1970, he sold his labels to trad jazz entrepreneur George H. Buck. John Steiner died in Milwaukee, Wisconsin, on June 3, 2000, bequeathing his record collection and other materials to the Chicago Jazz Archive and the University of Chicago Library Special Collections.[Revised 10/25/2019]
---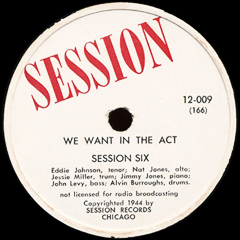 Session Records was the very first post-war independent in Chicago, actually opening before World War II ended. Run by Phil Featheringill and David W. Bell, it was headquartered at the Session Record Shop, 125 North Wells Street. The store and the label opened on November 20, 1943, catering to "hot jazz" aficionados and doing extensive mail-order business. One of the company's missions was to reissue rare 78s from the first half of the 1920s. Reissue Session 1 through 3 and 5 through 7 came out during the first four months of the company's operation, and featured King Oliver, Jelly Roll Morton, Muggsy Spanier, and Bix Beiderbecke. Two of the reissues had appeared on Gennett; the others came from Rialto and Autograph, small Chicago-based operations associated with the Marsh Recording Laboratories. Reissue Session 4, another Jelly Roll Morton reissue, was announced but never saw the light of day; Reissue 8 did not see release until 1947. Around the same time the label began its own recording program with marathon sessions featuring boogie woogie pianists Jimmy Yancey and Cripple Clarence Lofton; Jimmy's brother Alonzo, a ragtimer, also contributed a few sides. In February 1944 the company changed its focus to combo recordings, dividing its resources between traditional jazz and Swing. The traditional artists were Art Hodes and Mezz Mezzrow, Richard M. Jones' Jazzmen, and Punch Miller and His South Side Stompers. On the Swing side, Session cut records by Trummy Young (his first session as a leader), the Ben Webster Quartet with Sid Catlett, The Session Six (a group of younger Chicago-based musicians that included Eddie Johnson), the Pete Brown Quartet, the piano-bass duet of Jimmy Jones and John Levy, and the J. C. Higginbotham Quintet. Session's last recording date took place in September 1944; the company spread out its release schedule into the first quarter of 1947. In the Summer of 1946 Featheringill shifted his operations to Los Angeles, pressing his records on the West Coast and launching a new mail-order operation there; the Chicago store closed its doors in November that year. Featheringill continued to distribute Session records from his new base in the Los Angeles area until the Fall of 1947. Session was obviously undercapitalized and its releases were obtainable only from the store or from the distributor that Featheringill bought into; some 78s were long delayed, and others never materialized after being announced or even reviewed in the jazz press. Traditional jazz enthusiasts George Hoefer, Jr., and John Lucas ensured that Down Beat's (and later the Record Changer's) response to Session's output would be highly favorable. Ironically, Phil Featheringill's own magazine (Metronome, to which he contributed a column on events in Chicago) was editorially aligned with modernism, so its reviews of his product were routinely and sharply negative. Session recorded 80 sides and released 50 of them during nearly four years on the scene. The company leaned toward 12-inch 78s, issuing 13 of them. The first three were initially pressed on then very expensive Vinylite, which Session was the very first company to use on commercial releases. But subsequent pressings went back to conventional shellac. Session also put out 12 10-inch 78s that we know of, all on shellac. The boogie woogie recordings are much loved by fans, were given multiple reissues on LP and are all available on CD today. The combo records remain scarce and have never been the object of a systematic reissue program (though a company called Pax put a few of them out on 10-inch LPs in 1954, and Jazz Chronological Classics got around to some of them on CD). Meanwhile, the fate of several announced but unreleased sides is unknown. [Revised 4/6/2020].
---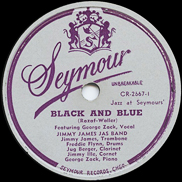 Seymour Records was the brainchild of Seymour Schwartz (1917-2008). Born in Chicago and orphaned at the age of 10, Schwartz was taught the cornet by the band instructor at the orphanage. He began in business as a reseller of used 78s from jukeboxes. In 1947, after accumulating a huge stock of used jazz 78s, he opened Seymour's Record Mart at 439 South Wabash in Chicago. For over a decade, the Mart was the number 1 specialty store for jazz records in Chicago. After running both traditional and modern jam sessions in the store's loft for 2 years, Schwartz decided to record some of the artists he had featured; another objective, as with many a small label, was to put some of the songs he had written on record. Seymour Records was launched in August 1950. The company recorded just five known sessions, featuring the Jimmy James Jas Band (a Dixieland unit, live in the loft), the Johnny Young Trio, bop tenor saxophonist Kenny Mann, and singer Lurlean Hunter. Seymour 78s were pressed in editions of 1000 copies and sold out of the store. Lacking wider distribution, Seymour sought a pact with a bigger label, and on December 2, 1950, Billboard announced that the Lurlean Hunter sides had been sold to Discovery Records in Los Angeles, which promptly issued two of them (both tunes were his compositions). There was one final release on the label in the summer of 1951, when a strong Chicago White Sox team with a new slogan prompted Schwartz to record and release "Go-Go-Sox." The Chicago White Sox fight song was also cut in the loft, with musical accompaniment by Seymour himself on cornet, Buddy Charles (1927-2008) on piano, and an unidentified individual beating on a wastebasket with a broom handle. In all, the Seymour label managed to get out 5 records. A Johnny Young Trio record never got past the planning stages, but Chance later acquired the sides and they belatedly saw release in 1953. Schwartz continued in the record retailing business, but in 1956 he opened a new record company called Heartbeat, which catered to jukebox operators. The label's very first offering featured Seymour's tunes, sung with accompaniment by "Sun-Ra and His Orchestra," but in March 1958 Heartbeat regrouped, trying standards performed "down the middle of the road," by Seymour himself with organ accompaniment. Schawartz's partner in the second Heartbeat, Jerry Allan, didn't stick around, but the first two 45s by Seymour and His Heartbeat Trumpet got onto a quite a few jukeboxes and in 1959 an LP on the Chess brothers' Argo label ensued. In 1959, Schwartz sold his record store and its remaining stock to Bob Koester, who moved it to another location and renamed it the Jazz Record Mart. Schwartz was now able to concentrate on Heartbeat, which recorded prolifically from 1960 through 1963. The mainstays of the Heartbeat catalog were Seymour himself and singer Dick "Two Ton" Baker, who specialized in novelty and children's songs, although other singers and instrumentalists also recorded for the label. After winding Heartbeat up in 1965 or 1966, Schwartz worked for a musical instrument company, making a few more records for his Sunny label and for a 1974 revival of Heartbeat. In 1993 and 1994, he brought Heartbeat back one last time, for two reissue CDs; the second included two Lurlean Hunter sides along with Heartbeat material. Well into retirement, Seymour Schwartz played his cornet every day, and blew the shofar at his synagogue for Rosh Hashanah. There was a revival of interest in "Go Go Sox" in 2005, when the Chicago White Sox won the World Series for the first time since his infancy. Seymour Schwartz died in New York City on October 3, 2008. [Revised 8/18/2021]
---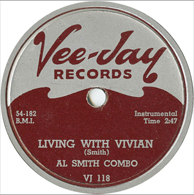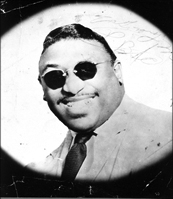 Al Smith (1923-1974) was renowned for his business acumen, not his prowess on the string bass. He led a jazz band in Chicago between 1945 and 1952, which never recorded (though Al snuck into a 1952 blues session by Johnny Shines as a sideman). In the fall of 1952, however, his new R&B ensemble replaced Schoolboy Porter as the house band at Chance; Smith and company later took similar roles at United and States, Parrot and Blue Lake, and Vee-Jay. Between 1952 and 1959, Al Smith turned out 81 sessions, virtually all of them with singers or doo-wop groups. See Al Smith Part I for Al Smith's first 40 sessions, up to the end of 1955; Al Smith Part II picks up with Al's year of peak activity in the studio and continues through the end of his career. Al Smith's band included many of the best instrumentalists in Chicago: James "Red" Holloway (1927-2012), Little Wash (Lucius Washington, 1926 - ), and Harold Ashby (1925-2003) on tenor sax; Mac Easton (1914-1986) on baritone sax; Lefty Bates (1920-2007) on guitar; Horace Palm (1920 - ), Norman Simmons (1929- ), and Willie Jones (1920-1977) at the piano; and Vernel Fournier (1928-2000), Paul Gusman (1929- ), and Alrook "Al" Duncan (1926-1995) on drums. Smith accompanied Bobby Prince, The Moonglows, The Flamingos, The Orchids, The Dells, The Spaniels, The Kool Gents, The Danderliers, The El Dorados, Priscilla Bowman, Gene Allison, and many others. Smith booked club dates with some regularlty through the first half of 1956, but worked just one gig as a leader in 1957, after which essentially retired from the Chicago club scene. He hung up his studio bandleader role in 1959, as Vee-Jay moved toward "middle of the road" accompaniment provided by Riley Hampton, a schooled arranger. In his later days, Al Smith was Jimmy Reed's manager and bandleader, then, after Vee-Jay folded in 1966, a producer of soul sessions for ABC and blues sessions for ABC Bluesway. [Revised 10/24/2019 and 5/25/2020]
---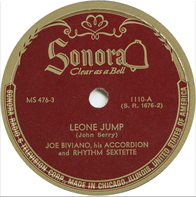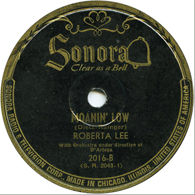 Among Chicago-based independents, Sonora deviated from all the patterns. It was not a startup, but a division of an established company, which had previously made clocks and then record players, then branched into radios and TV sets. It opened, not after the war, but in the depths of it, in August 1942. Its commercial focus was on albums (usually of 4 78s, though there were some with 5, 3, or 2). And it did its recording in New York and pressed its records in Connecticut. In its first phase, Sonora reissued masters acquired from other companies (no other avenues were open, after the American Federation of Musicians imposed its recording ban on August 1, 1942). The main sources were the Masterpiece Music label (part of the prewar Musicraft) and Eli Oberstein's Royale label. Toward the end of this phase, in September 1943, the company moved its offices from the Merchandise Mart building to 325 North Hoyne Street in Chicago. Sonora signed with the AFM in November 1943, and in February 1944 announced that it was now doing its own recording (in New York), putting all of its efforts into its 1000 series (still album-only). But in October 1945, the company announced that it was recording pop music and releasing singles, which initially appeared on a 3000 series for pop and an H7000 for "hillbilly." In 1946, the company's recording activities went into overdrive, and in October 1946 a 100 series for rhythm and blues joined the 3000s and the 7000s. In January 1947, overreach inflected into decline; Sonora announced a new budget series, retailing for 39 cents, which had the rest of the industry wondering how it would make any money off these releases. It didn't. The new black-label series, 2000 for pop, H6000 for Country, and 500 for R&B, all flopped, the union at the company's pressing plants started making demands, and the company quit recording in May 1947. New releases dribbled out, but the company's inactivity in the fall, when its competitors were hectically stockpiling to anticipae the next recording ban, was painfully obvious, and the last album saw release in December. One pop single, in February 1948, was the final gasp. In May, the king of the bottom feeders, Eli Oberstein, took over the pressing plants; in July, he was reissuing bleeding chunks of Sonora on his revived Varsity label (later supplemented by singles and LPs on his revived Royale imprint); in August, Oberstein's protégé Herman Lubinsky of Savoy grabbed up a bunch more, which ended up on his Regent label; in October Rondo scarfed up what remained. The parent company limped along as a maker of TV sets, making its last filing for bankruptcy in 1957. Aspirationally the next RCA Victor, Sonora ended up like its New York-based competitor, Majestic, which also pulled back into the radio and TV business. It ended up as a prominent source of nutrition to the bottom feeders, the difference being that Mercury bought up a lot of Majestics. Sonora had initially been oriented toward light classics and other instances of what would later be marketed as "beautiful music," next toward white pop singers accompanied by big commercial bands and toward hillbilly performers. By 1945, however, the company had signed the Swing-oriented accordion combo of Joe Biviano, and its 1946-1947 recording spree grew to encompass Jerry Wald, Jimmy and Mildred Mulcay, Coleman Hawkins, Ray Anthony, Roberta Lee, and the Velvetones. The 100/500 series featured Clyde Bernhardt, Dud Bascomb, the Jim Jam Trio, Baby Dee, Eddie Barefield, Snub Mosley, and Milt Larkin. Sonora recorded 660 masters between February 1944 and May 1947, and its output is still not completely documented; additions and corrections are welcome.[Revised 9/27/2022]
---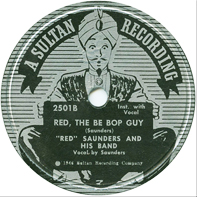 The Sultan label was the brainchild of Morton Sultan (1921-1983). Morton Sultan came from a wealthy family (his father owned a GM dealership in Detroit). His sister and two brothers played instruments, and Morton was a child prodigy on the piano. He showed promise as a concert pianist in his teens, but made no known public appearances after he turned 21. Though headquartered in Detroit, Sultan Records in its brief life (its jazz efforts consisted of a batch release of three 78s in June 1946, and one aborted release in July, and all recording was probably over by the end of 1947) concentrated on artists who were working the clubs along Randolph Street in Chicago's Loop. The label's gimmick was "double header hits," meaning that two different artists shared each 78. Sultan recorded Red Saunders' 6-piece combo, including an unnanounced guest appearance by Buster Bennett; the company also waxed the Swing sextet led by alto saxophonist Edwin Charles Wiggin aka Eddie Wiggins (1917-1995), who doubled on oboe, Heckelphone, and several other wind instruments, and solo piano by Alphonso "Sonny" Thompson (1916-1989). Around the beginning of July 1946, Sultan also recorded a trio led by pianist Chet Roble (1908-1962) and featurning alto saxophonist Boyce Brown (1910-1959). But the session was heralded by one misspelled notice in Billboard, with no evidence of actual releases. Three Sultans on a yellow label have come to light: songs in Hebrew and Yiddish, done in Detroit by a synagogue cantor at some point in 1946. Supposedly there 24 masters on Cantor Hyman Adler, but one of the three known singles was released by the entrepreneur who bought the masters from Morton Sultan. There were also two Country and Western Sultans, with a blue label; both were by Lawton "Slim" Williams and they were recorded in 1947. Morton Sultan tried to stay in the music business, one way or another, into 1950, when his last effort, a TV store, went broke. In the 1960s, he moved to Southern California, where he ran a real estate company. Although the Sultan label was a total commercial failure, Saunders went on to record steadily over the next decade and Sonny Thompson (who made his debut under his own name on Sultan), moved to Miracle, where he enjoyed a huge R&B hit in "Long Gone"; subsequently Thompson would record and do A&R for King Records. Eddie Wiggins, despite numerous favorable writeups in Down Beat, got just two further recording opportunities—an obscure 78 for Bullet toward the end of 1946, and a more obscure 45 for Disc-Co/Beam in 1955—and later moved into stand-up comedy. Chet Roble broke up his trio in 1950 and spent his later years at the piano bar in the Sherman Hotel in Chicago, getting an LP on Argo in 1958. Boyce Brown, whose few surviving recordings are semi-legendary, entered a monastery in 1953, but was able to make an LP as Brother Matthew in 1956.[Revised 8/6/2022]


---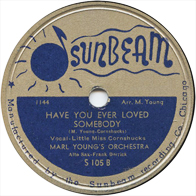 The Sunbeam label was in business for a year, from September 1946 through September 1947. It was owned and operated by pianist and arranger Marl Young (1917-2009) with assistance from his brothers, who were in the dry cleaning business. The release of Sunbeam 101 was announced in November 1946. In all there were 9 Sunbeam releases (101 through 108—including two 102s). Young, who joined Local 208 in 1933, began writing arrangements for the floorshows at the Club DeLisa, New Club Plantation, Dave's Café and other black and tans around 1940. In the summer of 1942 he was brought in to write arrangements and conduct floorshow numbers at the Rhumboogie Café while simultaneoulsy leading his own band at Joe's Deluxe Club and other venues; he played in the notorious "Dream Band" (October 1943 - June 1944), then took over leadership of the Rhumboogie house ensemble through January 1945. During this period, he also earned a law degree, though he never took the bar examination. Young recorded behind T-Bone Walker on two sessions for the Rhumboogie label. From February to August 1946 he played piano and arranged for Fletcher Henderson as the Club DeLisa. The studio big band that Young assembled for Sunbeam recorded one instrumental and backed vocals by gospel singer Bob McFerrin (father of well-known eclectic vocalist Bobby McFerrin), vocalist Bill Green, and blues and ballad artist Mildred Cummings (aka Little Miss Cornshucks). The band flirted with bebop and featured instrumentalists like Nick Cooper and Melvin Moore on trumpet, Johnny Avant on trombone, Frank Derrick and Nat Jones on alto sax, Moses Gant on tenor, and Young on piano. The drummer, unfortunately not credited on the labels, was Oliver Coleman. Sunbeam also recorded singer Petite Swanson (accompanied by a trio consisting of Marl Young, bassist Rail Wilson, and tenor saxophonist Gene Ammons), the Bob Carter Trio with Art Simms and Walter Scott, and singer Johnny Hartman (in his recorded debut) accompanied by strings. Recording activity ended in March 1947, new releases in May, and Marl Young unloaded most of the Sunbeam masters to Vitacoustic in September 1947. Young decamped for the West Coast in November of the same year, after releasing Bob Carter, who wanted to record for Universal, from his Sunbeam contract. In Los Angeles Young maintained a popular piano trio for several years, masterminded the merger of the segregated Musicians Union locals in 1953, and became a successful studio musician, capping his career as music director of the Here's Lucy show starring Lucille Ball (1970-1974). From 1974 to 1982, he served as the Secretary to Musicians Union Local 47, and he finished his last term on the Local's Board of Directors in 2008, at the age of 91. Marl Young died in Los Angeles on April 29, 2009. [Revised 11/10/2022]
---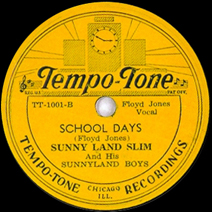 One of the most obscure Chicago independents has been Tempo-Tone, which was in business in 1949 and 1950. It was founded by Irving Taman (1920-1992), who in 1946 opened a bar called Irv's Boulevard Lounge. "Big Irv's" establishment was located at 301 North Sacramento on the West Side. From October 1948 through March 1949, a group led by pianist Sunnyland Slim enjoyed a long residency at the lounge, and at some point Taman recorded 10 sides featuring Slim and several of the musicians who worked with him. (Most surviving documents point to May 14, 1949 as the date.) Tempo-Tone 1001, released in June 1949, featured vocals by guitarist Floyd Jones; Tempo-Tone 1002, which came out the same month, featured harmonica player Little Walter. The supporting musicians on these sides included Muddy Waters on guitar and Elga Edmonds in the drum chair. Both Tempo-Tone 78s proved to be classics of the Chicago blues, but neither sold well, and Irv Taman apparently shelved plans to release two further singles featuring vocals by guitarist Baby Face Leroy Foster and the otherwise unknown Lonesome Sam Moton. Two additional sides that featured Jimmy Rogers were never even given a tentative release number. The only other session for the company, done on May 14, 1949 by the Bruce Heller trio, was also left unreleased. After closing Tempo-Tone, Taman continued to operate the lounge until 1968, when it was burned to the ground in the riots that followed the assassination of Martin Luther King Jr. Taman moved to the San Fernando Valley in Los Angeles, where he opened a restaurant called the Korned Beef Kastle. In 1976, he revived Tempo-Tone just long enough to release a 45 by a family group called 14 Carat Gold, which was led by Blanche Jackson; Paul Jackson Jr. has gone on to a successful career as a smooth jazz artist. We are grateful to the late Marv Taman for providing us with extensive documentation about his father's company, enabling us to clear up its mysteries at last. [Revised 1/1/2014]
---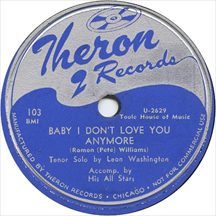 Theron Records was operated by amateur musician Connie Toole (1909-1968), who sank his savings from years of working for the Santa Fe railroad into the label. Our recent discovery of a limited-edition 78 from Modern Recording Studio indicates that Toole was already recording in October or November of 1950, but there was a delay before he could bring his plans to fruition. The Theron label did not actually open for business till March 1952. There were 13 known releases. The first two, in 1952, featured Byllye Williams (1918-1958), a popular piano-bar singer in Chicago, and a ballad singer named Bobby Anderson. After a hiatus, the label resumed recording in October 1953; during 1954 Toole released two singles by veteran tenor saxophonist Leon Washington (1909-1973) and pianist Earl Washington (1921-1975; not related to Leon), along with extra obscure releases by Little Joey Jones, Jr., and the Storm Trio. The label's peak year for recording activity was 1955, with records by the Ebony Moods, the Sheppards, Laura Lynn, Connee Allen, all backed by Earl and Leon, an instrumental single by Earl Washington, and a single by the Marvellos. Despite Toole's best efforts, the Marvellos' record (his company's most credible doo-wop effort) was not a hit when issued in January 1956, and the label folded. In 1961, Toole was responsible for two extremely limited edition test releases on the Unique Laboratories label, "Produced by Theron Records."[Revised 5/14/2022]
---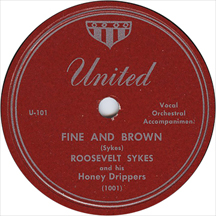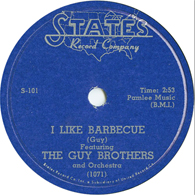 The United and States labels loomed large among Chicago independents during the 1950s. The United Record Company was launched in July 1951, by Leonard Allen (1899-1985), a former policeman and tailor shop owner, and Lew Simpkins (1918-1953), a veteran record man who previously did A and R for Miracle and Premium and brought many of their former artists to the new label. United enjoyed early success, scoring hits by Tab Smith ("Because of You"), Jimmy Forrest ("Night Train"), and the Four Blazes ("Mary Jo"); during its first year of operation, it was outdoing its local rival Chess on the charts. The company was able to expand and open a new imprint called States in May 1952. With an eye on the jukebox market, United and States recorded a substantial roster of jazz artists, including Tab Smith, Jimmy Forrest,Chris Woods, Gene Ammons, Paul Bascomb, Tommy Dean, Jimmy Coe, Eddie Chamblee, Cozy Eggleston, and the classification-bending Johnny Wicks. Tab Smith would cut 85 sides for the company and was responsible for 2 of its 3 LPs. The company also ventured into urban blues (Roosevelt Sykes, Memphis Slim, J. T. Brown) and occasionally into the more down-home sounds of Robert Nighthawk and Junior Wells. Gospel was represented by Robert Anderson and the Caravans, and vocal harmony by the Four Blazes, the Dozier Boys, and the Five C's. During its first 2 1/2 years of operation, the company recorded 463 masters. Most of these were done at Universal Recording in Chicago, where United and States consistently got high-fidelity results; the company also made occasional forays into the Detroit scene, which was underserved by the few local record companies. However, the loss of Lew Simpkins, who died of leukemia at the age of 34 on April 27, 1953, was a serious blow; Leonard Allen was left to run the enterprise with limited help.[Revised 10/28/2022]
---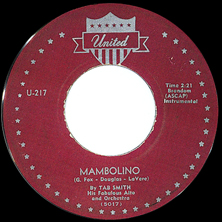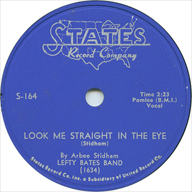 United and States Part II covers the final four years of the labels' existence (1954-1957). While the company remained fairly healthy (and busy in the studio) during 1954, activity dropped off sharply after that. Of the 281 sides that the company cut during this period, 130 were done in 1954. By the end of 1956 Leonard Allen was reduced to selling off half of the house music publishing company to pay his tax bill. Except for Tab Smith, who was still with the enterprise when the last United single rolled out, the jazz talent fell away during this period. Blues recording was substantial in 1954: Junior Wells, Memphis Slim, L. C. McKinley, "Big" Walter Horton, and Harold Burrage all waxed sides for the company. After that year United and States were restricted to bringing back J. T. Brown (for a session that Allen chose not to release) and doing one session apiece with Artie Wilkins, Dennis "Long Man" Binder, and Arbee Stidham. The company continued its gospel activities with the Caravans (by far its steadiest contributor in the genre), Singing Sammy Lewis, the Genesa Smith Singers, and the Little Lucy Smith Singers. It also stepped up its doowop activity by recording the Danderliers, the Moroccos, the Sheppards, the Palms, and the Five Chances; however, United lacked the musical vision or the resources to market its doowop groups as rock and roll artists, and some top-quality sides by the Pastels, the Drakes, and the Earls never saw release. During the label's last year it recorded or purchased some rock and roll, but the effort came too late. Too many years without hits finally brought United and States down after the company's Christmas releases in 1957. Over 6-plus years of operation, Leonard Allen released 116 singles on the United label and 64 on States. He ventured gingerly into 10-inch LPs, relying on previously released material for three offerings. Allen tried a joint venture with Joe Brown of JOB in the summer of 1958 but little came of it. Some items from the United and States catalogs—most notably, the Gene Ammons sides, those by the Staple Singers, and a large cache of tracks by the Caravans—were dealt away to Savoy after the company went under. The remaining material was acquired by Bob Koester in 1975. Koester's Delmark and Pearl labels have reissued the majority of it, always in top-quality sound with good documentation.[Revised 10/28/2022]
---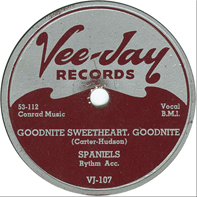 Vee-Jay was among the most successful labels ever to grow up in Chicago; only Chess could rival it among the Chicago-based independents. Vee-Jay, whose name derived from the initials of Vivian Carter and Jimmy Bracken, was founded in May 1953 in Gary, Indiana. The first acts to be signed to the label were the vocal group The Spaniels and bluesman Jimmy Reed; the operation was so tiny that its first two releases had to be licensed to Chance to get decent distribution. In the fall, organist Maceo Woods and his vocal ensemble also joined the label, giving Vee-Jay a presence in the gospel field. During 1954, the company moved to Chicago, expanded its gospel offerings, signed such vocal groups as the El Dorados, the Five Echoes, and the Rhythm Aces, and added such artists as Julian Dash, Willie Jones, Dave Shipp, Turk Kincheloe/Kirk Stuart, King Kolax, and Tommy Dean to its jazz catalogue. In all 103 sides were newly recorded and 6 acquired from other sources. Ewart Abner, though still officially employed at Chance, ran the business end of the company, Al Smith moved over to lead the house band on many sessions, and toward the end of the year, Art Sheridan, who was now an investor in Vee-Jay, closed Chance down entirely. 1955 was the year in which Vee-Jay emerged as a major factor in the rhythm and blues market, with 165 sides recorded and five national hits released. The company added the Highway QC's, the Famous Boyer Brothers, and the Staples Singers to its gospel lineup. The Dells and The Kool Gents strengthened the vocal group roster; new jazz artists included Wardell Gray (who unfortunately made just one session before his death), Baby Face Willette, Big Jay McNeely, and Jay McShann; and Eddie Taylor, L. C. McKinley, Billy Boy Arnold, Morris Pejoe, Billy "The Kid" Emerson, and John Lee Hooker joined the company at the peak of its blues production. In 1956, growth continued, with 205 tracks laid down and three more national hits. New vocal groups included The Magnificents and a revival of the Orioles; jazz signings included Arnett Cobb, Paul "Hucklebuck" Williams, and Sarah McLawler with Richard Otto; an explosion of gospel activity brought in the Argo Singers, the Original Five Blind Boys, the Spiritualaires of Columbia, S.C., the Kelly Brothers, the Silver Quintette, the Helen Robinson Youth Chorus, and the Swan Silvertones. The company had arrived as the largest black-owned record label in the country. Our survey of the first four years of Vee-Jay is as complete as we have been able to make it. Additions and corrections are welcome.

[Revised 7/4/2020]
---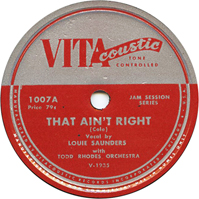 The Vitacoustic label was a short-lived independent that operated right out of Universal Recording, Chicago's best studio during the post-World War II years. It started off with a bang: Vitacoustic 1, "Peg o' My Heart" by Jerry Murad's Harmonicats, was issued in April 1947 and reportedly went on to sell 1.4 million copies. But Vitacoustic spent a ton of money recording more pop material and issuing unwise advances to pop artists whose releases did not sell. (The only jazz artist whose work saw release during the first few months was pianist Mel Henke. Famed jazz pianist Earl Hines reportedly recorded with a small group for the pop series, but the sides were never issued and their whereabouts today are unknown.) At the end of August 1947, Bill Putnam and George Tasker of Universal left the operation, launching their own Universal label and taking the Harmonicats with them. Vitacoustic tried to adapt by moving into R&B as well as country, but the move came too late; an exact contemporary, Aristocrat, was several months ahead in picking up local R&B talent. Vitacoustic issued five singles (1001-1004 and 1007) by the Todd Rhodes band out of Detroit, via an arrangement with Sensation Records. During November and December, 1947, the company feverishly recorded jazz trumpeter Howard McGhee, "Dixie-bop" cornetist Jimmy McPartland, modern jazz altoist Johnny Bothwell, R&B singers Christine Randol and Kitty Stevenson, and the harmony group Four Shades of Rhythm. But only the Four Shades would see release, on Vitacoustic 1005. Vitacoustic became inactive after putting out 23 known pop releases, 2 country releases, and 7 R&B singles. The company filed for bankruptcy in February 1948, with 400 masters in the vault and outstanding debts of $182,000. After limping along for several months, Vitacoustic was liquidated in October. Its remaining pop holdings didn't fetch adequate prices at auction, and the fate of most of them is unknown; meanwhile, Egmont Sonderling, owner of United Broadcasting Studios, held onto many of the unissued R&B masters because he hadn't been paid for them. Cincinnati-based King Records, which took over the alliance with Sensation, and Sonderling's Old Swing-Master label (with DJ Al Benson as front man), which put out some of the material that Vitacoustic hadn't been able to release, were the ultimate beneficiaries of its efforts to record jazz and blues. Universal, which had taken over some of Vitacoustic's pop artists, lasted into 1951.[Revised 8/5/2022]
---
Index
---
To enhance the usability of the Red Saunders Research Foundation site, we have added a Potted Biographies Index. The index lists over 400 label owners, musicians and groups who have gotten sufficient coverage of their lives and careers somewhere on this site—at least a paragraph of narrative for a musician or label owner, and a session listing with personnel for a group—along with links to the pages on which the material may be found. [Revised 1/3/2019]
---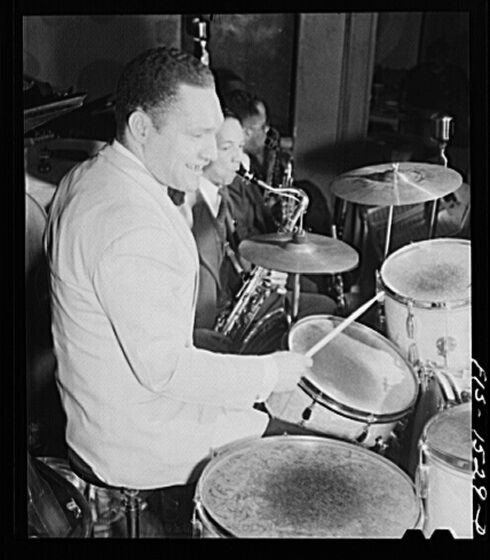 Red Saunders at the drums, April 1942. Photo by Jack Delano.
---
We adopted the name Red Saunders Research Foundation with a certain degree of levity. We have no money to bestow. But if anyone wants to give us some... we'll put it to good use!
---
An invaluable source on musicians in Chicago after World War II is the series of interviews by the late Charles Walton, called Bronzeville Conversations, at the Jazz Institute of Chicago website.

Nadine Cohodas' ground-breaking book Spinning Blues into Gold: The Chess Brothers and the Legendary Chess Records, was published in 2000. (For more about the book see http://www.bluestogold.com.) It is one of the best ever written about the Chicago scene.
---
Click here to return to Robert Campbell's Home Page