---
Cool
© Robert L. Campbell
Revised: January 31, 2014
---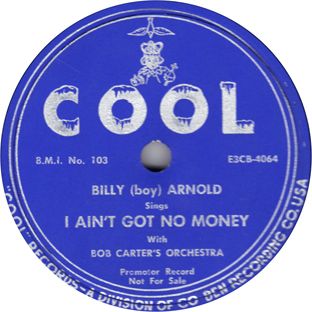 From the collection of George Paulus
---
Revision note:Our thanks to Bob Eagle for a biographical sketch on the label's co-owner, Collenane Cosey; to Steve Cushing for more about Mrs. Cosey'to Dave Penny, Mark Sinclair Harris, and Stefan Wirz for help with the (very sparse) reissues—and to Dr. Robert Stallworth for a scan of a real live Cool 45.
Cool was among the very tiniest of Chicago independents. It was in business for less than a year, and was responsible for just one recording session and two releases. It nonetheless helped to launch the career of harmonica-playing bluesman Billy Boy Arnold.
Cool opened for business in the summer of 1953. It was described, on the labels and in one surviving advertisement, as a division of Co-Ben Recording. Co-Ben was a partnership between Collenane Cosey, whose name appers twice in the composer credits, and Charlie Bennett, who, according to Steve Cushing, was her brother-in-law. The address was given as 1231 South Homan Avenue.
Collenane G. Cosey was born Collenane Clark in Illinois (most likely in Chicago, but confirmation would be nice) on November 12, 1909. She was the daughter of Palus and Maggie Clark, and in the 1910 and 1920 censuses was listed as residing at 2130 Fulton Street. In 1930, a "Coleman Clark," occupatiion "Decorator," was listed as living with brothers and sisters at 2126 Maypole Avenue; Bob Eagle thinks, plausibly, that "Coleman" was a garbling of Collenane. In 1943, she was credited, with Louis Jordan and her husband, Antonio Cosey, of "Ration Blues," which Jordan recorded in October (it was released on Decca 8654). She also wrote "Bonus Pay," which was recorded by Eddie "Cleanhead" Vinson.
Collenane Cosey was the mother of Pete Cosey (1943-2012), a guitarist active as a session musician for Chess in the late 1960s, and a member of Miles Davis's band in 1974. Her husband Antonio died in July 1951, at the age of 44.
---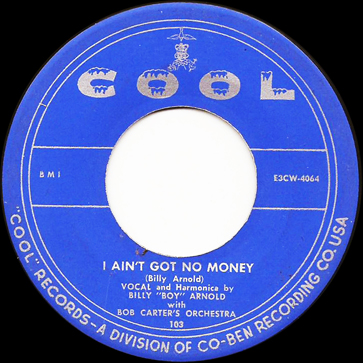 From the collection of Dr. Robert Stallworth
---
Cool employed the mastering and pressing services of RCA Victor, as can be discerned from the matrix numbers. Maybe also the RCA Victor studio on Navy Pier...though we lack documentation on this.
Although the four released sides have consecutive matrix numbers, which suggest that they were recorded at the same session with the same studio band, there were two different headliners, so we have divided the session for clarity.
---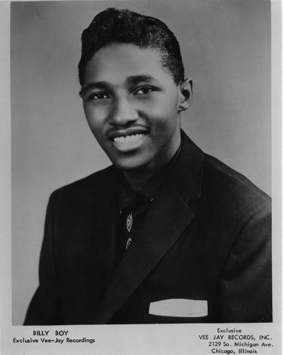 Courtesy of Billy Vera
---
Bluesman Billy Boy Arnold was born William Arnold on September 16, 1935, in Chicago. His first public performances were on 47th Street with Bo Diddley's street band, in which he played harmonica. When Co-Ben picked him up, he had not yet turned 18. Cosey and partner must have considered Bo Diddley's electric guitar and Jerome Green's maracas too rough and ready for the kind of recording session they had in mind, because the they recorded Arnold with the suaver backing of Bob Carter's combo. "Hello Stranger" finds him trying to sound like a cross between John Lee Williamson (in the harmonica into, solo, and second verse) and Grant Jones, who recorded a number with the same title and a similar first verse for United in October 1952. In fact, Grant Jones' "Hello Stranger" was written by Sennabelle Richie Fenner, another Chicago-based female composer of blues. The Cool version is credited to Billy Boy Arnold, but we know better...
---
Cool1. Billy (boy) Arnold with Bob Carter's Orchestra | Vocal and Harmonica by Billy "Boy" Arnold with Bob Carter's Orchestra*
Billy Boy Arnold (hca, voc); unidentified (ts); unidentified (p); unidentified (eg); unidentified (b); unidentified (d).
Chicago, c. June 1953
E3CB-4064
E3CW-4064*
I Ain't Got No Money (Arnold)


Cool 103
E3CB-4065
E3CW-4065*
Hello Stranger ("Arnold")


Cool 103, Red Lightnin RL 0012
---
The Billy Boy Arnold sides appear to have been recorded first but released second, on Cool 103. In the RCA Victor matrix series, E3 stands for 1953. The CB matrix number appears on the 78 and the CW on the (even more insanely rare) 45, which for some reason ended up with more detailed label copy.
Red Lightnin RL 0012 was a British LP, issued in 1975 under the title Billy Boy Arnold: Blow the Back Off It. "Hello Stranger" was transferred from a, well, less than pristine copy of Cool 103. The other tracks on the LP consisted of 2 unreleased Arnold sides from Chess and most of his output for Vee-Jay. See http://www.wirz.de/music/redlifrm.htm for a Red Lightnin discography.
---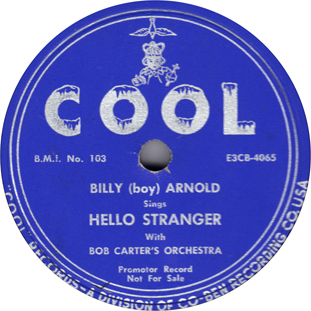 From the collection of George Paulus
---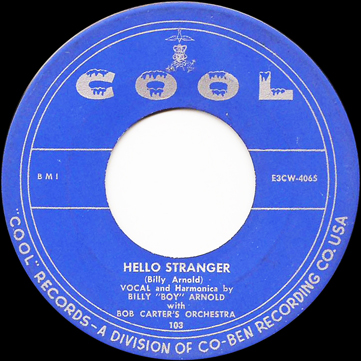 From the collection of Dr. Robert Stallworth
---
The Cool single came and went. Arnold's next recording opportunity came when Leonard Chess finally showed some interest in Bo Diddley. He actually cut two of his own numbers at the end of the first Bo Diddley session for Chess, in February 1955, but Leonard Chess did not seem interested in releasing them. So Arnold went across the street to Vee-Jay, which signed him in May 1955. At his first session for his new label, he recorded his breakthrough number, "I Wish You Would," whose family resemblance to "Diddley Daddy" did it no harm.
---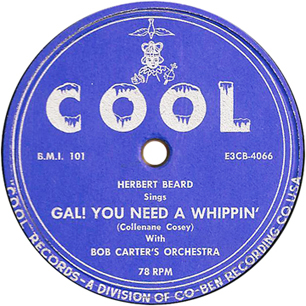 From the collection of Bill Sabis
---
Cool2. Herbert Beard with Bob Carter's Orchestra
Herbert Beard (voc); unidentified (ts); unidentified (p); unidentified (eg); unidentified (b); unidentified (d).
Chicago, c. June 1953
| | | | |
| --- | --- | --- | --- |
| E3CB-4066 | Gal! You Need a Whippin' (Cosey) | | Cool 101, Electro-Fi CD 3378 |
| E3CB-4067 | One Half Hour (Cosey) | | Cool 102 |
Who Herbert Beard was, we have no idea. But his single was released first, as Cool 101/102. Either Co-Ben wasn't quite accustomed to the release number concept, or four Herbert Beard sides were recorded and the originally intended pairings were switched at the last minute.
We have heard only of 78 rpm releases on Cool 101/102, but a 45 might still be out there somewhere.
"Gal! You Need a Whippin'" was reissued in 2003 on an Electro-Fi CD, a various-artists compilation from Canada titled Midnite Blues Party Volume Two: Rare Blues and Rhythm & Blues from the 1940's & 1950's.
McGrath's R&B Indies (2nd edition, Vol. 1) puts the two titles that we know on Cool 101, then ascribes two further Herbert Beard titles (without matrix numbers) to Cool 102. Supposedly these were "Luxury Tax Blues" and "Oh Rhythm." "Luxury Tax," it turns out, is a number that Collenane Cosey claimed to have written for Eddie "Cleanhead" Vinson, but it is credited on the original release to Vinson and Jessie Mae Robinson. Of course McGrath also turns "One Half Hour" into "One Half Pint," so we have no idea how reliable any of this is.
---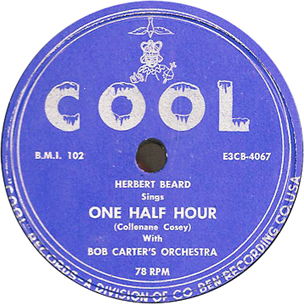 From the collection of Bill Sabis
---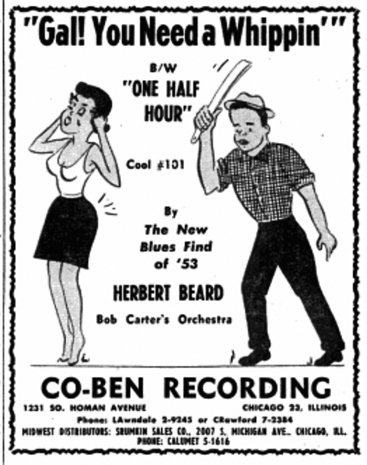 Cool's only ad in Billboard, July 11, 1953, p. 39
---
Cool 101, as it was billed there, was the focus of the company's only ad in Billboard, which appeared on July 11, 1953 (p. 39). Its theme of cartoon domestic violence is unlikely to have appealed to most readers, and it seems to have prompted no further attention from the trade magazine.
---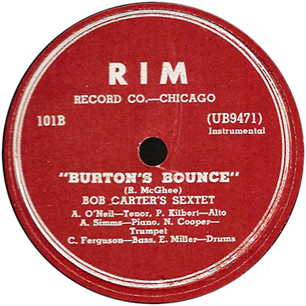 From the collection of Bill Sabis
---
One of several unanswered questions about Co-Ben and Cool is who Bob Carter was. There have been many musicians named Bob Carter, and more than one of them spent time in Chicago. We are reasonably sure that this Bob Carter previously led a sextet in 1949, for another minuscule operation called Rim—it produced three vocal sides for singer Rudy Richardson and one instrumental, which appeared as Rim 100 and 101. We don't know what instrument this Bob Carter played, but we don't think he was the Bob Carter who recorded for Specialty and Sunbeam. That Bob Carter (full name Robert James Carter) played bass; this Bob Carter employed Curtis Ferguson to handle the instrument on the Rim session.
---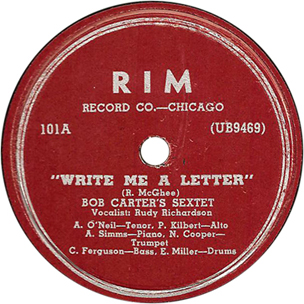 From the collection of Bill Sabis
---
As the solitary ad indicated, with just one Chicago-based distributor, the company wasn't going to move its product to any distant locales. After the two releases, both in July 1953, nothing more was heard of Co-Ben or Cool, which had probably exhausted its capital recording and mastering and pressing the 4 sides. Collenane Cosey retained her connection with Louis Jordan, who recorded his own version of "Gal, You Need a Whippin'" in January 1954, during a whirlwind series of sessions that took place immediately after he left Decca for Aladdin. It was released on Aladdin 3279—well after Cool had gone out of business.
The fate of the masters is unknown, and the label's output has drawn little by way of reissue attention. One Billy Boy Arnold side was reissued on a Red Lightnin LP in 1975. One Herbert Beard side came out in 2003 in a various-artists compilation CD on the Electro-Fi label.
---
After Cool closed, Collenane Cosey moved to Phoenix, Arizona. In 1956, she was operating Top Hat Cleaners at 533 East Jefferson; her son Pete spent his teenage years in Phoenix. She returned to Chicago at an unknown date, living at 909 West Foster Avenue. In the early 1970s, she ran a child care center that she made available after hours to the Association for the Advancement of Creative Musicians, which used the space for music classes and rehearsals. Collenane Cosey died on September 3, 2010, at the age of 100.
---
Cool is a most obvious name for a record label. According to McGrath, the Chicago-based operation was the first R&B-oriented company to use it, but others would follow: a fairly prolific Cool label out of Harrison, New Jersey, was active from 1958 to 1961; a doo-wop Cool label of uncertain location, from 1960; another blues label from Chicago in the 1960s. To these Bob Eagle adds the Miami-based label of one Dr. Cool, in the 1970s.
---
Our thanks to George Paulus, Bill Sabis, and Dr. Robert Stallworth for photos of some extremely rare records, to Bob Eagle for his biographical research, and to Dave Penny for help with the very sparse reissues as well as the composer credits on two tunes Collenane Cosey told Steve Cushing she had written for Cleanhead Vinson.
---
Click here to return to the Red Saunders Research Foundation page.
Click here to return to Robert L. Campbell's Home page.