---
Life Records
© Robert L. Campbell, Robert Pruter, and Dr. Robert Stallworth
Revised: December 24, 2016
---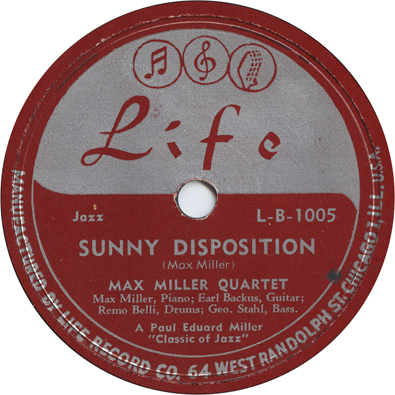 From the collection of Robert L. Campbell
---
Revision note:We have added information about Life 1001 by Singing Tom and the Twilighters. We are upgrading our coverage of multi-instrumentalist Max Miller, taking advantage of the extensive file on him in the John Steiner collection at the University of Chicago Library; we have started by correcting his place of birth and some details about his concert of December 17, 1945. We have seriously upgraded our coverage of Lucille Fanolla (aka Gloria Van), the singer who was responsible for Life 1002. She made at least two records before her 1950 session for Life, and several afterward
Life Records, an independent label in operation from 1948 through 1952, was an obscure Chicago enterprise, run on the side by a music publishing executive. The company is of interest today really for just one reason, because it recorded a maverick jazz musician named Max Miller. Miller was somewhat of a legend in Chicago. He got offers from major labels from time to time, but throughout his career accepted just one of them, because he did not want to give up ownership or control of his original compositions. Consequently, his commercial recordings would be few and and sporadic.
Owned by W. W. Maloney, a music publishing executive, the Life company was located in the Garrick Theater buidling at 64 West Randolph Street in the Loop. It opened for business in August 1948, took 18 months to put out its first three releases, and didn't begin working with Max Miller until April 1950.
Life has gotten little attention in the past. Its total output was tiny (11 releases that we know of) and its distribution not much to talk about (from 1950 through the end of its run, it was handled by Art Sheridan's American Record Distributors in Chicago, but didn't have any oomph behind its records elsewhere). It was not strictly a jazz label, and the non-jazz material it recorded is of little interest today. Jazz sides by Max Miller and his various groups were interlarded with pop vocal and instrumental material. Maloney wasn't interested in rhythm and blues, and like many of the older White jazz musicians in Chicago, Miller had no connection with that scene, though as a veteran radio man he did appreciate the importance of DJ Al Benson.
---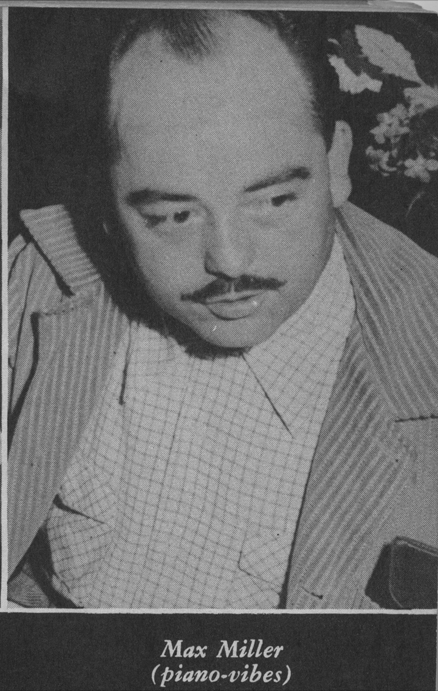 Max Miller, from the 1946 Esquire Jazz Book
---
Max Miller
---
Multi-instrumentalist Max Miller was born Edward Maxwell Miller, on November 17, 1911 in New Philadelphia, Ohio. His family moved to East Chicago, Indiana, when he was 12. His first instrument was the banjo, which he played in the East Chicago High School band. He joined Local 203 (Hammond, Indiana) of the Musicians Union in 1927, at age 16; around this time, under the influence of Eddie Lang, he switched to guitar, playing in regional jazz groups. From 1928 through 1932 he gigged with various bands in Indiana and Michigan, also getting married for the first time, to Peggy Ludlam, who was from Michigan. In 1933, he wasn't earning enough to support his family—he and Peggy had three children—so he worked full-time in a foundry, in a filling station, and as a Fuller brush salesman, also selling radios and refrigerators. "I quit the righteous life in 1935," he told Music and Rhythm (March 1941, p. 68). "I packed my belongings into trailer and went to Chicago. I had no instruments, no union card." His first gig was as a drummer; when he joined Phil Dooley's band, he first played string bass, then told the leader he'd play the vibraphone as long as he was furnished with an instrument. In all of his interviews, he claimed to be self-taught on every instrument. Among the musicians with whom he worked in his early days were drummer Dave Tough and pianist Kansas City Frank Melrose.
He toured with the Vincent Lopez Orchestra, playing mostly guitar but doing some feature numbers on the vibes. He left Lopez in 1937 to become the musical director at radio station WIND, performing 15-minute live shows 6 nights a week. These often featured his original compositions. Leaving the radio job in 1939, he headlined at the Off Beat Club, run by a Down Beat editor in the basement underneath the Three Deuces. His vocalist was Anita O'Day. They would work together on several other occasions in the 1940s and early 1950s. In 1940, Miller led a quintet at the Three Deuces, on which he played vibes and Johnny Bothwell played alto sax. The gig ended when the club burned down. Subsequently, Miller became the music director for Boyd Raeburn's big band for a time.
In February through April 1941 Miller led a trio at Benton's Grill on Lake Street. He played vibes; Herb Lawson (who had replaced Sid Fisher) was on guitar and Ed Mihelich on bass. A photo of the trio is included in the first article about him, "'Musicians are Lazy and Jam Sessions Are the Bunk!' Night club owners tell Max Miller his band is fine, but they want him to 'take out his teeth,'" Music and Rhythm, March 1941, pp. 64-68. Supposedly the work of one "Tom Palmer," the article was actually written by Paul Eduard Miller.
Early in 1943, Miller was in a group led by trumpet player Shorty Sherock at Elmer's Room. Located at 186 North State Street, Elmer's was across the street from the Chicago Theater and the Capitol Lounge. Miller was still playing the vibes at this point, but in the two years since it opened Elmer's had developed a particularly strong reputation "as a jumping off deal for solo pianists," according to Metronome writer George Hoefer Jr. Hoefer noted that such jazz keyboardists as Dorothy Donegan, Robert Crum, and Mel Henke first came into the limelight performing there.
In March, 1943, Max Miller temporarily dropped out of music. He was turned down for military service and wanted to aid the war effort, so he got a job in a factory manufacturing airplane parts on the other side of the lake, in St. Joseph, Michigan. During this time, he dedicated himself to learning piano in his off-hours.
By the summer of 1944, his job at the factory was more white collar (he had been promoted to sales engineer), and he was leading a trio in Benton Harbor, Michigan, which included Ken Smith on drums. In August 1944, he and jazz critic Paul Eduard Miller (no relation) drove all the way to Springfield, Illinois, to take in a performance by Sidney Bechet, who was doing a return engagement at a Club Rio, an Italian restaurant run by Vito Impastato. Paul Eduard Miller (1902-1972), who had been a major Bechet booster for a decade, would become Max Miller's biggest sponsor over the next several years.
Paul Miller had been urging Max Miller to meet Bechet for some time. Ken Smith was driving a truck for a milk company; it was hard to travel on the highway during World War II because gasoline and tires were rationed, and the national speed limit was 35 miles an hour. He and Max Miller drove 100 miles to Chicago in the milk truck to pick up Paul Miller.
We picked Paul up there and then went on to Springfield, Illinois, about another 250 miles. We got there in the middle of the night, or so it seemed, but Sid was still blowing at the club, and after we were introduced we sat in and we played for the rest of the night. We hit it off straight away and later, whenever Sid came to Chicago, we usually had a session. (Max Miller, interviewed by John Chilton, in Sidney Bechet: The Wizard of Jazz, New York: Oxford University Press, 1987, p. 158).
Thereafter, Max Miller would make his way to Chicago on Sundays to make private recordings with Sidney Bechet, Ken Smith, Bill Funkey (alto and tenor saxophone), Zilner T. Randolph (trumpet and composer), and Tony Parenti (clarinet). His first session with Bechet took place on October 8, 1944, after Bechet wrapped up the gig in Springfield; John Steiner and Hugh Davis did the recordings. On November 15, Down Beat reported that the session had been recorded at someone's home, with Paul Eduard Miller presiding. All numbers were performed by a trio, with Kenny Smith at the drums.
In its issue of September 15, 1945, Down Beat ran an article trumpeting, "Max Miller Returns to Music as Pianist." The Billboard of the same date announced that "Max Miller has quit his war job and is 88-ing at Elmer's, Chicago" (p. 32). His first gig was at Elmer's Room, playing solo piano. In November 1945, "prominent young guitarist" Jimmy Raney joined him.(Billboard, November 10, 1945, p. 32).
On December 15, 1945, Billboard ran an article about jazz critic Paul Eduard Miller's efforts to emulate other jazz in concert presentations that were "cleaning up plenty moo." For an Orchestra Hall concert scheduled for December 17, "Only well-known jazzman on the first date is Sidney Bechet, the New Orleans reed ace, with the remainder: Tony Parenti, white, N. O., clary; Bill Funkey, Gary (Ind.) alto and tenorman; Max Miller, Chi pianist corrently fronting his own cocktail trio; Kenny Smith, drummer, and several other unknowns filling out the program. Ducats are scaled from 95 cents to $3.00 for boxes" ("Chi Trying to Build a Jazz-Star Center," p. 18).
As it turned out, neither Bechet nor Parenti was available when the concert took place, so Muggsy Spanier, a pretty famous jazzman, was engaged as a replacement. Mickey Simms, of the Red Saunders band, was the bassist, and Jimmy Raney, who had been working in Miller's trio, was the guitarist.
Apparently uninterested in Miller's schemes for blue bitonality—he explained to Music and Rhythm how a 12-bar blues in G that started on a flatted ninth chord would support soloing in G or in D flat as the soloist preferred—Steiner wrote "Same Old Blues" after the titles of several items.
The January 1946 Phil Featheringill column in Metronome indicates that Miller was still at Elmer's, noting that Ken "Smitty" Smith was now installed in the drum chair. Featheringill further noted the December concert. The March 1946 Phil Featheringill column indicated that Miller was at Elmer's, performing in a trio, with Joe Broccolo as his new drummer. Around September of 1946, Miller was playing at the Cowboy Lounge.
---
Green Records
In October 1946, Jack Green announced that he had recorded two artists, the Paul Jordan Octet and Max Miller. Miller, it was said, had cut some original compositions on piano and some on celeste. He was backed by Buddy Nichols on bass and Andy Nelson on guitar. The announcement was that these would be coming out on a label called Green Records. No such thing happened.
---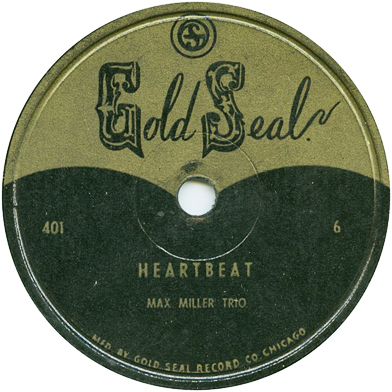 Max Miller's first release under his own name. From the collection of Robert L. Campbell.
---
Instead, two tracks by the trio showed up on a short-lived, eclectic Chicago imprint called Gold Seal.
What Green did manage to accomplish was a little bit of recording and a little bit of concert promotion. In its issue of October 12, 1946, Billboard ran a story titled "Real Estate - Jazz Concert Op Forms New Chi Diskery."
"Chi's biggest jam session ever" was planned for the Civic Opera House on October 13. "John C. Green, industrial-real estate op who dabbles in concert promotion, heads the diskery. Aided by Paul Edouard [sic] Miller, the jazz critic, he has rounded up 22 jazzmen, including Sidney Bechet, Gene Cedric [sic] and Dizzy Gillespie, who'll fly in for one-nighter, together with Paul Jordan, Max Miller Trio and Bud Freeman, latter three being stars of Green's first releases. Green plans to have Freeman Quartet, Miller Trio and Jordan's Octet do numbers at concert, which they do on first Green issues, plus other numbers by the 22 jazzists. If Green gets good reaction to any numbers on program which haven't been waxed, he plans to have John Steiner, former head of S. & D. platters on hand to record them after the show" (p. 35).
The article mentioned a follow-up concert to take place at Kimball Hall on October 26, "when Boyd Rolando, tenor find, heads a mixed group of jazzmen." In fact, the next concert was postponed till November 9; it appears that this event and its follow-up on December 1 reverted to being strictly Paul Eduard Miller's responsibility. The story even gives a succinct explanation why Green Records wasn't going to make it: "Green plans to confine the catalog strictly to jazz. Deal has been made for a Midwest pressery to handle disk production, but distribution problems still confront the firm."
---
Gold Seal
---
Gold Seal had been launched just a couple of weeks earlier, by Leonard Klein, who had previously been with United Broadcasting Studio. During its roughly 24 months in business, Gold Seal did a small amount of new recording and got its other releases from other independent labels that had gone out of business. The three 78s that been intended for release on Green Records were the company's first acquisition, and rounded out what there was to its jazz series.
It's doubtful that Paul Eduard Miller, who had brought Max Miller to Green Records, was satisfied with this outcome. Max Miller would get just one release on Gold Seal, which discontinued the 400 series after three singles. But it was a musically significant release, his first commercial recording as a leader, and the first recorded performance of one of his own compositions.
---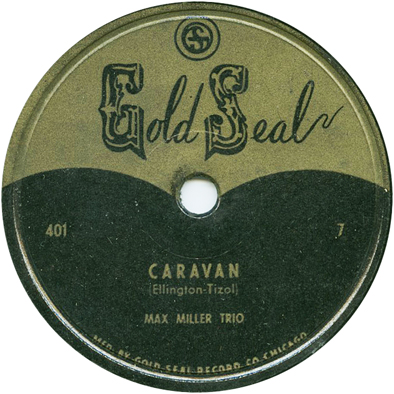 From the collection of Robert L. Campbell.
---
GS1. Max Miller Trio
Max Miller (p); Andy Nelson (g); Buddy Nichols (b).
Bachman Studio, Chicago, August 1946
| | | | |
| --- | --- | --- | --- |
| 6 | Heartbeat [Heartbeat Blues*] (Miller) | | Gold Seal 401, Life L-B-1003* |
| 7 | Caravan (Ellington-Tizol) | | Gold Seal 401, Life L-A-1003 |
| | Berta's Bounce | | Green (unissued) |
| | Tune on My Mind | | Green (unissued) |
| | Blues for Beethoven | | Green (unissued) |
| | These Foolish Things | | Green (unissued) |
| | Fantasia of the Unconscious | | Green (unissued) |
| | One Way | | Green (unissued) |
| | Sweet Lorraine | | Green (unissued) |
| | Carmen Av. Special No. 1 | | Green (unissued) |
The Max Miller sides on Gold Seal 401 show an unadorned 6 and 7 for matrix numbers, suggesting that they originated from a single session away from any of the main commercial studios. Most likely, Miller, who was already used to organizing his own sessions, was in charge of this one all the way. The title "Carmen Av. Special No. 1" points directly at the Bachman Studio. We had estimated the date as September 1946, but in his interview with John Steiner (August 7, 1958) Miller recalled it as August.
The Green Recordings concert program for the Civic Opera House, October 13, 1946 (see below), listed no fewer than 9 unissued Max Miller Trio items. "Heart Beat Blues" was said to be ready for "late October release"; "Caravan" was not mentioned (unless it was given some tricky retitle). "Berta's Bounce" and "Tune on My Mind" were also said to be scheduled for release in late October 1946; the others were listed as "For Future Release." The implication is that Miller had cut 10 sides for Green Records (maybe 11, if "Fantasia of the Unconscious" was as long as his 1950 rendition would be) and only 2 would ever see release. Also, we can see that Gold Seal made different picks from Jack Green.
The two standards on this session, "These Foolish Things" and "Sweet Lorraine," were not revisited when Miller cut an all-standards LP for Columbia in 1950. "Fantasia of the Unconscious" was rerecorded for Life that year.
---
"Heartbeat" is a minor blues, the same Max Miller composition that was called "Heartbeat Blues" in some of his contemporary press coverage, that appeared under that title at his concert of December 17, 1945, and was referred to as "Heart Beat Blues" on the concert program for the October 13 outing at the Opera House. On reissue in 1950, it would be titled "Heartbeat Blues." One passage in "Hearbeat" prefigures Mal Waldron, another sounds uncannily like the work of Randy Weston; neither, of course, was recording in 1946. "Caravan" was already a jazz standard by this time. Miller plays with such verve and power that Nelson's rhythm guitar and Nichols' bass could easily be missed by a casual listener. But Nelson's quietly insistent rhythm makes up for the absence of a drummer.
Gold Seal 402 and 403, both by groups led by pianist Paul Jordan, were recorded at United Broadcasting, a venue Leonard Klein would keep using as long as his company was in business.
A long biographical profile by George Hoefer, Jr., in Metronome (December 1946), put Miller back at Elmer's, playing solo again. Hoefer explained that "for a while Max worked with Jimmy Raney on electric guitar, a bass, and several drummers." Raney had been with Miller at the December 17, 1945 concert; Andy Nelson replaced him before the recordings for Green took place.
In the notes to his Columbia LP, Miller is said to have spent a year and a half in California during the late 1940s. This is verified in the John Steiner interview; apparently Miller got out of town not long after he realized that Green Records wouldn't be going anywhere. A sojourn far away would have helped him get his mind off all those unreleased masters. Meanwhile, Paul Miller featured Sidney Bechet in two concerts at Kimball Hall (and had both of them recorded). At the aforementioned event on December 1, Bechet was accompanied by Ray Dixon on piano. On January 26, 1947, Fletcher Henderson was booked to accompany him.
---
Unlike Green, Gold Seal was not meant to be a jazz label primarily. Gold Seal put out three 78s by legendary pianist Robert Crum, known for his interest in lengthy, essentially free improvisations, and, toward the end of its run, picked up some Valaida Snow sides from another defunct record company called Bel-Tone. It also recorded singer Arthur Lee Simpkins, who included some jazz numbers in his repertoire. But the rest of Gold Seal's activity was in pop organ-piano music (featuring Kenny Jagger, then in much demand as a "cocktail single") or in Country. As the second Petrillo recording ban hit, on January 1, 1948, Gold Seal was in trouble. The company got its last writeup in Billboard on February 14, 1948. Its last months were devoted to Country reissues. By the end of the year, if not earlier, it had sunk without a trace.
---
The Late 1940s
---
His Green/Gold Seal experience now behind him, Max Miller returned to Chicago in the middle of 1948. He experimented for a while with larger groups before returning to a trio format.
Ted Hallock's column in the August 11, 1948 issue of Downbeat did not sound too impressed with Max Miller's sextet:
Max Miller's unit, backing Boot Whip, is probably the worst he's had, notable for a trombonist who shouldn't be playing for money, period. Personnel includes Remo Belli (drums), good; Ralph Gephardt (bass), eager; Hal Blondstein (trumpet), who can't play like Diz but tries; Bob Gillett (alto), excellent; and Jay Kelliher (trombone), oh my. Miller, Kelliher, Belli, and Blondstein are on a new kick....the "pukka bloke" facial adornment. May replace the goatee.
A quintet lineup can be seen in a photo taken at a Milwaukee club in 1948, where Jay Kelliher and Max Miller are the "pukka blokes." Instead of Hal Blondstein, Tommy Allison is on trumpet. A photo taken during the same engagement, but not on the same night (the three horns are positioned differently on stage) shows Anita O'Day as the vocalist. "Hi Ho Trailus Boot Whip," on Signature, was her latest record.
---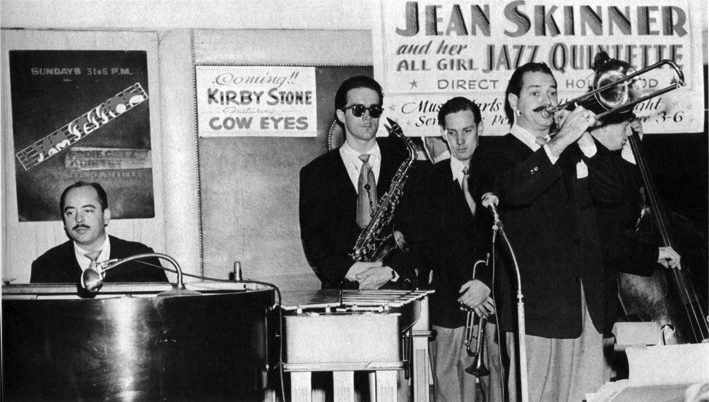 Max Miller and combo in Milwaukee, 1948. Tommy Allison is on trumpet and Jay Kelliher is on trombone.
---
On January 28, 1949, the Max Miller Trio opened a new club in the near North Side, the Hi-Note, at 450 North Clark Street. During this engagement he worked with Earl Backus on guitar and Buddy Nichols on bass (a postcard announcing the engagement is in the John Steiner Collection). For two weeks at the Blue Note starting on March 28, Miller added four pieces, backing Mel Torme. On April 11, the trio resumed at the Hi-Note. On June 16, 1949, Max Miller married for the second time. His new wife was Jeanne O'Brien, whom Billboard described as "secretary to Tweet Hogan, local act booker" (June 18, 1949, p. 22). She would be involved in promoting him for the next few years.
---
Life Records
Life Records opened for business in August 1948. Its owner, who ran a music publishing company, started a record company because he wanted to get some of his own tunes recorded.
---
Life1. Three Kings and a Queen
Chicago, 1947 or 1948
| | | | |
| --- | --- | --- | --- |
| | Baby (Maloney) | | Life 1000 [?] |
| | Old Rendezvous (Maloney) | | Life 1000 [?] |
What we know about this release comes from the August 21, 1948 issue of Billboard. One of the trade paper's Chicago items ran as follows:
W. W. Maloney, chief of Chicago Music, BMI affiliate, bowed with his Life Record label, with the first platter featuring the Three Kings and a Queen, Michigan cocktail combo, doing Maloney's Baby and Old Rendezvous, first of a backlog of masters on Maloney's original tunes. (p. 21)
We are not sure how seriously to take the "backlog" language. It's possible that Maloney had paid for a session and couldn't get any existing company to release the sides; in addition, he might not have wanted to alert the Musicians Union to new recording activity while the second Petrillo ban was still officially in effect.
---
Not a whole lot happened over the next year. Pent-up demand for W. W. Maloney's compositions, it turned out, was minimal. In September 1949, the company's address was 64 West Randolph Street, in the Loop. And Life 1001, featuring a polka band singer, was advertised in the September 24 issue of Billboard. It was listed as a new release in the same issue (p. 36).
---

From Billboard, September 24, 1949, p. 37.
---
Life2. Singing Tom and The Twilighters
Personnel unidentified
Chicago, c. September 1949
| | | | |
| --- | --- | --- | --- |
| | Señorita | | Life 1001 |
| | Sweet Little Girl Polka | | Life 1001 |
We have not seen a copy of Life 1001; all of our information is derived from the ad and other copy in Billboard. On October 1, 1949, it got one of the worst reviews in Billboard history (p. 34): four 25's out of 100 for "Señorita." We wonder whether the tunes were Maloney compositions but "Señorita" was identified in the review as coming from a film, so most likely they weren't.
Our estimate is that Life recorded and released 14 sides from 1948 through 1950, all of which appeared on 78 rpm in a 1000 series. Six sides were performances of original compositions by Max Miller. However, Life used its ads in the trade papers (all two that we have found so far) strictly to flog pop singles.
---
Life was not pursuing what anyone would consider an aggressive release schedule: 1002 wouldn't come along for nearly six months. Meanwhile Max Miller held down a gig at Rossi's New Apex Club, where he would remain for much of 1950. His association with the company was yet to begin.
On February 18, 1950, Billboard's Chicago music items included "Life Records here is going into 45 r.p.m., according to A. T. Maras, the firm's recording chief. Ray Magee has been appointed Eastern division manager for the diskery" (p. 43). That would have been pretty early for a small indie. But we've only seen Life 45s from 1952.
---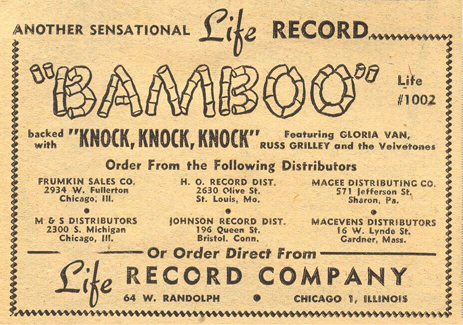 From the jukebox supplement to Billboard magazine, March 4, 1950; courtesy of Dan Kochakian.
---
Our knowledge of Life 1002, a pop single, is based on a Billboard ad that ran on March 4, 1950, and the review that Billboard ran on March 18. It would be nice to find a copy.
---
Gloria Van was born Lucille F. Fanolla, in Alliance, Ohio, on August 17, 1920. Her family moved to Chicago when she was a girl. In 1929, her father, a baker, was killed by Al Capone's gang. He was selling yeast to two mobs, both of which used it to make illegal beer, and Capone's had demanded an exclusive deal. She attended Bowen High School. She was working at the cookie counter in Goldblatt's when she was discovered by her manager: she had been asked to sing at the store's holiday party. She began singing at Siegel's Barbecue Stand on the South Side, then at Knowle's Cafe in Hyde Park. One of her early gigs, at Cafe Tomorrow on Halstead, was in a show that featured a stripper. Probably in 1940 (her interviews sometimes gave an earlier date), she worked the Glass Hat at the Congress Hotel, where she met James Lynn Allison (born in 1912), a saxophonist and singer in Jerry Shelton's combo. (Lynn Allison remembered meeting her while they were in Scat Davis's band). He was the brother of singer and future TV puppeteer Fran Allison. She was singing a rhumba with Jimmy Shelton (Shelton, an accordion player formerly with Shep Fields and His Ripplin' Rhythm, backed a Latin dance team for nearly ten years) and Shelton thought it needed a male duet partner. When Shelton went on the road—he ended up spending a lot of time in California—Gloria Van left his band.
Probably from late 1940 through the end of 1942, she sang in Johnny "Scat" Davis's band (Billboard reviewed a live performance). After two years with Davis, including a lot of traveling, she was stranded in California when Davis got an offer to make a B movie (Sarong Girl) with Ann Corio, decided he could use the money, and deactivated the band. Gene Krupa conducted a series of raids while the leader was otherwise occupied. Gloria Van spent long enough in Ted Fio Rito's orchestra, which was doing a series of engagements on the theater circuit called Interstate Time, to get from California to the East Coast, then went with Gene Krupa's. She replaced Anita O'Day in February or March 1943. Gloria Van and Lynn Allison were married on March 30, 1943, between shows at a theater in Pittsburgh, while both were singing with Krupa. Krupa was busted in May, for allegedly getting his valet to buy marijuana for him; his band did not shut down immediately, but we are not sure how much longer Gloria Van stayed in it. In November 1943 she moved to Hal McIntyre's band, replacing Helen Ward, who had joined Harry James' band. After her husband was drafted he ended up working with Glenn Miller's Army Air Force band and his Crew Chiefs in England; one day in December 1944 he drove Miller to the airstrip, but fortunately for him did not board the plane that went down over the English Channel. Meanwhile, Gloria Van stayed with McIntyre into February 1945, then worked a show in the Cincinnati area for several weeks and returned to Chicago. She initially lived with her sister-in-law, Fran Allison, who was then performing on radio on "The Breakfast Club."
When Lynn Allison came home from the war, Gloria was onstage at the Chicago Theater, singing "It's Been a Long, Long Time." Lou Breese was supposed to make his entrance, but Lynn Allison had just arrived and Breese sent him out on stage in uniform. She started a sextet called the Vanguards, subsequently reduced to a 3-man Vanguard vocal group (with her husband singing tenor). With the vocal-group Vanguards, she had her own weekly radio show on WBBM for two years, from September 21, 1946 through September 1948; for most of 1947 they were billed as Cinderella and Her Fellas. When WBBM didn't renew the deal, she and the Vanguards joined Buddy DiVito's big band for a spell (October 1948 through February 1949). WBBM then hired a new vocal quartet, the Meadowlarks, which just happened to include ex-Vanguard Maury Jackson. She led another combo of her own in 1949, and appeared on an ABC TV show, her first.
Gloria Van first recorded in 1947 for some small label (resulting in a single on Master; if this was typical Master label output, it was the result of an unpaid studio bill at United Broadcasting) and, shortly thereafter, put out a single on Universal, which actually got some promotion (enough to tell us that the Vanguards were on it).
Probably in February 1949, right after the Vanguards broke up, Gloria Van and the black vocal group the Four Vagabonds recorded a single for a tiny label called VRT (our thanks to Andy Bohan for information about this highly obscure release, which was featured on the Vocal Group Harmony site Vocal Group Record of the Week #833, February 28, 2015, http://www.vocalgroupharmony.com/4ROWNEW/IThoughtYouTold.htm). The Vagabonds (John Jordan, lead tenor; Norval Taborn, baritone; Robert O'Neal, tenor; and Ray Grant, Jr. (bass and guitar) had been inactive for about a year, and had just gotten back together around this time (see Rick Whitesell, Pete Grendysa, George Moonoogian, and Marv Goldberg, The 4 Vagabonds). More was likely done for VRT, but if so the sides are untraced. Both songs were written by Rose Mary Trabucco, who might in fact have contributed two letters to VRT, and Bill Walker. At the time William Stearns Walker (1917-1994) was writing songs, playing the piano on WIND in Chicago, and leading a society band whose highest-profile gig was off-nights at the Pump Room. One of the few records he made under his own name was for Aristocrat in 1950. In 1953, Walker went into the field where he found lasting success, writing and producing music for commercials.
---
To avoid road tours with their strings of one-nighters, Gloria Van often worked in shows that ran for a month to 6 weeks at the same venue. Johnny Sippel reviewed one of these, at Chez Paree in Chicago on February 13, 1950:
Despite poor attention, the supporting cast is above par. Gloria Van, Jane Russellish chirp, is developing an excellent torch style. Gal just inked with Life Records. Her interpretation of Love for Sale is a classic and netted a good mitt. Had she worked on a raised podium more people could have seen her and it would have cut the din. (Billboard, February 25, 1950, p. 46)
The headliner was Jimmy Durante, who drew a big, noisy crowd.
---
Life3. Gloria Van | Russ Grilley and the Velvetones
Gloria Van (voc); Russ Grilley (voc -1); The Velvetones: Ernie Inucci (g); others unidentified.
Chicago, c. February 1950
| | | | |
| --- | --- | --- | --- |
| | Bamboo | | Life 1002 |
| | Knock, Knock, Knock -1 | | Life 1002 |
The ad, which appeared in the March 4, 1950 jukebox supplement to Billboard, does inform us about the company's distribution network. The Velvetones were a small combo, unconnected with the Velvetones from the East Coast who had recorded for Sonora in 1946-1947. In January 1951, the Chicago Velvetones were an accordion-guitar-bass trio; the guitarist, Ernie Inucci, was said to have done recording work with Gloria Van (and with Lee Monti's Tu-Tones). The other two members, who at the time (Southtown Economist, January 31, 1951, p. 11) were Al Rhomba (accordion) and Art Cavalieri (bass), may have arrived after this session.
The Billboard reviewers (March 18, 1950, p. 31) did not care for Life 1002. They considered "Bamboo" unimaginatively arranged and performed, and thought "Knock, Knock, Knock" was dopey (all four gave that side a 40 out of 100—a rating rarely hung even on offerings from puny companies with no distribution.) Life, like many other small labels then operating, put singers like Van at a disadvantage because the company didn't want to have to pay another music publisher royalties on a standard (besides "Love for Sale," she was known for her rendition of "Embraceable You"). The tunes she put on record for Master and VRT, as well as for Life, were typically the work of composers with ties to the company. Even so, her VRT single (which we have now heard) was pretty good, and a couple of her other early records may also have been better than Life 1002.
---
In April, Life announced that it had picked up distributors in Berkeley, California, and San Francisco. "Max Miller's jazz combo and John Wyskowski's Omaha polka band have been added to Life's talent roster" (Billboard, April 8, 1950, p. 20). Although he was not mentioned in this item, it appears that Paul Eduard Miller had once again helped to bring Max Miller together with a small record company.
---
Max Miller was now a Life artist, but his first release for the company was a reissue—of his only previously released recording as a leader. In fact, it is the only reissue on a single of anything that the short-lived Gold Seal had put out. We were alerted to it by Larry Grinnell (email communications, November 8-9, 2012).
---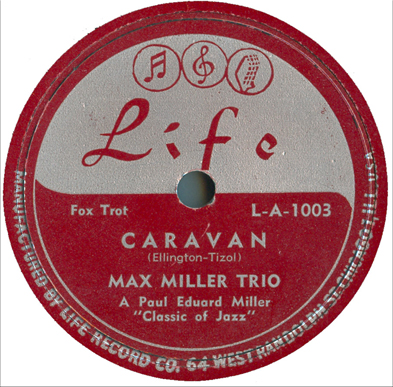 From the collection of Larry Grinnell
---
Life 4. Max Miller Trio
Max Miller (p); Andy Nelson (g); Buddy Nichols (b).
Bachman Studio, Chicago, August 1946
| | | | |
| --- | --- | --- | --- |
| 6 | Heartbeat [Heartbeat Blues*] (Miller) | | Gold Seal 401, Life B-1003* |
| 7 | Caravan (Ellington-Tizol) | | Gold Seal 401, Life A-1003 |
We have yet to find evidence of Life obtaining or using any of the remaining, unissued titles that Miller originally recorded for Green Records. In a 1982 letter, John Steiner claimed to have in his possession everything recorded for Green that had not been dealt to Gold Seal.
---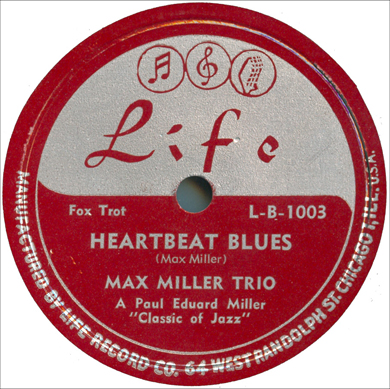 From the collection of Larry Grinnell
---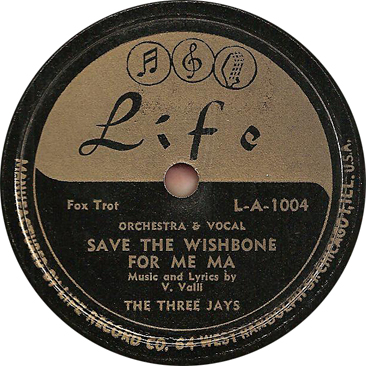 From the collection of Bill Sabis
---
Life5. Orchestra & Vocal | The Three Jays
Three Jays: vocalists and instrumentalists unidentified.
Chicago, c. June 1950
| | | | |
| --- | --- | --- | --- |
| | Save the Wishbone for Me Ma (Valli) | | Life A-1004 |
| | Penthouse Serenade (Jason Burton) | | Life B-1004 |
A copy of this single, the last pop vocal item on Life that we know of, was in the collection of Bill Sabis. Otherwise, we know only that that it was released at the beginning of July 1950 (it was announced in Billboard on July 8, p. 38). It sports a black label with silver print.
---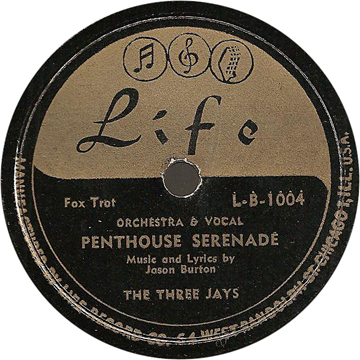 From the collection of Bill Sabis
---
In July, Life acquired a connection with Gary, Indiana, when it "inked Bud Pressner's 12-piece territory ork"; the company also added a Los Angeles-based manager for sales in the Western states (Billboard, July 15, 1950, p. 14).
---
With the next four Max Miller sides, we are at last on firmer ground. Our thanks go to Richard Reicheg for locating a copy of Life 1005 and to Bob Sunenblick for providing details on Life 1006
Max Miller's music was once again being promoted (in fact, his recording session was paid for) by his friend Paul Eduard Miller. The critic's endorsement was right there on the labels. Any effect on sales is unknown...
---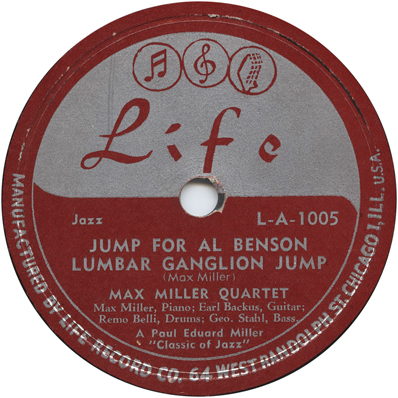 More than one independent label tried to butter up Al Benson. From the collection of Robert L. Campbell.
---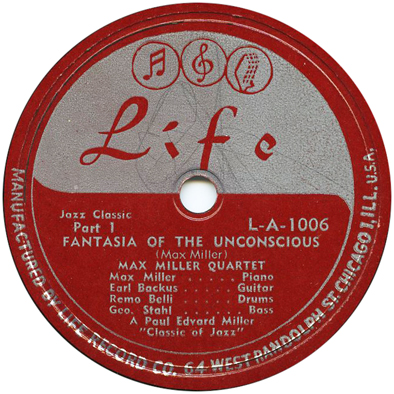 From the collection of Robert L. Campbell
---
Life6. Max Miller Quartet
Max Miller (p); Earl Backus (eg); George Stahl (b); Remo Belli (d).
Modern Recording Studio, Chicago, July or August, 1950
| | | | |
| --- | --- | --- | --- |
| MRS 2538-1 | Sunny Disposition (Miller) | | Life B-1005 |
| MRS 2538-2 | Jump for Al Benson | Lumbar Ganglion Jump (Miller) | | Life A-1005 |
| MRS-2538-3 | Fantasia of the Unconscious Part 1 (Miller) | | Life A-1006 |
| MRS-2538-4 | Fantasia of the Unconscious Part 2 (Miller) | | Life B-1006 |
The personnel is supplied on the labels to Life 1005 and 1006. The matrix numbers from Edwin M. Webb's Modern Recording Studio, in those days a favorite venue for small record companies in Chicago, are incised in the trail-off area on each side. These come later in the MRS series than the Mildred Richardson session for JOB, and just a little earlier than the first sides for Seymour, so they can be pretty confidently dated to July or August 1950.
We are indebted to Bob Sunenblick for details about a copy of Life 1006 in his collection. The same endorsement from Paul Eduard Miller appears at the bottom of the labels as on 1005.
"Fantasia of the Unconscious" is a remake of the same piece that Miller had cut for Green Records in 1946. Whether the first version was as long as this second one, we of course don't know. In the meantime, Miller had written out a version of the piece for Howard Legere, a classical pianist, who featured it at some of his recitals.
---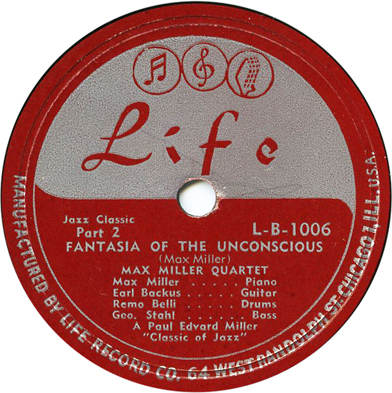 From the collection of Robert L. Campbell
---
It turns out that there is also a Life 1011, but this was the 78-rpm counterpart to Life 5001 (see below). Which may or may not imply the existence of a Life 1007, 1008, 1009, or 1010. And we definitely still need to find a copy of Life 1003. Collectors, what say you?
---
Brief Interlude: Max Miller Records for Columbia
---
All of a sudden, Max Miller was getting mentioned in Cash Box, which had had no previous use for him. "Party for Max Miller, great jazz pianist, at the Seven Stairs this past Thursday, crowded" (Cash Box, July 7, 1951, p. 7; the event was probably on June 29). This probably had more to do with Columbia's interest in him than anything he was doing for Life.
On August 18, 1950, Max Miller's quartet opened the New Apex Club, 449 North Clark Street at Illinois Avenue. As of early October, it featured Denny Roche, trumpet, and Frank Gassi, guitar, along with a drummer.
---
Not long after his quartet session at Modern Recording Studio, Miller took a brief hiatus. According a brief Chicago item the September 9 issue of Billboard, "Max Miller, musical director of Life Records here, will cut an eight-selection LP for Columbia" (p. 21). George Avakian was in the midst of producing a series of 10-inch LPs called Piano Moods; Miller was recommended to him by a local distributor.
The series put Max Miller in good company. The first LP to be released was by Erroll Garner; the other jazz contributors were Ralph Sutton, Jess Stacy, Joe Bushkin, Teddy Wilson, Eddie Heywood, Stan Freeman, Buddy Weed, Bill Clifton, and Earl Hines.
Columbia wasn't doing a whole lot of recording in Chicago in 1950; the Melrose combine had wrapped up its blues operations with the company, and the OKeh subsidiary wouldn't be revived for another year. However, Miller's quartet, with Bill Holyoke now on bass, duly cut its session on September 28.
Avakian wanted each side of the Piano Moods LPs to proceed without pauses between tracks, and the pianists obliged with transitional passages intended to bridge to the next piece. Consequently, the tracks from Miller's Columbia session are listed in the order of their appearance on the LP instead of the order in which they were recorded (the latter may easily be inferred from the matrix numbers).
---
Moods1. Max Miller / Max Miller with Rhythm Acc.*
Piano Moods
Max Miller (p); Earl Backus (g); Bill Holyoke (b); Remo Belli (d).
Chicago, September 28, 1950
| | | | |
| --- | --- | --- | --- |
| CCO 5189-1 | St. Louis Blues (Handy) | | Columbia CL 6175, Columbia 39338*, Columbia 4-39338, Mosaic MD7-199 [CD] |
| CCO 5196 | Liebestraum [No. 3] (Liszt) | | Columbia CL 6175, Columbia 39339, Columbia 4-39339, Mosaic MD7-199 [CD] |
| CCO 5190 | Don't Blame Me (Fields-McHugh) | | Columbia CL 6175, Columbia 39339, Columbia 4-39339, Mosaic MD7-199 [CD] |
| CCO 5191-1 | Lover (Rodgers-Hart) | | Columbia CL 6175, Columbia 39338*, Columbia 4-39339, Mosaic MD7-199 [CD] |
| CCO 5192 | Rose Room (Wiliams-Hickman) | | Columbia CL 6175, Columbia 39340, Columbia 4-39340, Mosaic MD7-199 [CD] |
| CCO 5195 | Besame Mucho (Velazquez) | | Columbia CL 6175, Columbia 39341, Columbia 4-39341, Mosaic MD7-199 [CD] |
| CCO 5193 | Embraceable You (Gershwin-Gershwin) | | Columbia CL 6175, Columbia 39341, Columbia 4-39341, Mosaic MD7-199 [CD] |
| CCO 5194 | I Can't Believe That You're in Love with Me | | Columbia CL 6175, Columbia 39340, Columbia 4-39340, Mosaic MD7-199 [CD] |
The 10-inch LP, Columbia CL 6175, was released on July 13, 1951; it was the last jazz offering in the Piano Moods series. It is the only Max Miller recording that most have heard of, and the only one to be listed in Tom Lord's Jazz Discography.
---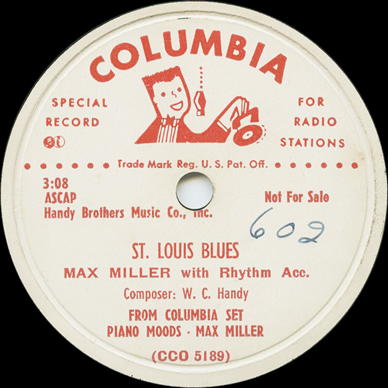 A DJ copy of Columbia 39338, from the collection of Robert L. Campbell
---
Columbia also released all 8 tracks on 4 singles, both 78 and 45 rpm. The 45s carry the 4- prefix. Interestingly, the DJ copies we have seen of 39338 don't actually show a release number; they merely carry the matrix numbers and refer to Miller's "Columbia set."
---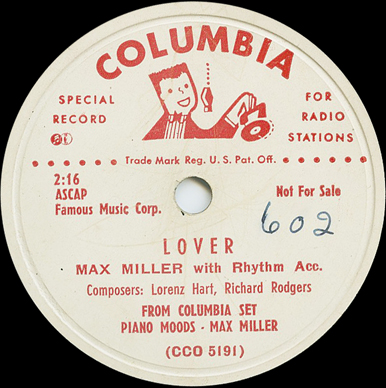 From the collection of Robert L. Campbell
---
In 2000, all of the 10-inch LP sessions by jazz pianists for the Piano Moods series, along with Ahmad Jamal's first two sessions for OKeh, a second Ralph Sutton LP, and a live concert by Art Tatum, were compiled into Mosaic MD7-199, a 7-CD set titled The Columbia Jazz Piano Moods Sessions. The session date, matrix numbers, original track order, and release numbers for the singles were all obtained from the Mosaic booklet.
The recording picture might actually be a little more complicated. On August 4, 1951, Cash Box (p. 7) was already announcing that Miller had "waxed" "St. Louis Blues" and "Lover" (same coupling as on the first single) for Columbia. Three possibilities: (1) Miller cut these two sides at a session in late July, then cut the rest of the LP in September; (2) Miller cut them in late July, then remade them at an 8-track session in September; (3) the session date in the Mosaic notes was mistranscribed and it really took place on July 28, 1950. Since the Red Saunders Columbia session of June 15, 1950 ended with CCO 5173, we can't rule out a late July date. Columbia barely rose above torpor where recording in Chicago was concerned: between June 15, 1950 and April 20, 1951—we can use two Red Saunders sessions as bookends—it was recording a paltry 8 sides per month, and the pace didn't pick up over the next two years.
The Mosaic set is the only reissue that most items in the Piano Moods series have gotten, and its production quality meets Mosaic's usual high standards. However, the liner notes by Dick Katz presume that the reader knows the life stories of Art Tatum, Earl Hines, Erroll Garner, and Teddy Wilson, and supply little detail about the less famous contributors. Max Miller is incorrectly said to have been born in 1915 and none of his other recordings are mentioned. Katz also says that he derived much of his income from work on recording sessions, a claim that we doubt, and have not seen made anywhere else.
---
Back to Life
---
Although we have yet to document a Life release from 1951, the company was still making recordings—at its customary desultory pace. Bud Pressner's territory band, based in Gary, Indiana, recorded for Life in the first week of June, according to a Billboard Chicago item on p. 14 of the June 16 edition. We would like to see a Bud Pressner record. There could be room between Life 1007 and 1010 (all of these release numbers are untraced) for something of his.
---
In May and June 1951, Max Miller was at the Hi-Note again, with Denny Roche, trumpet; Earl Backus, guitar; and Buddy Nichols, bass—and Anita O'Day, vocals. (It was widely thought that the singer was part-owner of the club.) In September 1951, when the Milwaukee Journal ran a piece on him, he was working in that city with a trio.
---
In 1952, Max Miller cut one more session for Life, which had launched a new 5000 series for 45s. This time Paul Eduard Miller was not mentioned on the labels. Two of the four sides featured a singer from Gary, Indiana named Wellington Blakey, singing songs written by a butcher, also from Gary, Indiana, named Bernard Roth. (We suspect Roth and Blakey had both to the company's attention via Bud Pressner.) The other two sides were instrumental renditions of jazz standards. Miller played vibes throughout. Max Miller was operating his own studio by this time.
We once thought that Life gave up on 78s during this phase, but Bob Sunenblick reports a 78-rpm release on Life 1011 that corresponds to the 45-rpm on Life 5001. The company at least planned to issue 78-rpm versions of other 5000 series recordings, though we don't yet know whether all of these materialized.
---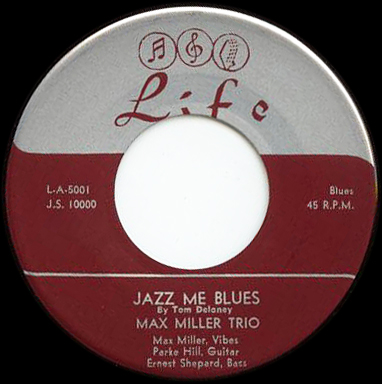 From the collection of Dr. Robert Stallworth
---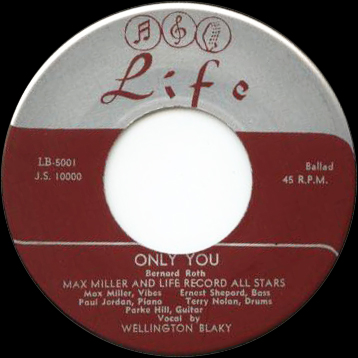 From the collection of Dr. Robert Stallworth
---
Life7. Max Miller Trio / Max Miller and Life Record All Stars | Vocal by Wellington Blaky [sic] %
Max Miller (vib); Parke Hill (eg); Paul Jordan (p on %); Ernest Shepard (b); Terry Nolan (d on %); Wellington Blakey (voc on %).
Chicago, early 1952
| | | | |
| --- | --- | --- | --- |
| KB 1690 | Jazz Me Blues (Deloney) | | Life A-1011, Life A-5001 |
| | Tea for Two (Youmans-Caesar) | | Life A-5002 |
| KB 1698 | Only You (Roth) % | | Life B-1011, Life B-5001 |
| | Cross Me off Your List (Roth) % | | Life B-5002 |
We recently learned of Life 1011, the 78-rpm release, from Bob Sunenblick. The label copy is virtually identical to what can be seen on Life 5001. For instance, Wellington Blakey's name is misspelled on both B-sides. However, instead of the JS numbers that can be seen on the Life 5001, the 1011 labels carry N. S. 5003 on both sides. (If N. S. stood for New Series, it didn't predict the catalog numbers for the 45s.) Also, the 78 carries the KB 1600 series numbers in the trail-off vinyl. These do not come from any known commercial recording operation in Chicago during the period; we wonder whether they are from Miller's onw studyo. The 78 labels leave off the composer credit for "Jazz Me Blues" that is included on the 45 labels.
Naturally, we are curious whether there was another 1000-series 78 to correspond to the 45-rpm release on 5002. If there was one, it should have been numbered 1012.
---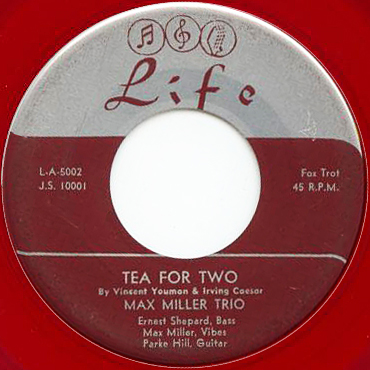 From the collection of Dr. Robert Stallworth
---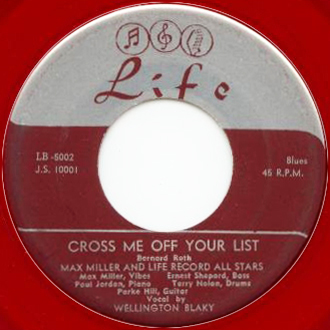 From the collection of Dr. Robert Stallworth
---
There was another Life label active in 1952, and occasionally mentioned in Billboard. It had nothing to do with the Chicago operation, and was probably based in New York City.
---
The final two releases on the Chicago Life, also from 1952, featured Doris Stockton playing "Tico Tico" and three light classics on the marimba. Accompaniment on these was by a pop big band led by Russ Case. Born around 1916, Stockton did little commercial recording beyond the one session, originally for RCA Victor, that Life made a deal to reissue. Her personal holdings otherwise consisted of lacquers cut at concerts or taken off radio broadcasts; those that carry dates are from the late 1940s.
Like their counterparts on 78 rpm, Life 5003 and 5004 feature a new, less busy version of the company logo. In addition, the copies of Life 5004 that we have seen were pressed on unusual lemon-yellow vinyl; Life 5003 was pressed on red vinyl.
Life had arranged to reissue 1947 sides that Stockton had made for RCA Victor:
Life Records has completed a royalty deal with RCA Victor and will issue a series of eight sides cut in 1947 by Russ Case and Doris Stockon on its own label. R. Maloney, Life topper, said the eight classics will be released on 45, 78 r.p.m, and LP. (Billboard, March 1, 1952, p. 40)
Eight tracks was just right for a regulation 10-inch LP, but we have yet to discover any on the label. We know of two 78s in the 1000 series (these are hard to find; we learned about them from Arthur DeBolt after Doris Stockton's death). And we know of the same two releases (a little easer to find in this form) on 45s in the 5000 series. In all, Life seems to have gotten around to half of the projected eight sides. Three of these employed orchestral arrangements including strings; "Tico Tico" used a Swing band.
---
From the collection of Robert L. Campbell
---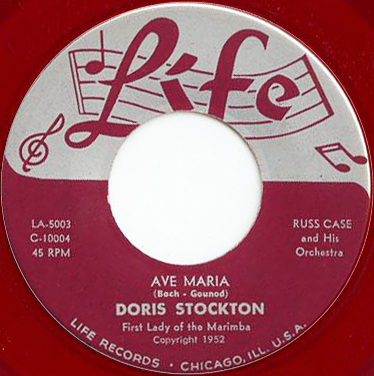 From the collection of Dr. Robert Stallworth
---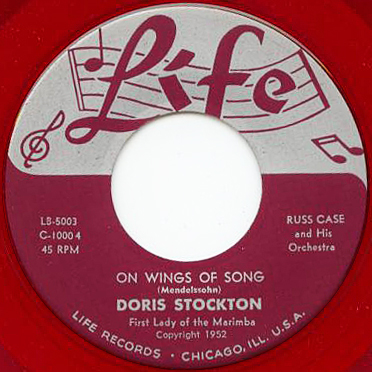 From the collection of Dr. Robert Stallworth
---
From the collection of Robert L. Campbell
---
Life8. Doris Stockton | First Lady of the Marimba | Russ Case and His Orchestra
Doris Stockton (mar); Russ Case (dir); other musicians unidentified.
January or February 1947
D7VB-222
D7VW-0222
Ave Maria (Bach-Gounod)


RCA Victor 20-3103, Life LA-1013, Life A-5003
D7VB-220
D7VW-0220
On Wings of Song (Mendelssohn)


RCA Victor 20-3104B, Life LB-1013, Life B-5003
D7VB-216
D7VW-0216
Tico Tico (Drake-Abreu)


RCA Victor 20-3104A, Life LA-1014, Life A-5004
D7VB-218
D7VW-0218
F. Major Waltz (Chopin)


RCA Victor 20-3105B, Life LB-1014, Life B-5004
---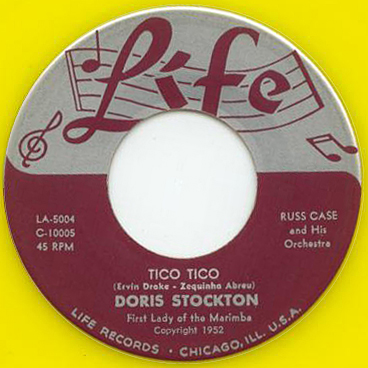 From the collection of Dr. Robert Stallworth
---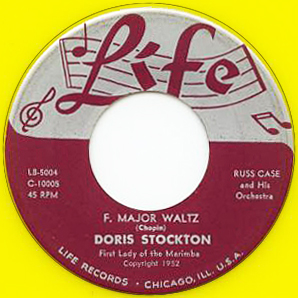 From the collection of Dr. Robert Stallworth
---
From release numbers stamped in the trailoff area of three of the four Life 78s sides, we see that "Tico Tico" and "On Wings of Song" were originally paired on RCA Victor 20-3104. "F. Major Waltz" was originally RCA Victor 20-3105B. "Ave Maria" was probably remastered for the Life release, because it carries no RCA Victor release number; according to Tyrone Settlemier's listing at http://www.78discography.com/RCA203000.htm it was on 20-3102.
From the same source, we learn that the other RCA Victor sides, not released on Life, were: on the other side of RCA Victor 20-3102, "Perpetual Motion"; RCA Victor 20-3103, "Waltz of the Flowers" b/w "Hora Staccato"; and 20-3105A, "Waltz of the Flowers."
The D7VB numbers are the original matrix numbers for the 78s; the D7VW numbers were modified by RCA Victor using its standard code for 45 rpm masters (there wouldn't have been any in 1947). Judging from other RCA Victor releases with known D7VB numbers, the recording session took place in January or February 1947; location still to be determined, as it could have been New York, Chicago, or Los Angeles.
Life 1013 and 1014 were the 78s; 5003 and 5004 were the 45s. The Life matrix numbers were different on the 78s and the 45s—and uninformative in either case. However, the trail-off vinyl to the 45s and the 78s carried the original RCA Victor master numbers from 1947, which are informative. Three of the 78 rpm sides carried the original RCA Victor release numbers in the trailoff area.
So far as we know, 1014/5004 was the label's last release. We presume that the company shut down a little later, as there were no references to it in Billboardfor the rest of 1952, nor were there any during 1953 or 1954.
In all, it had been responsible for at least 11 singles, 10 in the 1000 series and 4 in the 5000s. The known 78s are 1000 (probably) and 1001 (definitely) through 1006, 1011, 1013 and 1014. Still missing are 1007 through 1010, and 1012. The 45s were 5001 through 5004. At least 3, possibly 4, releases appeared in both series.
---
After Life
---
We suspect Gloria Van completely forgot her single on Life Records. She was on a DuMont network TV show called "Windy City Jamboree" from April 1950 into the summer. The Down Beat scribes liked her, and in March 1951 they put her on the cover for the second time (in 1944, she had shared one with Hal McIntyre). In the first half of the 1950s, her bread and butter would be singing for sweet bands. She joined Wayne King in September 1950, at the beginning of his second year on television, staying with him for 2 full seasons of his NBC show (September 1950 through June 1952). The TV work often entailed gigs in Chicago hotels (as in October 1950, when "Wayne King with his entire TV gang" were booked into the Edgewater; Cash Box, October 28, 1950, p. 9). The shtick usually required Van to dress as a Native American or an Italian peasant girl. This all being live TV, on one occasion she was mortified when she started "Kiss of Fire" and realized she'd forgotten every word of the lyrics. "I just went blank, and here I was in this dumb window frame, and I couldn't even see the band to get any help," she told Christine Winter in 1990. "I finally just made the words up as I went along." King's show was a forerunner to Lawrence Welk's: the band was squarer than she would have liked, but the pay was good and she made friends. There was the further benefit that King broadcast the show 44 weeks each year, from Chicago, so out-of-town engagements were generally just on Monday nights and not too far away. When his TV deal ended, King started touring, which was not in her plans. She appeared on a local Chicago TV show for a while, did the "Chance of a Lifetime" show in 1953, and spent some time in the Teddy Phillips band, which she left in 1954. (Phillips had made some records in 1950 and 1951, but we don't know of any from her time with his band.) She also made several further singles: at least one with Buddy DiVito for Tower (mentioned in Billboard in 1950 but possibly done before her session for Life), one for X (an RCA Victor subsidiary) in 1955, and a couple for Wing (a Mercury subsidiary) also in 1955.
In the second half of the decade, Gloria Van became a part-time performer. Demand for her style of singing was softening, her husband was running a music store, she had to cancel some engagements on account of being pregnant, and by 1963 she had three school-age children. She appeared on Arthur Godfrey's show in 1957, on the Jack Paar edition of the Tonight Show in 1958, and, in 1960, she sang Hoagy Carmichael's "Stardust" with a 100-piece orchestra at Soldier Field, at the composer's request, in front of 75,000 people. In later years she worked as head receptionist for the Kemper Insurance Company and, after undergoing two heart operations, for a support group called Mended Hearts. Interviewed by the Chicago Tribune at age 70, she was still recording herself at home in Elk Grove Village, singing over band-minus-vocalist records. Lynn Allison died in 1993, not long after their 50th wedding annversary. Gloria Van gave her last public performance in September 2002, with Rick Falotta and the Yorkville community band. Lucille Fanolla Allison died of kidney failure on December 24, 2002, in Elk Grove Village, Illinois (See Christine Winter, "Singer Van Gets a Kick Reliving Her Gloria Days," Chicago Tribune, November 4, 1990, http://articles.chicagotribune.com/1990-11-04/news/9004010313_1_air-force-band-congress-hotel-big-band; Archibald McKinlay, "Calumet Roots: Big Band 's Heyday Gave Singer Fame," Shia Kapos, "Gloria Van, 82: Jazz singer, TV star during the '40s, '50s," The Northwest Indiana Times, January 9, 1999, http://www.nwitimes.com/uncategorized/big-band-s-heyday-gave-singer-fame/article_88c6a1ec-b5e3-52fe-a8db-ac5083d2a002.html, and Chicago Tribune, December 26, 2002, http://articles.chicagotribune.com/2002-12-26/news/0212260018_1_big-band-singer-gene-krupa-variety-show; Joe Carlton, "Interview with the Crew Chief," The Great Escape! No. 17 (January/February 2010), pp. 1, 4, http://www.dixieswing.com/vol17.pdf).
Doris Stockton continued to perform for many years, eventually moving to California. In 2009, now 93 years old, she donated her instrument to a university. Doris Stockton died on March 7, 2013, at the age of 97 (our thanks to Arthur DeBolt for the news).
In 1953, Wellington Blakey cut one of the very first sessions for Vee-Jay, which in its formative stage was located in Gary, Indiana. His Vee-Jay single also featured two songs writtten by Bernard Roth. Blakey seems to have stayed in Gary, which limited his recording opportunities. In 1960, Bud Pressner's studio made a 78-rpm acetate out of 4 of Blakey's live performances, powerfully sung but recorded in a club on really cheap equipment; obviously it was meant as a demo. In 1964, he was invited to sing the blues on a Riverside LP being recorded by his cousin's band; "Wellington's Blues" would be his only recorded performance with Art Blakey and the Jazz Messengers.
Bernard Roth continued to peddle songs to Vee-Jay; he was responsible for at least 3 numbers recorded by the doowop group, the Spaniels. At some point he obtained an introduction to Leonard Chess, submitting a few blues tunes that were recorded by Little Walter ("Who") and Muddy Waters ("Just to Be with You," "40 Days and 40 Nights"). Among Roth's songs, the two that he wrote for Muddy benefited from absolutely blazing performances at two sessions in 1956 and have become by far the best known of anything he did.
Max Miller kept up a high level of activity on the Chicago club scene for several more years. In 1953, his column "The Audio Workshop" ran in Down Beat, netting him free equipment from some of the top audio manufacturers of the day. He recorded frequently in his studio, also venturing out to make live jazz recordings in a variety of locations. He kept an even greater distance from the commercial recording industry. He even bought his way out of a contract with a major management agency, MCA, after learning that MCA would end up owning rights to any original compositions that he recorded.
On July 20, 1955, he opened a club called Max Miller's Scene, at 2126 North Clark Street. At first, he fulfilled nearly all of the musical duties, playing piano with a trio. On May 10, 1956, the Defender announced (p. 18) that singer Phyllis Branch, previously known as a calypso perfomer, was moving into the Scene, along with pianist Earma Thompson (enabling Miller to concentrate on playing the vibes). In time Miller discovered, like others before him, that operating a club and performing at it five nights a week didn't mix. An item in the Defender for September 25, 1956 (p. 15) announced that the Jazz Scene, as it was now known, would be under new management as of September 26; the new house trio consisted of Gene Esposito (piano), LeRoy Jackson (bass), and visiting Ghanaian drummer Guy Warren. The club closed in 1957.
In 1958, Miller landed a couple of gigs at the Golden Lion Inn, in the Sheridan Plaza Hotel. On September 12, 1958, he began an engagement at the inn with violinist Eddie South (Defender, September 10, 1958, p. 17). When that gig ended in early November, Miller moved out quickly, leaving behind a bill for repairs to the apartment where he had been staying. After several months living on a farm in Missouri, Miller returned to Chicago for a job at the London House (Wacker at Michigan Avenue), where he was recorded backing trumpeter Bobby Hackett.
---
London1. Bobby Hackett
Live from the London House
Bobby Hackett (tp except -1); Max Miller (p); Bill Cronk (b); Buzzy Drootin (d).
London House, Chicago, between June 2 and June 21, 1959
| | | | |
| --- | --- | --- | --- |
| | St. Louis Blues (Handy) | | Mr. Music MMCD-7019 |
| | When Your Lover Has Gone (Swan) | | Mr. Music MMCD-7019 |
| | Muskrat [sic] Ramble (Ory) | | Mr. Music MMCD-7019 |
| | Caravan (Tizol-Ellington-Mills) -1 | | Mr. Music MMCD-7019 |
| | Tenderly (Gross-Lawrence) | | Mr. Music MMCD-7019 |
| | Bernies [sic] Tune (Miller) | | Mr. Music MMCD-7019 |
| | Take the A Train (Strayhorn) | | Mr. Music MMCD-7019 |
| | Indiana (Hanley) | | Mr. Music MMCD-7019 |
| | Limehouse Blues (Braham-Furber) | | Mr. Music MMCD-7019 |
| | These Foolish Things (Strachey) | | Mr. Music MMCD-7019 |
| | Caravan #2 (Tizol-Ellington-Mills) -1 | | Mr. Music MMCD-7019 |
| | Rose Room (Williams-Hickman) | | Mr. Music MMCD-7019 |
| | Struttin' with Some Barbecue (Armstrong) | | Mr. Music MMCD-7019 |
| | Sweet Lorraine (Parish-Burwell) | | Mr. Music MMCD-7019 |
| | Take the A Train #2 (Strayhorn) | | Mr. Music MMCD-7019 |
The Armed Forces Recording Service recorded Bobby Hackett's group live on several occasions during their three-week run at the London House. These were edited down into two 30-minute broadcasts, with voiceovers by two different announcers added, for the AFRS One Night Stand series. (The announcer on the first 8 tracks tries to be cute with song titles, but partly redeems himself by employing the original, unbowdlerized "Muskat Ramble.") Each broadcast was distributed on 16-inch transcription disks. The first eight tracks appeared on One Night Stand 4918, broadcast on September 25, 1959; the final 7 were on One Night Stand 4933, broadcast on October 16 of the same year. It is not known on which nights the selections were recorded, but two different performances of "Caravan" and "Take the 'A' Train" were included. Personnel and other information are derived from the 2009 release on Mr. Music MMCD-7019.
The Bobby Hackett broadcasts, which were done in decent sound quality, allow us to hear Max Miller as an accompanist. He was given a nightly feature on "Caravan." On both 1959 versions, he follows his 1946 arrangement quite closely.
---
The London House gig was the very last in Chicago. Miller hit the road, spending time in Dallas, Texas, Tucson, Arizona, and Miami, Florida. By 1965 he had settled in Oklahoma, where he taught and performed, health permitting. As of 1982, when he resumed his correspondence with John Steiner, any damage to Steiner's apartment was long forgiven; Steiner wrote a letter in support of an application for a grant to get Miller's lacquers, tapes, and scores in order, but the application was not successful. On June 18, 1985, just a few months before his death, he was interviewed by jazz writer John Chilton for a book on Sidney Bechet. Max Miller died in Shawnee, Oklahoma on November 13, 1985, of congestive heart failure. After his death, his third wife, Juanita Strange Miller, catalogued his compositions and recordings; she died in 1995.
---
A good introduction to Max Miller's life and music can be had from http://en.wikipedia.org/wiki/Max_Miller_(musician).
---
Click here to return to Red Saunders Research Foundation page.