---
The Sultan Label
© Robert Pruter and Robert L. Campbell
Latest revision: February 13, 2014
---
Revision note. We are indebted to Eddie Wiggins' son Chuck Wiggin, who informed us (phone conversation of February 13, 2014) about his father's 45 rpm single on the Disc-Co and Beam labels.
Sultan Records was one of the myriad of little labels that mushroomed nationwide in the recording boom immediately following World War II. The label was run by one Morton Sultan in Detroit, and came out with four known releases, all in 1946. Initially the firm was located in the Penobscot Building (645 Griswold Street) in the downtown section. While RSRF is devoted to coverage of Chicago labels, we are making an exception for Sultan, because all of its jazz artists were located in Chicago and the company appears to have done its recording in Chicago. During this period, Detroit was not a major recording center. A June 1946 Metronome article by Barry Ulanov mentioned a handful of small companies in Detroit: Vogue, Willow Walk, Sultan—which he describes as strictly a jazz label—and Harmeny. Ulanov complained that with the exception of Harmeny, they featured little local talent.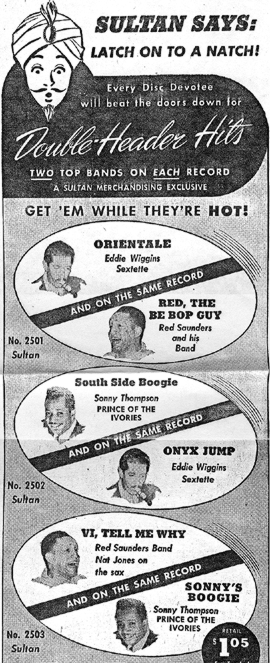 Sultan had a gimmick, featuring different artists on each side of each release. The first release featured the combos of alto saxophonist Eddie Wiggins and drummer Red Saunders; the second Wiggins and pianist Sonny Thompson; and the third, Saunders and Thompson. Sultan promoted this marketing ploy as "double-header hits," in a full wide-column advert for the June 8, 1946 issue of Billboard.
These artists were all regulars on Randolph Street in Chicago's downtown (commonly called the Loop for the elevated structure that circles the commercial section). Randolph Street, with its string of jazz clubs, was the local counterpart of New York City's 52nd Street. From 1945 to 1947, Wiggins was working regularly at the Brass Rail (52 West Randolph). Next door in the Garrick Theater Lounge (58 West Randolph), Sonny Thompson had played the Garrick Bar (the street level room). Meanwhile in the Downbeat Room (the downstairs venue) Red Saunders had a continuous engagement from August 1945 to September 1946, when the Garrick Lounge closed.
Morton Sultan was born in Michigan on August 31, 1921, which means he was a few years younger than the artists he recorded. What brought him to Chicago we do not know, but Sultan must have made it a practice to frequent the Randolph Street clubs on his trips there. He launched his label with the artists he saw at these clubs in mind. It appears that all three of his recording sessions took place some time in May 1946. (The Red Saunders sides include altoist Nat Jones, who replaced Antonio Cosey in the Saunders combo in early May, according to a story that ran in Down Beat's "Chicago Band Briefs.") All three Sultan singles in the 2500 series (2501, 2502, and 2503) were released in June 1946.
Sultans in the 2500s carry matrix numbers in an S-100 series. A number of gaps lead us to believe that more sides were actually recorded than the 6 that saw issue (4 tracks per 3-hour session was the norm in those days). However, we have no idea what happened to any unissued material--or whether it is still extant.
---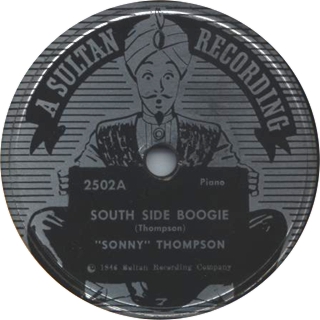 From the collection of George Paulus
---
Sult1. "Sonny" Thompson
Sonny Thompson (p).
Chicago, May 1946
| | | | |
| --- | --- | --- | --- |
| S-106-1-1 | South Side Boogie (Thompson) | | Sultan 2502A |
| S-108-1-1 or S 108-1-2 | Sonny's Boogie (Thompson) | | Sultan 2503B |
The pianist was born Alphonso Thompson in Memphis on August 22, 1916. While he was a preschooler, his family moved to Chicago. Both of his parents played piano, and he began his studies on the instrument while in elementary school. He attended Wendell Phillips High School, where he played drums and French horn in the marching band and piano in the orchestra. He studied at the Chicago Conservatory of Music for 3 years (during this period he performed in concert on many occasions, one of which was a tour of cities in Canada). In the clubs he learned his craft from Art Tatum and Earl Hines.
Thompson began working in combos while in high school and went on the road for extended periods after graduating from Phillips. He also spent some time in the band of Erskine Tate. He began working as a leader in 1940, with a group billed as Sonny Thompson and His Swingsters. That year, he performed 7 days a week at the Apex Grill and Road House, in the small African-American suburb of Robbins.
During 1941 and 1942, Thompson attended the University of Chicago, supporting himself by playing gigs. During 1941 and the first quarter of 1942, he played solo piano at the Garrick Stage Bar. When they were temporarily in need of a pianist, he also worked in groups led by Lonnie Simmons, Red Allen, and Stuff Smith in the Down Beat Room downstairs. On March 19, 1942, his contract with New Club Plantation (3520 South State) was accepted and filed by Musicians Union Local 208. The club, which featured an elaborate floor show, ran an ad in the Chicago Defender for April 11, 1942 promising "Music By Prince Alphonso and His Rhythm Masters." However, New Club Plantation shut down on May 10 (see Local 208 Board minutes for May 21).
Thompson resurfaced at the Apex in Robbins, in a band led by Recard Grey, who had taken over as leader at some point in 1941. However, his association with the club ended in mid-June 1942 after Fats Robinson, the owner, complained that Thompson "had too much influence over Grey," that he took too many outside gigs and sent too many substitutes. The latest irritant: Thompson had refused to play a request for a customer--in fact, had left the bandstand--because the singer (the "entertainer" is the word Local 208 used) wouldn't share her tips with the band (Local 208 Board minutes, June 18, 1942, p. 3).
In 1943 Sonny Thompson entered the Army (we don't know whether he volunteered or was drafted) and was assigned to the Signal Corps. While doing construction work, he was seriously injured in a cave-in accident. After a spell in the hospital, he was eventually sent home on a medical discharge and had to spend the rest of the year recuperating.
Thompson resumed musical activity when he posted a contract on January 6, 1944 with the Garrick Stage Bar, where he played solo piano. Next he moved to Howard Street on the city's northern border to work the Bar o' Music, a joint that featured solo pianists and trios; contract accepted and filed on March 2. In February 1945, Thompson got a break when he was asked to step in to replace Earl Hines at El Grotto, a prestigious club located in the basement of the Pershing Hotel, 64th and Cottage Grove (his contract for 1 year at El Grotto was accepted and filed on February 15, though this was later scaled back to a mere "indefinite"). Apparently the arrangement to replace Hines was made well in advance of a planned tour; Down Beat 's "Chicago Band Briefs" for May 1, 1945 (p. 4) has Hines about to go on the road after playing to packed houses at El Grotto for 9 weeks, and Thompson's 16 men "comprised of several top sidemen from various name bands" about to open on May 3.
An item in Down Beat (July 15, 1945, p. 4), "Thompson Has Fine New Crew," described the band as a "14-piece outfit" and noted that the show's current headliners were singer Ivie Anderson and singer-dancer Marie Bryant (both of whom had worked with Duke Ellington). For 6 months the band was featured on nightly radio broadcasts. Thompson appears to kept his El Grotto band together through the end of 1945, but times for big ensembles were getting tough, and shortly after New Year's, 1946, he took a solo job at the Vanity Show Lounge on the West Side (his contract for 5 weeks there was accepted and filed on January 17). Still working solo, on May 2 he posted a 1-week contract with the Normandy Lounge on the far North Side; on May 16, he filed a contract for 2 weeks at Tony's Lounge (which is probably where he was working when he cut his session for Sultan). In June or July, he got the opportunity to work a high-profile gig in New York City.
Thompson made his first recording session with a sextet backing June Richmond on Mercury Records; two singles were released. The two sides he did for Sultan were his first as a leader. Thompson, billed for the occasion as the "Prince of the Ivories," split one 78 with the Eddie Wiggins combo and another with Red Saunders.
Metronome in the September 1946 issue reviewed the two Sonny Thompson sides thusly, "This is the pianist who came into the Café Society Uptown two months ago. It's said he's potentially great, but since both these sides are just so much fast flashy boogie woogie, with a meaningless pseudo-classical departure, we'll reserve our raves." By this time, most jazz reviewers had grown jaded about boogie woogie, which numerous bandleaders had adopted and marketed in slick renditions.
In the Sharon A. Pease profile of Thompson that ran in Down Beat, his involvement with Sultan was described as follows:
Recently he did the first of a series of solo sides for Sultan. Sonny also sings and some future Sultan releases will feature his voice as well as his piano.
We of course don't know whether Pease was referring to vocal numbers that Thompson had already recorded, or a future recording session that never got past the projected stage.
---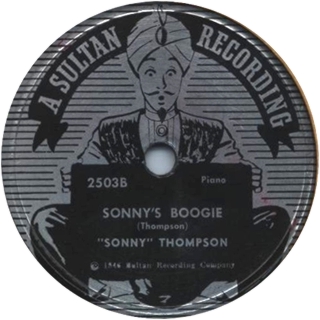 From the collection of George Paulus
---
During 1947 Thompson teamed up with the Dick Davis Combo to play regularly at the Tradesmen's Lounge (6240 Cottage Grove), appearing with them on a recording session for the fledgling Miracle label in January. Thompson began recording under his own name with Miracle in mid-1947, using the Sharps and Flats as his rhythm section and frequently adding Eddie Chamblee's tenor sax. He reached the peak of his performing career, striking gold with one of the biggest R&B hits of the late 1940s, "Long Gone" (released in the Spring of 1948). Other hits on Miracle followed. After Miracle folded, Thompson moved to King Records in 1950, and recorded extensively for that company (occasionally doing session work for Vee-Jay and other labels). He handled A&R for the label until 1964, when King closed its Chicago office, but continued as a freelance producer for a few more years. Thompson died on August 11, 1989.
Sources used for our Thompson profile were Sharon A. Pease, "Chi's Thompson Turns to Solo Work and NYC," Down Beat, 15 July 1946, p. 12; "Record Reviews," Metronome, September 1946, p. 40; Tony Burke and Dave Penny, "Screaming Boogie," Blues & Rhythm: the Gospel Truth 37 (June-July 1988): 9-14; Robert Pruter interview with Catherine Hayes Thompson, 6 September 1989.
---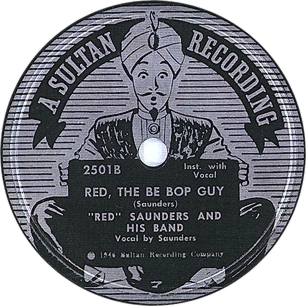 From the collection of Tom Kelly
---
Sult2. "Red" Saunders and his Band
Red Saunders (d, voc, ldr); George "Sonny" Cohn (tp); Joseph "Buster" Bennett (voc, as -1); Nat Jones (as); Leon Washington (ts); Porter Derrico (p); Mickey Sims (b).
Chicago, May 1946
| | | | |
| --- | --- | --- | --- |
| S-109-1 | Red, the Be Bop Guy ("Saunders") -1 | | Sultan 2501B |
| S-111-1-1 or S 111-1-2 | Vi, Tell Me Why (Dean-Saunders) | | Sultan 2503A |
Drummer Theodore "Red" Saunders was born in Memphis on March 2, 1912, moving to Chicago in 1923. He became a professional musician in 1928. After nearly a decade of work under various leaders, by early 1937 he had joined the Club DeLisa house band. He assumed leadership in July of that year, gradually building the band from a six-piece combo to a 13-piece unit. In June of 1945, Saunders and his band left the Club DeLisa to go on an overseas tour entertaining troops. The tour fell through, and Saunders downsized his band to a sextet. He got a job in Chicago's Loop at the Capitol Lounge (167 North State), one of several Loop venues owned by Milt Schwartz and Al Greenfield. During this absence from the Club DeLisa, Saunders made his first and second recordings under his own name, for Savoy in December 1945 and then for the Sultan label. (For a full biography and discography see our Red Saunders page.)
Saunders moved to the Garrick Lounge's Downbeat Room (58 West Randolph) in August 1945. The Garrick Lounge was owned by a colorful ex-boxer Joe Sherman, who would stand outside the club shouting "showtime, showtime," and practically drag customers off the street. On April 8, Down Beat ran a photo of the band with a long caption: "Red Saunders Garrick's Star. Red Saunders is the current dynamic attraction at Randolph Street's Garrick Bar [meaning the Downbeat Room]. Red, acclaimed one of the top drummers by all who hear him, has had his fine six-piece combo at the Garrick's Downbeat Room since last August. With Red are Mickey Simms bass; Porter Derrico, piano, Sonny Cohn, trumpet, Tony Casey [sic], alto, and Leon Washington, tenor. Group has been pulling more business than Red Allen-J.C. Higginbotham group..." On May 6, "Chicago Band Briefs" reported that altoist Nat Jones (who had been in the Club DeLisa band before Red departed the club) was rejoining Saunders at the Downbeat Room. This was the band that recorded for Sultan Records.
"Red, the Be Bop Guy" was the B-side of Sultan 2501 (not 2502 as listed in some discographies); the A-side was "Orientale" by the Eddie Wiggins Sextette. "Vi, Tell Me Why" shared its "double-header" disc with "Sonny's Boogie" by Sonny Thompson. (According to Daniel Gugolz, some copies of Sultan 2503 have no designated A and B sides. His copy has S-111-1-2 for "Vi, Tell Me Why.")
A copy of Sultan 2501 in Tom Kelly's collection supplies the label copy and the matrix number. A dub supplied by Tom Kelly reveals, however, that label indulged in some false advertising when it attributed the vocal to Red. In fact, the vocalist is none other than Buster Bennett and the tune is a fairly fast blues of the "celebrity roast" variety.
He's hip and he's handsome, he's mellow and fly
Yes, he's hip and handsome, he's mellow and fly
The gals all call him Red the bebop guy
He has so much trouble to keep the chicks from his flat
Yes, so much trouble to keep the chicks from his flat
He has to beat 'em off with a baseball bat...
You may think he's boasting, he's just a big sack of wind
Yes, he's boasting, he's a big sack of wind.
Then he's the biggest sack since time began.
The words are obviously Buster's, and could well have been improvised at the session--but Red took the composer credit. Some of the riffing between Buster's vocal lines would be reused when Red's combo backed Big Joe Turner a few months later.
Sonny Cohn has a prominent trumpet lead in the introduction and the tag. In the middle of the piece, there are two 12-bar solos on the alto saxophone. The first solo, stuffed with 8th and 16th notes in the mid-1940s Tab Smith manner, is obviously the work of Nat Jones. The second 12 bars are strictly gutbucket and enunciated with a rasp--Buster's doing. And the second solo ends with a rest (to give Buster time to take the horn out of his mouth and resume singing). Buster also briefly joins the closing ensemble. Our thanks to Armin Büttner for catching Buster's presence on this side. The subterfuge was deemed necessary because Buster was under contract to Columbia at the time.
The Billboard ad for "Vi, Tell Me Why" mentions "Nat Jones on the sax" (the label for Sultan 2503 words it as "Nat Jones on Sax"). Vi Kemp, a contortionist and singer, was Red Saunders' wife. She is mentioned in many subsequent Chicago Defender advertisements for the Club DeLisa (May 17, 1947, December 18, 1948, and December 31, 1949, among others). "Vi, Tell Me Why" was a ballad dedicated to Vi, but not featuring her. As promised, Nat Jones gets the rather sappy alto sax lead and the frilly conclusion; there is also a brief trumpet lead from Sonny Cohn.
---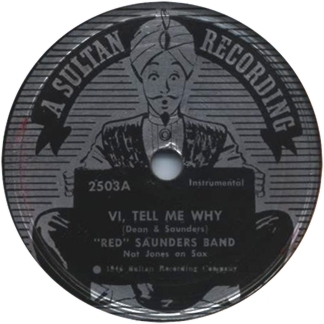 From the collection of George Paulus
---
Metronome gave a mixed assessment of the sides in its September 1946 review. Referring to "Red, the Be Bop Guy, the journal said, "Saunders' little Chicago band does a vocal novelty that sounds more like typical jump music than be bop. It's a medium-tempo blues with a good beat and some tricky alto by Nat Jones. The same Mr. Jones, who played clarinet for the Duke for a while some three years ago, plays a sweet solo on 'Vi,' but the band and performance are out of kilter and perhaps a trifle off center." The Metronome review correctly noted the complete absence of bebop on "Red, the Be Bop Guy"; in fact, none of Red's musicians were beboppers. Yet the band would master the style by the end of the decade, when they cut Charlie Ventura's "Synthesis" for the Supreme label.
Saunders performed at the Downbeat Room until Joe Sherman closed down his operation in September 1946. Saunders then took his band to New York's famed Kelly Stables (during their stay in NYC they recorded behind Big Joe Turner for National). On the way home, the Saunders band worked Detroit's Club Zombie for 3 weeks in December 1946--did Morton Sultan have anything to do with setting up this booking? The Red Saunders combo was back in Chicago in January 1947, playing in the Loop at the Band Box. On May 19, 1947, Red made a triumphal return to the Club DeLisa, where he would remain until the black and tan closed its doors in 1958.
Red Saunders sources: "Red Saunders Garrick's Star," Down Beat, 8 April 1946; Don [Haynes], "Bands Dug at the Beat," Down Beat, 1 August 1945, p. 4; "Record Reviews," Metronome, September 1946, p. 39; "Downbeat Room Closes in Chi," Down Beat, 23 September 1946, p. 8. We are indebted to Lars Bjorn for material from the Michigan Chronicle pertaining to Red's gig at Club Zombie.
---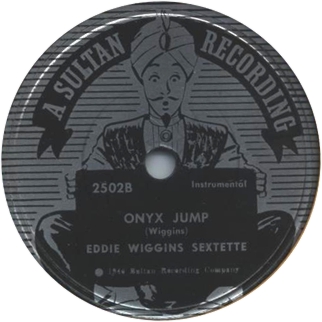 From the collection of George Paulus
---
Sult3. Eddie Wiggins Sextette
Eddie Wiggins (as-2; ob -1); Gene Russell (p); Red Cody (vib); Frank Gassi (eg); Jack Fonda (b); Steve Varela (d).
Chicago, May 1946
| | | | |
| --- | --- | --- | --- |
| S-114-1 | Orientale (Wiggins) -1, 2 | | Sultan 2501A |
| SS 115-1-1 | Onyx Jump (Wiggins) -2 | | Sultan 2502B |
Alto saxophonist Eddie Wiggins was born in Edwin Charles Wiggin in Tacoma, Washington, on January 22, 1917; he always used "Wiggins" as his stage name. Eddie Wiggins first toured on the West Coast in a group called the Four Esquires, and eventually found himself in the big time, playing in the Stuff Smith Orchestra and Billie Holiday's band. He also worked in the Boyd Raeburn band, probably joining it in in 1943 while the Raeburn held down a 9-month residency at the Band Box. Returning to Chicago in 1944, Wiggins missed the Raeburn band's "progressive jazz" period, but was able to establish himself in Chicago's Loop (downtown) on Randolph Street, which was the local equivalent of New York's 52nd Street.
The five-piece group that the alto saxophonist led was one of the hottest bands on Randolph Street during the mid-1940s. The group played for years at the Brass Rail (52 West Randolph), which was located in the same building the large basement club, the Band Box (54-56 West Randolph). Both were among the holdings of Milt Schwartz and Al Greenfield. Wiggins received a lot of mentions by Down Beat and Metronome reporters in the immediate postwar years, as he led a hot hard-playing combo that appealed to those writers' jazz sensibilities.
Wiggins built his combo up from a trio, with several personnel changes along the way. In May 1944, Phil Featheringill noted in his "Chicago Telescope" column in Metronome that "Eddie Wiggins trio at the Drum on Dearborn features fine drumming by Wally Hock and piano by Rudy Kerpays.... Eddie and Rudy left the [Boyd] Raeburn band in N. Y. in order to form this trio..." (p. 14). At the beginning of 1945 Wiggins was working with Hey Hey Humphries on drums (until Humphries was sidelined after injuring his hands on a glass door) and "young guitar wizard" Joe Rumoro (see Featheringill's column in Metronome, March 1945, p. 10). In the summer of 1945 Wiggins was working the Zebra Lounge on 63rd Street ("Chicago Band Briefs," Down Beat, July 15, 1945, p. 4).
In November 1945 the Wiggins group consisted of himself on alto, Jack Fonda on bass, Frank Gassi on guitar, Steve Varela on drums, and Gene Russell on piano. In December 1945, after it had expanded to a sextet, Phil Featheringill said of this group, "Have you caught the Eddie Wiggins band at the Brass Rail on Randolph Street since he added Red Cody on vibes?...the band jumped before and now it jumps even more...Wiggins' crew has a sponsored airshot beamed at high school 'hep-cats' and the broadcast we caught had the soxers dancing all around the stand."
Frank Gassi, who played guitar in Wiggins' combos from 1945 to 1947, was born in Utica, New York in 1909. He was married to Christine Randol, who worked the clubs regularly from 1946 through the early 1960s as a singer/pianist, and recorded for Vitacoustic in 1947 (one single would appear in 1949 on Old Swing-Master).
---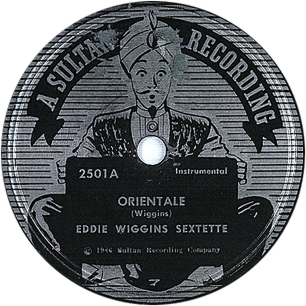 From the collection of Tom Kelly
---
The Wiggins group would continue into 1946, and Featheringill hinted at the Sultan recording session in his June 1946 column, "Is it true they recently (and at last) were waxed by a new recording company?" The next month, Wiggins had left the Brass Rail for a gig at the Aquarium in New York. Down Beat in its issue of July 29, 1946 listed the same personnel for the Aquarium band that Wiggins had used back in December 1945. So we will assume that it was this same group that recorded for Sultan. (Existing discographies include no personnel for this session.)
Metronome in its October 1946 issue had nice things to say about the Eddie Wiggins sides, including the leader's multi-instrumental talents: "This little band from Chicago, which opened at New York's Aquarium last month, jumps healthily in 'Onyx,' with good solos by alto and vibes and some spirited riffing. Nothing sensational here, but very good for an unknown band of which you expected nothing. 'Orientale' shifts the alto man to oboe for a performance that sounds alarmingly like its title and is a weird mixture of exotic sound effects and jump piano. It gets better as it goes along and turns out to be a fast blues, then back comes that oboe."
Toward the end of the year, Wiggins and combo recorded for the Bullet label (whether they did so in Nashville, where Bullet was headquartered, or in Chicago, where the Melrose brothers occasionally steered acts to the company, remains unsettled). The session produced one release, on Bullet 1000, which was released in January 1947. (The Bullet 1000 series—which gets less attention today than the label's 250 R&B series—included a few jazz releases, then, as it became clear where the sales were, a bunch more pop vocals.) Bullet 1000 coupled an instrumental titled "Bullet Bounce" (intended to lanch the series, it featured Wiggins' alto sax solo and Cody's vibes) with a vocal number, "Baby, Know You Like It That Way" (sung by Gassi). Billboard raved about the sides, but they went nowhere and were soon dropped from the Bullet catalogue.
Wiggins occasionally worked on the South Side, for instance when his trio with Red Cody on vibes and Barrett Deems on drums was at the Crown Propeller Lounge, along with a vocal ensemble called the Zany-acks ("Chicago Band Briefs," Down Beat, August 25, 1948, p. 5). This gig lasted till late October:
"The Crown Propellor [sic] has Red Cody, Barrett Deems, and Eddie Schum, plus the four Music Makers with singer Gloria Gale.
"Eddie Wiggins, formerly with Cody and Deems, moved into the Riviera, replacing the Floyd Bean trio, with veteran Oro (Tut) Soper on piano and Jimmy Kilcran on drums. Wiggins, of course plays almost every reed instrument in existence, and all well" (Pat Harris, "Chicago Band Briefs," November 3, 1948, p. 4).
If challenged to back up this claim, Harris could have pointed to a photo that ran in another issue of Down Beat, which showed Wiggins holding a heckelphone nearly as tall as he was. It is safe to say that hardly any other jazz musicians has taken up the heckelphone, a baritone oboe that is called for once in a long while in 20th century classical music.
Down Beat continued to put in a good word about Wiggins from time to time. In Pat Harris' "Chicago Band Briefs" for March 25, 1949, we learn that Wiggins was still working the Riviera.
Saxophonist Wiggins has kept pretty close to the alto at the Riviera, although Beat readers may remember a photo used when he was at Jump Town, with eight reeds and woodwinds lined up in playing order ready for the Wiggins touch.
Even when Eddie's feeling low, and deprecatory about the quality of his music, he has an approach and tone that would be hard to duplicate. And what else do you have to have?
With Wiggins are Tut Soper, piano, and George Grunditz, drums, replacing drummer Jimmy Kilcran whose teaching load at the Knapp school was getting to be too much to combine with a full-time playing job.
Wiggins continued on Randolph street into the early 1950s, playing for instance at the Band Box (54 West Randolph in the basement below the Brass Rail). His former guitarist, Frank Gassi, died in an accident in February 1952; he was electrocuted while working on the El. In 1955, Wiggins cut what appears to have been his last record, a 45 rpm single for the Disc-Co and Beam labels; it paired "Wabash Blues" with "Manteca." (On Beam 7001, "Wabash Blues" carried the matrix number F7OW-8090 and "Manteca" carried F7OW-8091, indicating mastering and pressing by RCA Victor in 1955.) We wouldn't mind hearing the single, but by all appearances it is very rare.
During the 1960s Wiggins began a second career as a standup comedian, often appearing as a character called "South Side Louie" on Jonathan Brandmeier's radio show. He also performed as a blues musician under the name of E. C. Williams. Wiggins died on March 29, 1995, in Chicago. His jazz career never took off, despite consistent, strong support from the jazz scribes.
Sources used on Eddie Wiggins: Phil Featheringill, "Chicago Telescope," Metronome, May 1944, p. 14; Phil Featheringill, "Chicago Telescope," Metronome, October 1945, p. 14; Phil Featheringill, "Chicago Telescope," Metronome, November 1945; Phil Featheringill, "Chicago Roundup," Metronome, June 1946, p. 40; Don [Haynes], "Chicago Band Briefs," Down Beat, 29 July 1946; Record Reviews, Metronome, October 1946, p. 34; Pat Harris, "Chicago Band Briefs," Down Beat, 25 August 1948, p. 5; Pat Harris, "Chicago Band Briefs," Down Beat, 25 March 1949, p. 4; "Eddie Wiggins, 78; Jazz Musician Who Later Did Standup Comedy," Chicago Tribune, 8 April 1995. We are indebted to Vince Gassi (emails to the authors, August 14 and 15, 2004) for information about his uncle Frank, and to Chuck Wiggin (phone conversation, February 13, 2014) for information about his father's single on the Disc-Co and Beam labels, and for confirming that "Wiggins" was a stage name.
---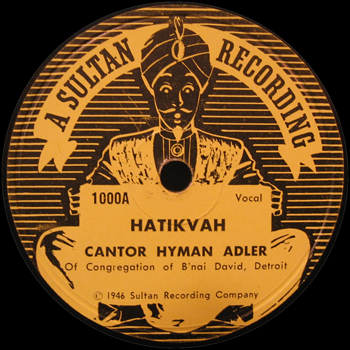 A Sultan in the previously unknown 1000 series. Were there any more? From the collection of Tony Berci
---
Sultan Records is rather a mystery. What was Morton Sultan's principal business? Why did he go to Chicago to record his talent? There was no lack of musicianship in Detroit, starting with bandleader Todd Rhodes, who would record extensively for Sensation and Vitacoustic beginning in 1947. Did Sultan have a business relationship with Joe Sherman of the Garrick Lounge or Milt Schwartz and Al Greenfield of the Brass Rail and Band Box?
In January 2007, we learned of a fourth Sultan release--also dated 1946, but recorded in Detroit. This, however, was not jazz or R and B. Collector Tony Berci discovered a Sultan in a 1000 series; the labels use the same design that we know from the 2500s, but in black on yellow instead of silver on black. Sultan 1000 ("Hatikvah" b/w "Ich fur Aheim") featured Cantor Hyman Adler of Congregation B'nai David in Detroit. "Hatikvah," sung in Hebrew, was just a couple of years away from becoming the national anthem of Israel; "Ich fur Aheim" was a Yiddish-language popular song. Whether there were further releasess in the 1000 series remains unclear to us.
---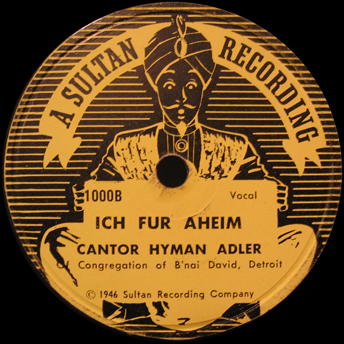 From the collection of Tony Berci
---
According to Galen Gart's American Record Label Directory and Dating Guide, 1940-1959, Sultan kept the imprint alive after 1946. Addresses for Sultan Records were apparently given in the trade press at 5110 Stanton Avenue (in January 1949), 18455 Livernois (in July 1950), and 5182 Grand River (also in July 1950). The Guide, however, lists no record releases for these dates, and we have never heard of any new Sultans from this period (was the owner waiting for an opportunity to resume recording that never came?). There was a Sultan imprint based in Natchez, Mississippi, in 1950, but that was a completely different operation.
Morton Sultan died in Los Angeles on December 31, 1983. We have no idea what had brought him to California, or how long he lived there.
Many questions remain unanswered. In any case, while Sultan Records was no more than an interesting but failed experiment, the company did pick worthwhile artists to record. Eddie Wiggins unfortunately ran out of recording opportunities after 1947, but Red Saunders would record steadily over the next decade, and Sonny Thompson would move on to a long and fairly successful career in the record business.
---
Our thanks to Lars Bjorn (coauthor of Before Motown, the definitive history of jazz in Detroit) for pointing us to the June 1946 article in Metronome; to Dan Kochakian for a copy of Sultan's trade magazine advertisement in The Billboard, as it was then known; and to Eric LeBlanc for birth and death dates on Eddie Wiggins (who is listed in Social Security records as "Wiggin") and Morton Sultan. George Paulus, Tom Kelly, and Daniel Gugolz proivded label scans and matrix information on some pretty rare 78s in the 2500 series. Daniel Gugolz's copy of 2503 has the -2 suffixes on the matrix numbers; George Paulus' copy sports the -1s. Tony Berci unearthed the fourth Sultan 78, in the 1000 series.
---
Click here to Return to Red Saunders Research Foundation page.
---
Click here to Return to Robert Campbell's Home page.