---
Glo Tone
© Robert L. Campbell
September 3, 2018
---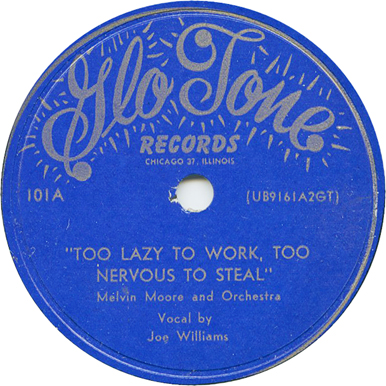 From the collection of Robert L. Campbell
---
Revision note: An address for "Glo-Tone" has shown up in Billboard—from 1952. It belonged to his parents, so it points to Melvin Moore as the owner.
---
Glo Tone is one of those boutique independents that perplex collectors and historians. It went out of business at least 65 years ago, but mysteries remain.
The address on Glo Tone labels is merely "Chicago 37, Illinois." Until recently, all we've had to go on is the matrix numbers and the credits on the labels.
Fortunately, there is a little information in them.
Glo Tone probably opened during the second half of 1948. This was a rather inauspicious time for a record company. The second Petrillo recording ban had begun on January 1, 1948, and, although it was increasingly flouted as the year wore on, it was not officially lifted until December 13, eleven and a half months after it went into effect. By then many a record company that had over-recorded in 1947 to be ready for 1948 had failed to cover it costs, and gone out of business. The Musicians Union was a powerful presence in Chicago, which happened to be James Caesar Petrillo's home town. Any instrumental recording (we know there were some; for instance, for Aristocrat) done before December 13 had to be kept very quiet.
In style and approach, Glo Tone behaved like a spin-off of a larger independent called Sunbeam. We suspect this was a musical connection, but not an ownership connection. Marl Young, the founder of Sunbeam, had quit doing new recording in March 1947, issued his last new release in May, licensed a bunch of his sides to Vitacoustic in September, released bassist Bob Carter from his contract on November 16, then departed Chicago in November 1947, to spend the last 61 years of his life in Los Angeles.
However, trumpeter Melvin Moore, the leader on the Glo Tone sides, had been a featured soloist in the Marl Young-led studio bands for Rhumboogie and Sunbeam. Glo Tone also shared Sunbeam's interest in recording singers backed by a large jazz band playing "modern" arrangements. To our knowledge, Melvin Moore did not do a lot of arranging; Marl Young did.
---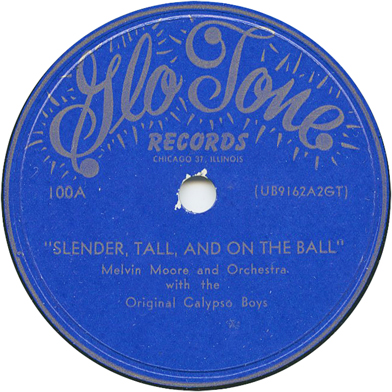 From the collection of Robert L. Campbell
---
Glo Tone may have used other musicians who had recorded for Sunbeam, such as Nick Cooper on trumpet and Frank Derrick on alto sax; there's no documentation to go on, unfortunately. There is the further matter of a song that Marl Young had written for performance on Sunbeam getting recorded on Glo Tone. The tune would be recorded just one other time, in 1950 on a T-Bone Walker sesssion for Imperial—which was directed by Marl Young himself.
What's more, Marl Young was conducting a little business in Chicago during this period. On August 4, 1949, the Board of Musicians Union Local 208 considered and "allowed" Young's claim against Little Miss Cornshucks for $60, "representing services rendered" (Board meeting minutes, p. 1). On September 10, 1949, Billboard (p. 42) announced that Old Swing-Master had acquired his Little Miss Cornshucks sides.
We at last have a clue that Melvin Moore owned Glo Tone. The only street address ever given for it in the trades (see below) was the South Side apartment building where his parents lived. But Marl Young could easily have been the arranger for the Glo Tones.
Melvin Moore was born in Chicago on June 15, 1923. His parents, Mr. and Mrs. William Moore, had moved to Chicago from Atlanta the previous year. William Moore was born around 1878 and Mrs. Moore (we don't know her first name) was born around 1884. They eloped in 1901, and had six sons and a daughter; Melvin could have been their youngest. In 1940, Melvin Moore was leading the cornet and trumpet section in the Du Sable High School Marching Band, conducted by Capt. Walter Dyett ("Du Sable Band to Give Concert This Afternoon," Chicago Tribune, April 14, 1940, South pt. 3 p. 5).
Melvin Moore was in Marl Young's studio band for T-Bone Walker's second Rhumboogie session (December 19, 1945). Moore was the first-call trumpet player for Marl Young's Sunbeam operation. He was on Marl Young's big band session at Myron Bachman studio in August 1946, backing Bob McFerrin; the second big-band session at Bachman in September, backing Little Miss Cornshucks; and the October session at United Broadcasting, again backing Miss Cornshucks. When Young recorded Johnny Hartman with a string ensemble (United Broadcasting, around February of 1947), he included Melvin Moore as trumpet soloist. Moore was a member of the Benson All Star Orchestra, which cut two singles for Old Swing-Master around September 1948. The All Star session was also done at United Broadcasting. With matrix numbers UB 9239 through 9232, it might have been done later than the Glo Tone session—or it might not.
Glo1. Melvin Moore and Orchestra | Vocal by Joe Williams / Melvin Moore and Orchestra with the Original Calypso Boys*
Melvin Moore (tp, ldr); unidentified (tp); 2 unidentified (tb); 2 unidentified (as); 2 unidentified (ts); unidentified (bars); unidentified (p); unidentified (b); unidentified (d, Latin perc); Joe Williams (voc except on *); Original Calypso Boys (voc on *).
United Broadcasting Studios, Chicago, between July 1948 and January 1949
| | | | |
| --- | --- | --- | --- |
| UB9161A2GT | Too Lazy to Work, Too Nervous to Steal (Daylie-Young) | | Glo Tone 101A |
| UB9162A2GT | Slender, Tall, and on the Ball* | | Glo Tone 100A |
| UB9163A2GT | Blues That You Can't Lose | | Glo Tone 100B |
| UB9164A2GT | Those Little Moments with You | | Glo Tone 101B |
We'd love to know whether Marl Young arranged these pieces. But we don't even know who composed three of them (there are no credits on the labels).
"Too Lazy to Work, Too Nervous to Steal," an ode to the ill-dressed man who definitely can't afford a Cadillac, was written by Marl Young and disk jockey "Daddy-O" Daylie. It was first recorded by the Bob Carter Trio, at a session at Universal Recording around March 12, 1947, and released on Sunbeam 107 (well, on one of two Sunbeams numbered 107) in May of that year. Bob Carter would subsequently record as a leader for Universal (November or December 1947). Interestingly, a Chicago Defender ad for the Bob Carter Trio at the Blue Dahlia (January 8, 1949), referred to the group as "Recorder of 'Too Lazy to Work'."
---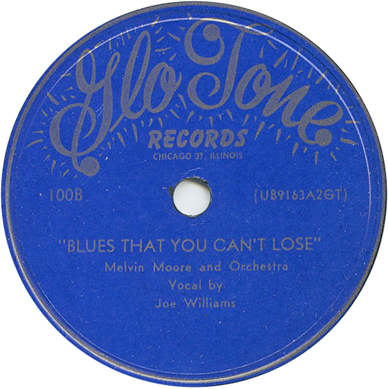 From the collection of Robert L. Campbell
---
Along with "Blues That You Can't Lose" and "Those Little Moments with You," "Too Lazy" features the singing of Joe Williams, who had already spent years on the Chicago scene but was not yet a headliner. He was born Joseph Goreed in Cordele, Georgia, on December 12, 1918. His family moved to Chicago when he was a teenager. After singing in a gospel quartet, he tried to establish himself as a ballad singer, changing his name to Joe Williams. Williams had made a single for the short-lived Cincinnati label back in 1944, but his career had scarcely progressed since then. In June 1949, he became the vocalist for the Jay Burkhart band, an unusually large, never-recorded bop-oriented aggregation whose occasional live gigs garnered praise from the Down Beat writers. Williams would not make another record until June 1950, when Columbia first put him on a Red Saunders session.
About the vocal group, the Original Calypso Boys, we know nothing. They make a good account of themselves on "Slender," an uptempo number that uses some Latin rhythm; it's not a calypso. The tale of an encounter with a glamorous confidence woman makes it a forerunner to "Kitty from New York City," which the Gems would record for Drexelin 1954.
The instrumentation on the Glo Tones was identified by ear. The tenor saxophonist solos on "Slender." "Blues You Can't Lose" features a brief solo by a different tenorist and a longer trumpet solo by the leader. "Too Lazy to Work" has four trumpet breaks and a longer solo by same tenorist who was featured on "Slender." "Those Little Moments" includes a spot for the pianist in theme statement and an interlude for one of the alto saxophonists.
Officially, United Broadcasting's UB9000 series consisted of items recorded in 1949. In fact, some sides with numbers as high as the 9500s were recorded in the second half of 1948 (as happened with sessions for Aristocrat). The studio deliberately assigned the 9000s in nonconsecutive blocks, in case anyone from the Union came around snooping. Whenever they were cut, sides with UB9000 series matrices were usually held for release until after January 1, 1949. For instance, UB9101 through 9104, by a Jazz Ltd. group featuring Sidney Bechet, were probably recorded in late August 1948, while UB9181 through 9184, by two other Jazz Ltd. groups featuring Muggsy Spanier and Doc Evans, were done in February 1949. Without further clues to the session date, all we can say is that UB9161 through 9164 were made sometime in between.
Marl Young apparently had a little business to do in Chicago in 1949. On August 4, he showed up in the Board Meeting minutes of Musicians Union Local 208, when it considered his claim for $60 against Little Miss Cornshucks. And in an interview with Dan Kochakian many years later, Young misremembered making "Too Lazy to Work" for Sunbeam, "with horns." Bob Carter's version on Sunbeam 107 had no horns—but the Melvin Moore rendition on Glo Tone 101 did.
What kind of distribution Glo Tone had, we can only guess at. Neither 78 could have enjoyed much in the way of sales. Tom Lord's Jazz Discography mentions Glo Tone 100, dates it to 1949, and misrenders the company name as "Glory Tone." McGrath's R&B Indies picks up the same listing: just "Glory Tone" 100.
In the Billboard record company listing for March 15, 1952 (p. 125), we find an entry for Glo-Tone Recording Co. at 6228 "North" Rhodes Avenue in Chicago. From that 1952 list rise the faint wails of many a departed record company: Gold Seal, which expired toward the end of 1948, is on the same page as Glo-Tone. But the other phantoms had made an appearance while they still had flesh on them.
Rhodes Avenue is on the South Side, so the "North" was a mistake. 6228 Rhodes Avenue was the address of a two-story building constructed in 1910. A seven-room flat in the building was the home of Mr. and Mrs. William Moore, the parents of Melvin Moore.
Melvin Moore would be in and out of Chicago for several more years. He led a combo at the Flame Lounge (this was the second Flame, located in the basement of the Morocco hotel) and backed blues singer Jo Jo Adams on a 1952 date for Chance. In 1954, he recorded four jazz sides for Vee-Jay, in a combo led by bassist Dave Shipp; these give us a good representation of Moore's trumpet tone and his bop chops. He moved to Los Angeles, where he was reunited on occasion with Marl Young. During Young's term as music director for the TV show Here's Lucy (1970-1974), Moore played in the band. Melvin Moore also worked with Charles Mingus, Calvin Jackson, Johnny Otis, and many other leaders.
Melvin Moore died in Los Angeles on February 27, 1989. He was 65 years old.
"Our" Melvin Moore is not to be confused, by the way, with a singer named Melvin Moore who was born in 1917, sang with a latter-day Jimmie Lunceford band, and recorded for Mercury in the 1950s.
---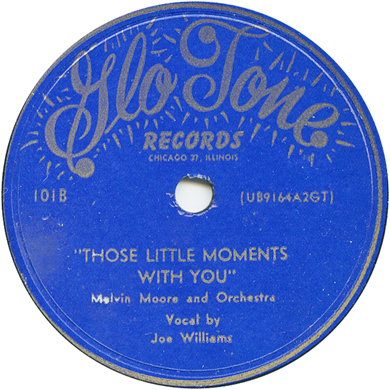 From the collection of Robert L. Campbell
---
Joe Williams had worked many nights with Red Saunders at the Club DeLisa, sometimes without billing in the shows, when Red signed with Columbia and brought him in as a vocalist. Saunders had encouraged him to sing blues, and Williams would continue with Saunders on Columbia's OKeh subsidiary through the beginning of 1953, then make additional sessions with Saunders for Blue Lake later that year. Although none of his sides with Saunders were hits, they put Joe Williams in front of a wider public. Joe Williams had met Count Basie and sung with his octet during a 1950 engagement at the Brass Rail. Around Christmas 1954, Count Basie was in town and needed a singer. Williams went on tour with him, and lasting national fame ensued. Joe Williams continued to sing and record until shortly before his death, at the age of 80, in Las Vegas on March 29, 1999.
Now, has anyone seen an advertisement for Glo Tone?
---
Back to Red Saunders Research Foundation page.
Back to Robert Campbell's home page.