---
Tempo-Tone
© Robert Pruter and Robert L. Campbell
Revised January 1, 2014
---
Revision note. We have added information about Marv Taman (1948 - 2011), to whom this page is dedicated.
---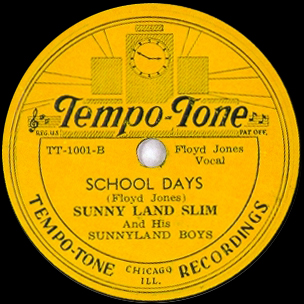 From the collection of Tom Kelly
---
Tempo-Tone deserves to be called legendary. A label with probably three sessions and two known releases might not seem to fit that designation. But now consider that the sessions featured not only just titans of the Chicago postwar blues explosion, Muddy Waters and Little Walter, at the beginnings of their careers, but four other Chicago blues legends—Sunnyland Slim, Floyd Jones, Leroy Foster, and Jimmy Rogers. Tempo-Tone was at the dawning of Chicago postwar blues, and judging from the sides it was a bright dawn indeed.
---
Irving Taman
---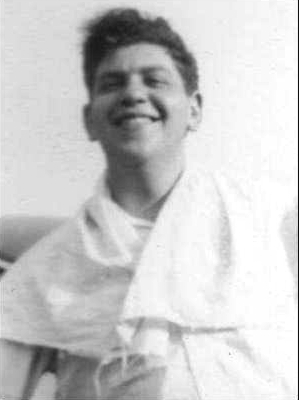 Irv Taman at age 20. Courtesy of Marv Taman.
---
Tempo-Tone was started by Irving Taman. He owned a bar and restaurant called Irv's Boulevard Lounge, located at 301 North Sacramento at Fulton Street. The lounge was at the edge of the Fulton Market in the heart of the West Side black area. Taman was born on the West Side on June 23, 1920. His father owned a small grocery store near Roosevelt Road. Like many young men in America, Taman was drafted for service during World War II. After he got married in February 1943, he was drafted in April. Related his son Marv Taman, "He served in the Army in France and the Rhineland. He was awarded two bronze stars and given an honorable discharge on January 30, 1946. During his time in the service he operated and ran cameras and projectors and learned to cook. Thus the background for the restaurant and his hobby for 16mm film."
---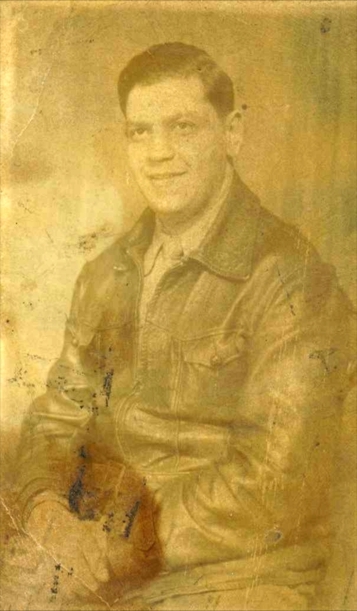 Irving Taman in 1946 or 1947. Courtesy of Marv Taman.
---
After his discharge, Taman returned to Chicago and started the establishment called Irv's Boulevard Lounge. Said Marv: "My father was called 'Big Irv' due to his size at 6"3' and almost 280 pounds. When I was small and in the tavern with my Dad I was called 'Lil' Irv.' His right-hand man at the Tavern was black and lived in the building attached to the restaurant. His name was Booker T. Collins." (Taman made a 16-mm film that shows the club, but does not include any of the performers, according his son.)
---
The Tempo-Tone Label
Taman started up his Tempo-Tone label in 1948 or 1949 to record some of the musicians that performed at his tavern. His principal talent was pianist Sunnyland Slim, who began performing with his band in the establishment in October 1948 (indefinite contract filed with Local 208 on October 7). Sunnyland Slim's band probably varied from night to night, but it included Muddy Waters on guitar, Little Walter on harmonica, Floyd Jones on guitar and vocals, and Leroy Foster on vocals and drums. Jimmy Rogers, who was performing with Muddy and Walter at the time, might have been playing at the club as well. At some point—either in December 1948 or May 1949, as there is conflicting documentation—Taman decided he would record the Sunnyland Slim group.
Sunnyland Slim probably brought into the session the various musicians who had played with him at Irv's Boulevard Lounge. Contrary to previous discographies, which identified Leroy Foster as the drummer, Elga Edmonds is identified in Taman's notebook and a session sheet as present on all 10 of the blues sides; he may also been the drummer in the club. Edmonds has been generally neglected by researchers. He had been on the scene for some time when Taman used him on the sessions. The Local 208 Board meeting minutes for May 29, 1941 list Edmonds' contract with Agnes' Club Era. Of Edmonds' drumming, Scott Dirks has commented, "His playing on these Tempo-Tones is pretty basic, bordering on primitive, and very idiosyncratic. He was in the same general league with Leroy Foster as a drummer." Within a few years Sunnyland's recording partners would constitute the cream of Chicago's postwar blues explosion.
---
The Musicians
Blues pianist and singer Sunnyland Slim was born Albert Luandrew in Vance, Mississippi, September 5, 1906 (most sources say 1907, but the Social Security Death Index and 1920 census data give the date as 1906). He was the son of Tom and Mary Luandrew (spelled "Loeandrew" by the census taker, but not in other documents that we have seen). We do not know exactly when Slim arrived in Chicago. He was playing semi-regularly at the Flame Lounge on 39th Street in the summer of 1947. By late August he recorded his first sides as a leader, six sides for Hy-Tone. About the same time, either before or after the Hy-Tone session, he recorded for Aristocrat. Slim would cut one more session each for Aristocrat and Hy-Tone; sessions followed for Victor (as Doctor Clayton's Buddy), Opera (as Delta Joe--these were later reissued on Chance), and Mercury, before he made his sides for Tempo-Tone.
Muddy Waters was born McKinley A. Morganfield, on 4 April 1913, near Rolling Fork, Mississippi. He was raised on Stovall's Plantation, just outside of Clarksdale. His voice and guitar were first heard on Library of Congress field recordings, cut in 1941 and 1942 by folk music researcher Alan Lomax. In 1943 Waters moved up to Chicago, working mainly at house parties, as there was virtually no market at this time for country blues in the clubs. In 1944 he switched from acoustic guitar to electric. As the migration of southern blacks increased after World War II, a market for his style of blues began to develop. To be able to play in the clubs, Waters joined Musicians Union Local 208 in September 1945, and by the following year was playing regularly with Little Walter and Jimmy Rogers in an informal group called the Headhunters, at times bringing in Leroy Foster on drums. In 1946 Waters made one recording for J. Mayo Williams (which was credited to the wrong artist when it was released by the 20th Century label) and some recordings for Lester Melrose (which Columbia left in the can).
Waters began recording for Aristocrat in September 1947, cutting two sides at the tail end of a Sunnyland Slim session. There was little market for them. But a second session in December established Waters commercially. "I Can't Be Satisfied" became a local hit when released in June 1948, and the flip,"I Feel Like Going Home," became a national hit. Aristocrat morphed into Chess in 1950, and became a leading independent built on the sales of Muddy Waters records.
While building his career at Aristocrat/Chess, Waters was still recording as a sideman for other companies, notably Tempo-Tone (which put his name on the label). In 1950 he would participate in some extraordinary sides for Parkway (which by then found it advisable to keep his name off the label).
---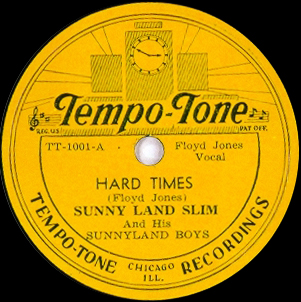 From the collection of Tom Kelly
---
Guitarist Floyd Jones specialized in dark, brooding blues that often spoke to depressed economic and social conditions—"Stockyard Blues," "Dark Road," "Hard Times." He was born on July 21, 1917, in Marianna, Arkansas, and after several years of dabbling with the guitar began playing it in earnest when Howlin' Wolf gave him an instrument. Through much of the 1930s and early 1940s he worked the South as an itinerant musician. After visiting Chicago a couple of times, Jones moved to the city permanently in 1945, settling in the Maxwell Street neighborhood. In the city, the blues became more electrified, and Jones, who had been playing an acoustic guitar with an electric pickup, switched to a Gibson electric. He began playing on Maxwell Street and in non-union venues with such artists as Little Walter, John Henry Barbee, and Sunnyland Slim. In the fall of 1946, Jones teamed up with Snooky Pryor, soon joined by Moody Jones. In November or December of 1948, he entered the studio under the aegis of local record store owner Chester Scales; Floyd Jones was featured on two sides that came out on Marvel. Jones's next opportunity to record came with the Tempo-Tone session. His "Hard Times" proved to be a classic of blues despair.
Guitarist Jimmy Rogers was born James A. Lane on June 3, 1924, in Ruleville, Mississippi. He began performing on harmonica. Shortly after arriving in Chicago in 1945, Rogers in short order was performing with Muddy Waters and then Little Walter, and then all three together as the Headhunters. With Walter dominant on harmonica, Rogers switched to rhythm guitar to play with the group. Rogers first recorded for Mayo Williams' Harlem label in 1946—on harmonica—and the one side featuring him was mislabeled on release, strangely credited to Memphis Slim and Sunnyland Slim. His next recording opportunity, on guitar, was for Ora Nelle in 1947, where he and Little Walter cut "Little Store Blues"—which went unreleased until 1974. Rogers' next recording opportunity, for Tempo-Tone, has heretofore been unknown.
Harpist Little Walter in the 1950s would become one of the giants of Chicago's postwar blues boom, but in 1948 he was very much a neophyte. He was born Marion Walter Jacobs on May 1, 1930 in Marksville, Louisiana. Walter left his home with his harmonica at the young age of 13 to become an itinerant street musician, going to New Orleans, then up to Memphis, then St. Louis, and finally Chicago in 1946. He took up performing in Chicago's famed open air flea market on Maxwell Street. The following year he made his first recordings for the tiny Ora Nelle label, owned by a Maxwell Street radio shop proprietor named Bernard Abrams. Walter backed Othum Brown and Jimmy Rogers on their sides and then took the lead on one number. His next session would be for Tempo-Tone.
The multitalented Baby Face Leroy Foster was born on 12 February 1923, in Algoma, Mississippi. He was one of the pioneers of the post-World War II southern blues resurgence in Chicago, arriving in the city in 1945. His vocals, drumming, and guitar picking can be found on some of the greatest Chicago bar-band blues records. Before joining Muddy Waters' band, he worked with Sunnyland Slim and John Lee "Sonny Boy" Williamson. He first recorded with pianist Lee Brown (two sessions for J. Mayo Williams, leading to releases in 1945 and 1946 on Williams' Chicago and Harlem labels, and a 1946 release on Sid Nathan's Queen label, which had a deal with Williams at the time) and next appeared on a session led by James Clark (Columbia, 1946). He was probably the guitarist on two sides that Sunnyland Slim did for the Opera label, under the pseudonym Delta Joe; these could have been done in December 1947, although a 1948 date can't be ruled out. He made his first recording in his own name for Aristocrat in October or November 1948, when he recorded two titles with Muddy as "Leroy Foster & Muddy Waters." Soon he was in the studio again for Tempo-Tone, featured on two sides that heretofore have been totally unknown to discographers. Foster played guitar on the sides on which he appeared, not drums as reported in previous discographies.
---
The Sessions
Irv Taman's personal notebook jottings make it appear that the initial Tempo-Tone sessions took place on five consecutive days from December 21 through December 25, 1948, at the rate of two sides each day. A far more probable interpretation: all ten sides were recorded in one or two days, and Taman merely used these pages in his datebook to keep track of the sides. Scott Dirks reminds us that the "standard union recording session was three hours—in other words, if you were going to hire union musicians for a session, you had to pay them for a minimum of three hours. To rent studio time and these musicians for three hours a day for four straight days seems highly improbable."
---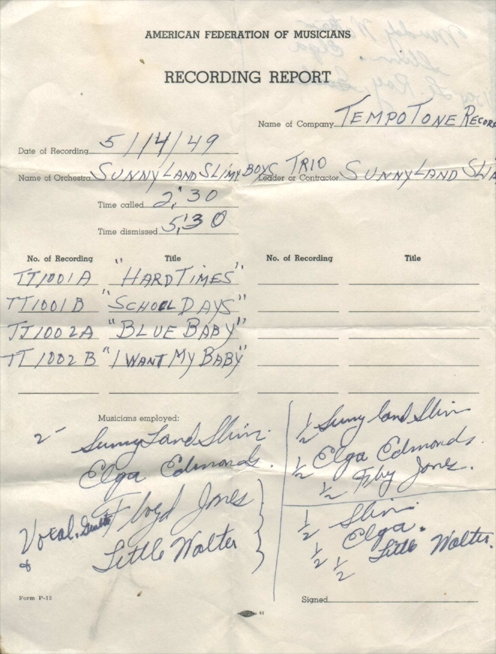 Recording sheet for Tempo-Tone 1001 and 1002 courtesy of Marv Taman. It is one of the sources for the May 14, 1949 date.
---
We have to agree, and must make the assumption that Taman took notes irrespective of the dates on the pages. The session or sessions probably took place in one or two days, but when? The notebook suggests December 21, 1948. But we also have an American Federation of Musicians session sheet dated May 14, 1949, seeming to indicate that 4 sides (those that apppeared on Tempo-Tone 1001 and 1002) were recorded then. There is also a contract signed by Sunnyland Slim, with May 14, 1949 as the date, and a receipt for a payment to the leader, dated May 23. Marv Taman, the son of Irv Taman, said that the sessions took place at Universal Recording; he has an invoice showing that Tempo-Tone 1001 and 1002 were mastered on 26 May 1949.
---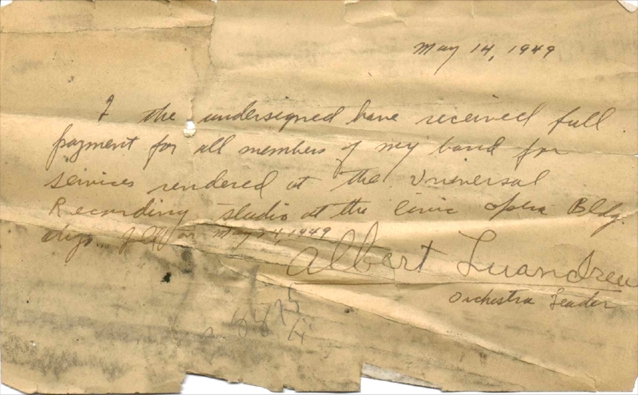 Sunnyland Slim's contract with Tempo-Tone, dated May 14, 1949. Courtesy of Marv Taman
---
It is worth noting that Sunnyland Slim had completed his run of nearly 6 months at Irv's Boulevard Lounge by late March or early April 1949 (he posted an indefinite contract with Club Playtime on April 7). And even though the American Federation of Musicians ended its recording ban on December 13, 1948, there was considerable skittishness among Chicago-based independent labels about admitting to recording during that year, and extensive finagling of recording dates. Nonetheless, our best evidence points to May 14, 1949 as the recording date.
---
TT1. Floyd Jones Vocal | Sunny Land Slim and His Sunnyland Boys
Sunnyland Slim (p); Floyd Jones (voc, eg); Muddy Waters (eg); Elga Edmonds (d).
Universal Recording, Chicago, May 14, 1949
| | | | |
| --- | --- | --- | --- |
| A | Hard Times (Jones) | | Tempo-Tone 1001, Nighthawk LP 102, Indigo [Br] IGOCD 2095, ABM [Br] ABMMCD 1064, Classics CD 5013 |
| B | School Days (Jones) | | Tempo-Tone 1001, Nighthawk LP 102, Indigo [Br] IGOCD 2095, ABM [Br] ABMMCD 1064, Classics CD 5013 |
Nighthawk 102 was Chicago Slickers, 1948-1953, released in 1976. Indigo CD IGOCD 2095, Chicago Blues: Hard Times was issued in 1999; Chicago Down Home Blues on the English ABM label (ABMMCD 1064) was also issued in 1999; and Classics 5013 was Sunnyland Slim 1947-1948 (released in 2001).
Tempo-Tone 1001 featured Floyd Jones, who on the label was listed as vocalist. "Hard Times" was written by Jones, a theme he explored throughout his recording career. He revived the song while recording for Vee-Jay as "Ain't Times Hard" (1954). Sunnyland provides a robust accompaniment. "School Days" is credited to Jones on the label as both writer and vocalist. Although Jimmy Rogers cut two sides for Tempo-Tone, Big Joe Louis believes that Muddy Waters, not Jimmy Rogers, is the second guitarist here.
Big Joe Louis notes that "Hard Times" was sped up about 30% on release (making Floyd Jones' vocal register seem too high). We don't know whether a master at the original recording speed still exists.
---
Irv Taman's notes on Tempo-Tone 1001 and the unissued Jimmy Rogers sides. Courtesy of Marv Taman.
---
After the Floyd Jones sides, Irv Taman put two sides featuring Jimmy Rogers in his datebook. However, he seems not to have been satisfied with them; he put an X next to the entry and assigned no release number to it. Our entry for these unreleased items necessarily follows the datebook, except we assume that Rogers (credited only with vocals there) brought his guitar along.
---
TT2. Sunnyland Slim & His Sunnyland Boys
Sunnyland Slim (p); Jimmy Rogers (voc, eg); Muddy Waters (eg); Elga Edmonds (d).
Universal Recording, Chicago, May 14, 1949
| | | | |
| --- | --- | --- | --- |
| A | You Don't Have to Go | | Tempo-Tone (unissued) |
| B | I'm in Love with a Woman | | -- |
---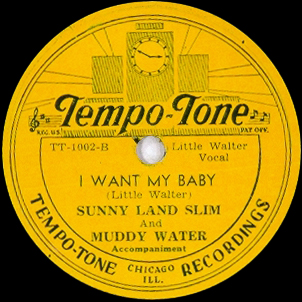 From the collection of Tom Kelly
---
Taman was much more pleased with the next two sides, which featured Little Walter.
---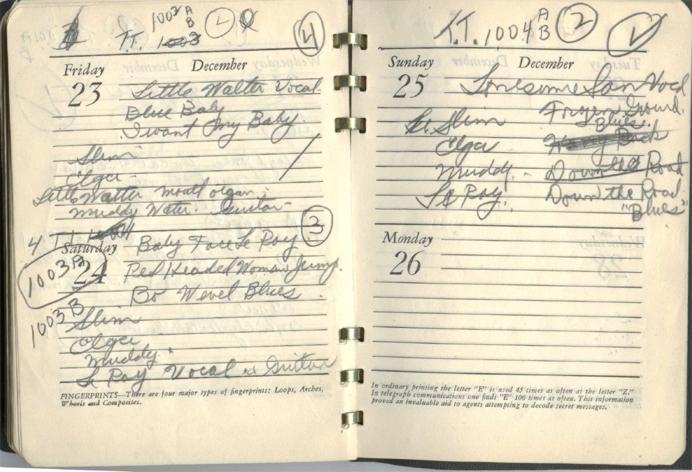 Irv Taman's notes for Tempo-Tones 1002, 1003, and 1004. Courtesy of Marv Taman.
---
TT3. Little Walter Vocal | Sunny Land Slim and Muddy Water (sic) Accompaniment
Sunnyland Slim (p); Little Walter (hca, voc); Muddy Waters (eg); Baby Face Leroy Foster (eg); Elga Edmonds (d); ensemble (voc -1).
Universal Recording, Chicago, May 14, 1949
| | | | |
| --- | --- | --- | --- |
| A | Blue Baby (Walter) | | Tempo-Tone 1002, Boogie Disease BD 101/2, Nighthawk LP 107, Black Gold Heritage [It] BGH 3370, Frémeaux et Associés FA 150 [CD], Indigo [Br] IGOCD 2095, ABM [Br] ABMMCD 1064, Classics CD 5013 |
| B | I Want My Baby (Walter) -1 | | Tempo-Tone 1002, Nighthawk LP 102, Indigo [Br] IGOCD 2095, ABM [Br] ABMMCD 1064, Classics CD 5013 |
Boogie Disease BD 101/102, Take a Little Walk with Me: The Blues in Chicago 1948-1957, was released in 1972; it was a limited edition 2-LP set. Nighthawk 102 was Chicago Slickers, 1948-1953, released in 1976. Nighthawk 107 was Chicago Slickers Volume Two, 1948-1955. Black Gold Heritage BGH 3370 was a 7-inch 33 rpm LP released in in Italy in 1990, as a bonus to a 3-LP set titled Little Walter: The Neglected Masters. Frémeaux et Associés FA 150, Chicago Blues: 1940-1947 was released in 1998; Indigo CD IGOCD 2095, Chicago Blues: Hard Times was issued in 1999; Chicago Down Home Blues on the English ABM label (ABMMCD 1064) was also issued in 1999; finally, Classics 5013 was Sunnyland Slim 1947-1948 (released in 2001). Our thanks to Scott Arnold for information about CD reissues.
Little Walter was the featured vocalist and harpist on the Tempo-Tone 1002 sides. Walter, belying his young years, does a wonderful job on the sides, singing with authority and blowing with growing maturity. Regarding "Blue Baby," the biographers of Little Walter—Tony Glover, Scott Dirks, and Walter Gaines—say the vocal is "solidly in the Sonny Boy tradition" that borrowed from Sonny Boy Williamson's "TB Blues." The biographers describe "I Want My Baby" as a "lightweight romp...a jump-blues with Muddy thumping out walking-bass lines behind Walter's harp once again showing John Lee's influence." Walter is roughly answered on refrain by two vocalists who discographers have always been thought to be Waters and Sunnyland. Scott Dirks disputes that Sunnyland is on the refrain, and suggests that the loud bass vocalist may be Elga Edmonds. Both Walter and Sunnyland are featured on instrumental breaks while Muddy handles the rhythm.
While Taman did not list a second guitarist on the Little Walter sides, Dirks points out that a second guitar is clearly present. Big Joe Louis hears a second guitar on "I Want My Baby" and think it is Leroy Foster.
---
Since the mastering was completed on May 26, Tempo-Tone 1001 and 1002 were probably released in June of 1949. Taman put some imagination into the design of the label, creating an eye-pleasing impression for the record buyer. There is even a coded message in the design, as related by Taman's son Marv. "The label of Tempo-Tone has a clock tower with the time showing 2:50. The reason for this was the fact that I was born at 2:50 and my Dad did that as a reminder of his first born." (Marv Taman was born on November 17, 1948). The enterprise was very much a mom and pop operation, as Marv related, "The business was also helped out in part by my Mother who took care of paperwork. Some remaining documents still bear her handwriting."
---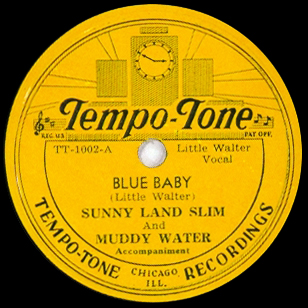 From the collection of Tom Kelly
---
The next two songs at the sessions had Baby Face Leroy Foster as the featured artist. Floyd Jones, Little Walter, and Jimmy Rogers were not on these sides. Foster recorded "Red Headed Woman" and "Boll Weevil," and Taman assigned the release number 1003 to the sides. Personnels here are derived from Taman's notebook.
---
TT4. Sunnyland Slim & His Sunnyland Boys
Sunnyland Slim (p); Baby Face Leroy Foster (eg, voc); Muddy Waters (eg); Elga Edmonds (d).
Universal Recording, Chicago, May 14, 1949
| | | | |
| --- | --- | --- | --- |
| A | Red Headed Woman | | Tempo-Tone 1003 |
| B | Boll Weevil Blues | | Tempo-Tone 1003 |
---
The most mysterious sides from the sessions are credited to a vocalist who is completely unknown to blues researchers, Lonesome Sam. According to a contract that he signed with Tempo-Tone, his full name was Sam Moton. The two songs he recorded were "Frozen Ground" and "Down the Road," and Taman assigned the release number 1004 to the sides. But it is problematic whether 1003 and 1004 ever saw release, as Marv Taman has no documents in his files showing that they were mastered.
---
TT5. Sunnyland Slim & His Sunnyland Boys
Lonesome Sam (voc); Sunnyland Slim (p); Baby Face Leroy Foster (eg); Muddy Waters (eg); Elga Edmonds (d).
Universal Recording, Chicago, May 14, 1949
| | | | |
| --- | --- | --- | --- |
| A | Frozen Ground | | Tempo-Tone 1004 |
| B | Down the Road | | Tempo-Tone 1004 |
Tempo-Tone 1003 and Tempo-Tone 1004 were listed in Taman's "December 24 and 25" entries. The Musicians Union session sheet dated May 14, 1949 does not refer to them. However, the signed contract for Sam Moton's work on the recording session carries a date of May 14, 1949. It seems likely that these sides never saw release, but we would loved to be proved wrong!
Possibly Taman decided not to release Tempo-Tone 1003 and Tempo-Tone 1004 when the sales of 1001 and 1002 did not meet expectations. Those records are exceedingly rare today—according to a recent auction 1002 is a $3,000 item—so the production runs may have been quite small and when sales did not happen no more 78s were pressed.
---
One further session, involving the Bruce Heller Trio, is known to us only from a Universal Recording invoice in the possession of Marv Taman. The session ran 2 hours, instead of the customary 3, and Universal charged Tempo-Tone $74.00 for it; it definitely took place on May 14, 1949. Beyond that, all we know is that 7 sides were recorded (some of which may have been alternate takes).
---
TT6. Bruce Heller Trio
unidentified musicians
Universal Recording, May 14, 1949
| | | | |
| --- | --- | --- | --- |
| | unidentified titles | | unissued |
---
After Tempo-Tone—The Musicians
After his Tempo-Tone session, Sunnyland Slim continued to record prolifically, for JOB (where he was a regular at sessions from 1949 through 1954, and probably owned a piece of the company), Parkway (1950), and his own Sunny label (1950). Other labels included Mercury again (1951), Blue Lake (1954), Vee-Jay (1954), and Club 51 (1955). After a down period in the late 1950s, Sunnyland resumed recording as a leader in 1960, with a plethora of singles and LPs to his credit. Revered as an elder statesman of the blues, he died in Chicago on March 17, 1995.
Muddy Waters after Tempo-Tone emerged as the preeminent blues recording star in Chicago. During 1951-1958 recording for Chess he put 15 songs on the national R&B charts. In the 1960s, Chess tried to broaden Waters' audience with folk-styled and rock-styled albums, which were sometimes commercial if not critical successes. Remaining with Chess even after the sale of the company and the death of Leonard Chess, Waters finally signed with Blue Sky, where under the production aegis of Johnny Winter he recorded four albums in a more traditional manner during 1977-81. Waters died on 30 April 1983, in Westmont, Illinois.
Floyd Jones' next opportunity to record after Tempo-Tone would come with Joe Brown's JOB label in March 1951, when he made "Dark Road" with Sunnyland Slim and Moody Jones. By the end of the year, Floyd Jones had moved to Chess, where he recorded two sessions. Jones' second rendition of "Dark Road," cut for Chess in December 1951 in fratricidal competition with his JOB version, became his most successful record and the most enduring part of his recorded legacy. Jones returned to JOB for a session in January 1953, recording another standout, "On the Road Again." In 1954 he moved to Vee-Jay, where he remade both of his Tempo-Tone sides.
A new White audience created a market for the pioneers of Chicago blues, and in 1966 Pete Welding recruited Floyd Jones to record an LP with Eddie Taylor for his Testament label. Jones subsequently recorded for the Swedish Magnolia label (with Big Walter Horton in 1970) and Earwig (with Honey Boy Edwards, Sunnyland Slim, and Kansas City Red in 1979, and with Big Walter in 1980). Floyd Jones died in Chicago on December 19, 1989.
After Tempo-Tone, Jimmy Rogers made two sides for JOB (promptly dealt to Apollo). Like his Ora Nelle and Tempo-Tone recordings, these went unreleased at the time. One of the JOB's was a remake of "I'm in Love with a Woman" from his Tempo-Tone outing. Rogers cut another unreleased side in early 1950, at the end of Memphis Minnie's session for Parkway. Finally in August 1950 he got his break, signing with Chess Records, which used his smooth vocals on many terrific recordings, most notably "That's All Right" from his very first sessoin for the company. Rogers continued as rhythm guitarist in the Muddy band to 1955 and recorded for Chess until 1959. He was mostly retired from the music business during the 1960s, but returned to recording in 1972 on the Shelter label. Other LPs followed, for Black and Blue (1973), JSP (1982), Antone's (1990), and Bullseye (1994). Rogers died in 1997.
Little Walter's next appearances in the studio was in January 1950 on the legendary Parkway sides. Much as with the Tempo-Tone sides, various members of the group took feature billing on the Parkway items. Little Walter was featured on four sides, and Leroy Foster on three, with Muddy Waters in accompaniment. Walter also appeared on Jimmy Rogers' one number for Parkway, which was left unreleased. From July 1950, when Leonard Chess first called him in for a session, to mid-1952, Walter recorded regularly with the Waters band, but after he his gigantic hit, "Juke," released on Checker in 1952, he went solo. He subsequently recorded 14 Top Ten R&B hits. By 1959, his hitmaking was at an end. The 1960s saw the blues in decline in the black community, along with Walter's decline into alcoholism and bar fights. Walter died on February 15, 1968.
Following the Tempo-Tone sessions, Leroy Foster would appear (playing guitar with his hands and bass druum and hi-hat with his feet) on one more of Muddy Waters' sessions for Aristocrat, in September 1949. But he got no opportunity to sing on that occasion, since Muddy was sharing the lead vocals with pianist Johnny Jones. The last time Foster would record with Muddy was on an extraordinary outing for Parkway in January 1950. The band at the session consisted of Muddy Waters and Little Walter, while Foster took the drum chair or played guitar and drums simultaneously. Foster was given credit on four sides, two of which made up a remarkable performance of "Rollin' and Tumblin'." He took the opportunity to rerecord his two Tempo-Tone numbers, "Red Headed Woman" and "Boll Weevil." It was undoubtedly gratifying to Foster to see these titles released. Foster also played drums on a Memphis Minnie session for Parkway, which concluded with a side led by Jimmy Rogers. Leaving Muddy's group for good, on the erroneous assumption that his Parkway release would establish him as a leader, Foster cut three sessions for JOB in 1950, 1951, and 1952. He also backed Mildred Richards and Snooky Pryor on 1950 sessions for JOB, played behind J. B. Lenoir on his debut session (made in 1950 for JOB but dealt to Chess), and accompanied Sunnyland Slim on his session for the Sunny label (also 1950). His 1952 sides remained unissued for decades, and Foster never saw the inside of a studio again, dissipating his career in alcoholism. He died in Chicago, on 26 May 1958.
---
After Tempo-Tone—Irv Taman
Taman formally shut Tempo-Tone down in 1950. He continued the operation of Irv's Boulevard Lounge for the next two decades. However, during the riots following the Martin Luther King assassination in 1968, his business was burned to the ground by rioters along with a large percentage of the white-owned establishments on the West Side. Taman took his family to the San Fernando Valley in Los Angeles, and established a new restaurant, Korned Beef Kastle.
---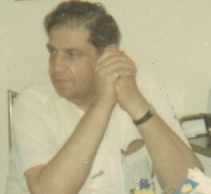 Irv Taman in later years. Courtesy of Marv Taman.
---
In 1976, Irv Taman briefly resurrected his Tempo-Tone imprint, when he came out with an R&B record by a family group called 14 Carat Gold; it was headed by a schoolteacher called Blanche Jackson. One side was a song called "Getting' High on Love." The other side was "Life." Marv Taman produced the record. Paul Jackson, Jr., who sang and played guitar on the session, went on to a highly successful career as a smooth jazz artist, winning a Grammy award along the way.
---
TT7. 14 Carat Gold | Blanche Jackson
Blanche Jackson (voc); Paul Jackson, Jr. (eg, voc); others unknown.
Los Angeles, 1976
| | | | |
| --- | --- | --- | --- |
| | Life | | Tempo-Tone 1002-A [45 rpm] |
| | Gettin' High on Love (Paul Jackson, Jr.) | | Tempo-Tone 1002-B [45 rpm] |
The Jackson single turned out to be a one-off deal.
---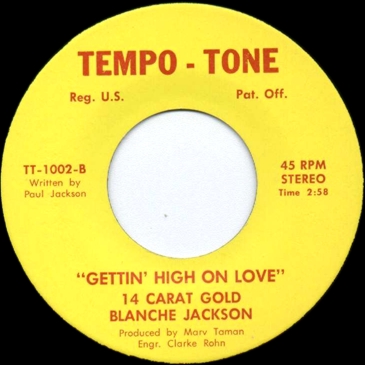 Courtesy of Marv Taman
---
According to the California Death Index, Irv Taman died on February 23, 1992; at the time of his death he was living in Lake Forest, a town in Orange County. Said his son, "I don't think he ever knew of the legacy that he left behind by starting Tempo-Tone records. He was a man of vision far beyond his time to record the black artists who played on weekends at the Tavern."
---
Sources used: This article could not have been done without the tremendous help provided by Marv Taman, who unfailingly answered every one of Robert Pruter's endless questions (email correspondence, 10-12 February 2006) and supplied scans of key documents that tell of the recording activity of Tempo-Tone. We at the Red Saunders Research Foundation are forever in debt to Mr. Taman who made possible this discographical breakthrough. Marv Taman died in Lake Forest, California, on May 24, 2011 (wer are indebted to Mark Mumea for the news).
Other sources include invaluable input from Scott Dirks (email correspondence, 13 February 2006) and Big Joe Louis (emails of 19 and 21 February 2006); the notebook of Irving Taman; contracts signed by Sunnyland Slim and Sam Moton; invoices from Universal Recording; the American Federation of Musicians recording sheet for Tempo-Tone 1001 and 1002; Eric LeBlanc's research in the California Death Index; Tony Glover, Scott Dirks, & Ward Gaines, Blues with a Feeling: The Little Walter Story (New York: Routledge, 2002); Mike Leadbitter and Neil Slaven, Blues Records 1943-1970, Volume One A-K (London: Record Information Services, 1987); Mike Leadbitter, Les Fancourt, and Paul Pelletier, Blues Records 1943-1970, Volume Two L-Z (London: Record Information Services, 1994), plus standard biographical encyclopedias for biographical information.
---
Click here to return to Red Saunders Research Foundation page.